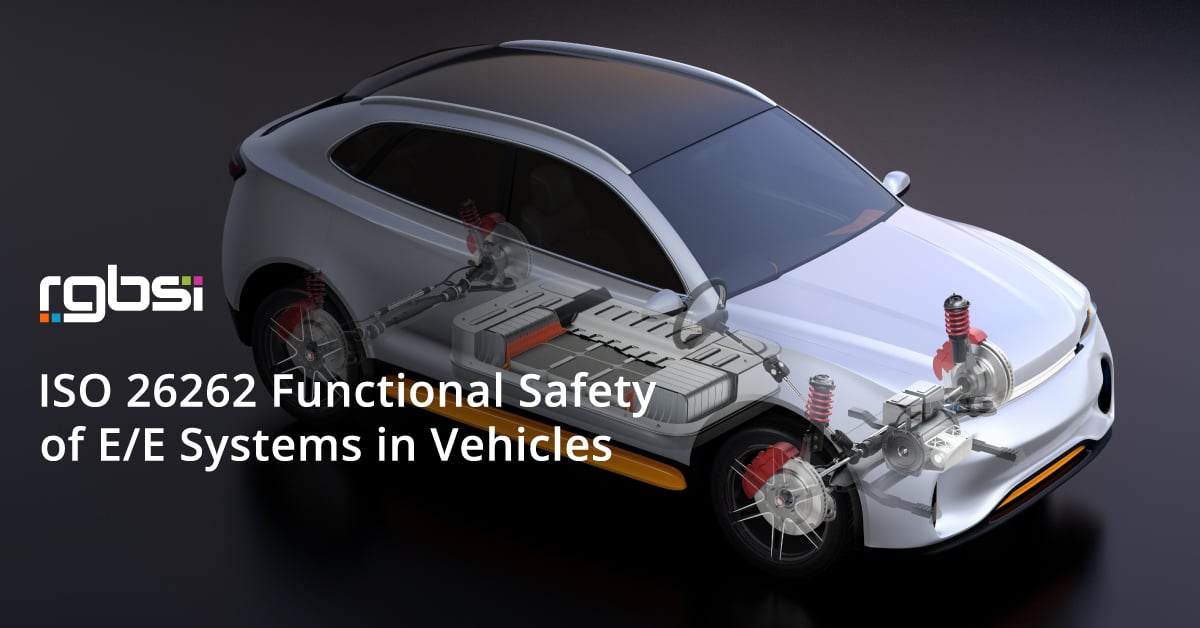 Industry-wide adoption of a common set of processes for designing and testing goods has led to greater oversight of safety procedures. In this context, ISO 26262 fills a gap in the market for international standards by concentrating on safety-critical components of E/E (electrical and/or electronic) systems in the automotive industry.
This article outlines what you must know about ISO 26262.
What is the ISO 26262 Standard & Why Must Vehicle Manufacturers Comply with It?
ISO 26262 is the international standard for functional safety in the automotive sector. This standard covers the hardware and software parts of a vehicle's electrical and electronic (E/E) systems.
During development, ISO 26262 specifies requirements that must meet the system's safety-relevant function and the associated processes, methods, and tools. The ISO 26262 standard guarantees adequate safety is achieved and preserved throughout the vehicle's lifecycle.
The ISO 26262 Safety Lifecycle
The ISO 26262 standard addresses the entire product safety lifecycle, which includes:
Hazardous event

: The developer analyzes errors, malfunctions, and dangerous situations that could impact end-users at this point. Developers will assess hazards based on their severity, exposure, and controllability ratings. This analysis helps prioritize threats by assigning them an ASIL (Automotive Safety Integrity Level).
Safety goal: Data collected on risks will be used by requirements for engineers to incorporate safety goals into the final product. Functional safety requirements will be detailed in this stage and linked to the supporting documentation.
Automotive Safety Integrity Level (ASIL): This procedure tests and integrates hardware and software. After that, the product components are combined to make a full system to be installed in the automobile.
Safety requirement: Safety requirement studies are performed at every stage of development to locate and control for any vulnerabilities.
The 12 Parts of ISO 26262
Each of the 12 sections of the ISO 26262 standard corresponds to one stage in the product's lifecycle.
Part 1 Vocabulary: This section defines several frequently used terms and abbreviations to keep things consistent and clear.
Part 2 Management of Functional Safety: The proper approach to functional safety management for automotive uses is outlined here.

Part 3 Concept Phase

: The concept phase is used at the beginning of the creation process. This process calls for a Hazard and Risk Assessment (HARA) to be conducted per the item definition. As part of this process, the Functional Safety Requirements are defined and delivered to the System Team.
Part 4 Product Development at the System Level: Concerns with system-level development are addressed here. It also details the necessary technical safety criteria that must be implemented.
Part 5 Product Development at the Hardware Level: This level includes fundamentals like hardware design and the analysis of hardware metrics in architecture. Evaluating random failures that may have resulted in a breach of the safety goals is also essential.
Part 6 Product Development at the Software Level: These are norms for developing secure software, designing and verifying software units, integrating and testing embedded software, and performing safety-critical software testing.
Part 7 Production, Operation, Service, and Decommissioning: This section offers guidance on creating and maintaining a manufacturing procedure for components and accessories used in motor vehicles to enhance safety.
Part 8 Supporting Processes: This part is relevant throughout the product's safety lifecycle. Issues, including proper verification methodology, tool certification, and field-proven reasoning, are discussed.
Part 9 Automotive Safety Integrity Level (ASIL)-Oriented and Safety-Oriented Analyses: Safety studies, analysis of dependent failures, and ASIL decomposition are discussed in Part 9.
Part 10 Guidelines on ISO 26262: This section is an expanded introduction to ISO 26262. The purpose is to enhance familiarity with ISO 26262 and its constituent elements.
Part 11 Guidelines on Application of ISO 26262 to Semiconductors: This section provides in-depth information to support silicon intellectual property and semiconductor manufacturers.
Part 12 Adaptation of ISO 26262 for Motorcycles: The final section summarizes how you adapted the ISO 26262 standards for bikes. Integration and testing of vehicles and validating their safety are covered in detail.
---
About RGBSI
At RGBSI, we deliver total workforce management, engineering, quality lifecycle management, and IT solutions that provide strategic partnership for organizations of all sizes.
Electrical & Electronic Services

We offer state-of-the-art services that fully integrate electrical and electronic design through manufacturing. With a "think forward" outlook, clients' use our team of experts to ensure their products, systems, and processes are always current and compliant in the most efficient way possible.
ISO 26262 Services
Hazard and risk assessment

Safety goals assignment

Functional safety concept & requirements

Technical safety concept & requirements

Testing & validation of safety mechanisms

ASIL analysis

Safety process implementation & operations
Learn more about electrical & electronic services.