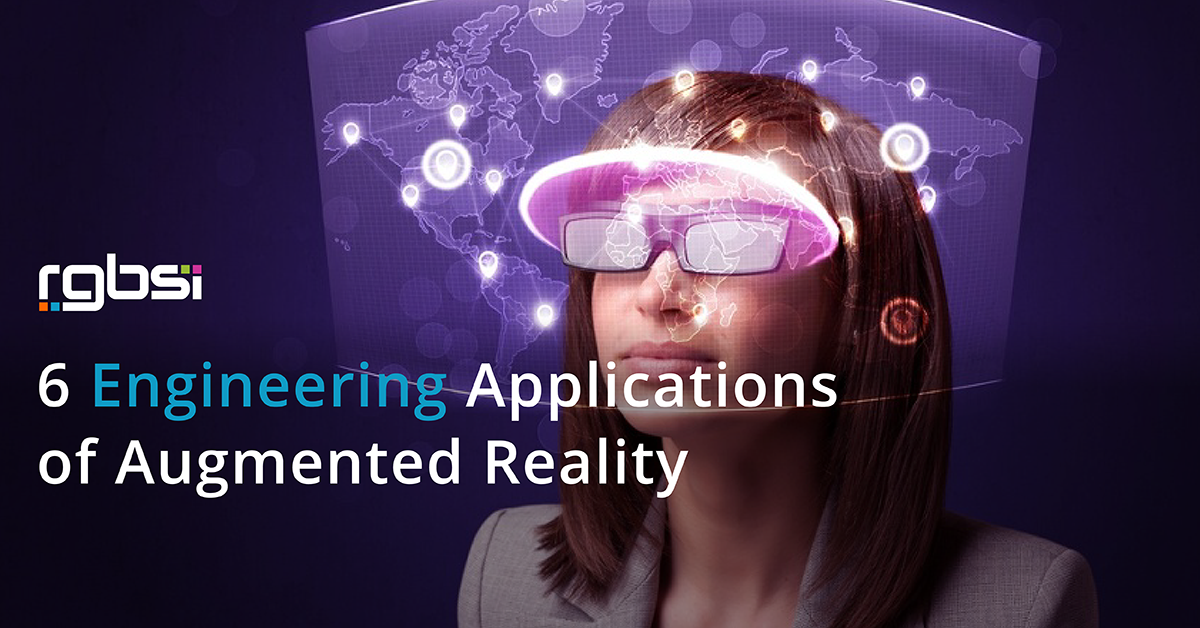 This term augmented reality (AR) has gained an increasing amount of attention over recent years. Augmented Reality has become a far-reaching technology, with its applications spanning across the industry verticals of architecture, commerce, beauty, military, geographic information system (GIS), and sports. On that note, AR is an important tool for the engineering industry. Operational benefits are experienced by using AR through multiple phases of the engineering lifecycle. Here are 6 engineering applications of augmented reality used today.
1. Gaming
While Star Trek's holodeck is assumed as science fiction, engineering industries are using virtual reality (VR) in various engineering applications. For instance, VR is used in the gaming industry. VR enables games to feel like a real 3D environment that can interact with other players throughout the game. Since the VR concept has definitely made a footprint on industrial applications, there is an opportunity to integrate virtual reality with real-life experiences to create augmented reality. This is basically an improved reality where an operator sees and experiences the real world surrounding them, but with the incorporation of computer-generated graphics in connection with what is "really" there. A great example of this is Nintendo's Pokémon Go for smartphones, which integrates the game as a layer on top of your actual geographic location for a fully interactive experience.
2. CAD
AR is extensively used in CAD applications to display conceptual designs on a computer as they are intended to look in the real world. This is referred to as visualization and it allows the user to test various options of an object before it's built. Besides visualization, AR is applied in actual manufacturing processes like quality control inspections, training, and maintenance. Some CAD software employs AR such as SOLIDWORKS, Autodesk, PTC, and Augment. With the use of AR in CAD, a user can display their design in full scale and in the environment of interest, which means clients can see an exact visual of a product/part concept and simulate them on the real environment. Additionally, AR can be used in connection with a variety of configurations to present multiple product variations to customers.
3. Assembly
Augmented reality is extensively used in manufacturing assembly. For instance, Boeing, the world's leading commercial aircraft maker, uses augmented reality to alleviate its sophisticated methods of wiring its 787-8 plane (AKA Dreamliner). Boeing uses Skylight software to ease the wiring process. More specifically, Boeing reported its adoption of AR has saved the company about 25% of wiring time and lowered the error rates to nearly zero.
AR simplifies complex assembly procedures by replacing static work instruction documents with AR glasses. The work instructions are broken down alongside technical drawings and demonstration videos, which are all held in the repository of AR glasses such as Google Glass. The use of AR solutions provide assembly engineers with instant direction, voice instructions, and an environment tracking interface, so they can remain hands-on during the assembly process.
4. Maintenance
Augmented reality has been adopted to ease maintenance processes by various manufacturing and engineering companies. Use of AR technology in maintenance allows key procedures to be in direct view of the technicians operating the repairs. AR is used in form of an app whereby the hardware can be integrated on a smartphone, a table or AR glasses. Technicians get sequential instructions to perform service and maintenance activities on machinery. Also, AR teaches the technicians how to perform the tasks correctly and aids new technicians to learn the procedure correctly, faster, and without errors.
5. Training
Jaguar Land Rover partnered with RE'FLECT and Bosch to build an augmented reality integrated training app for their workers. This app is meant to offer training to new technicians without tampering with vehicle dashboards. With the use of the app, a mechanic can simply use a touchscreen on the dashboard to view all the hidden items behind the panel. On this screen, the mechanic can locate the exact position of all components and interact with each of them. This application generates all the connections and wiring diagrams for instructors to provide training on a physical vehicle without having to dismantle and reassemble it. AR adoption by Jaguar Land Rover has enabled visual knowledge transfer, which not only helps to train new technicians but also keeps training costs low.
6. Quality Control
After adopting AR in their factories in Leipzig and Zuffenhausen, Porsche embraces its virtual factory as already a reality. At Porsche's quality center, AR is used to conduct experiments to test and acquire the right design information. Use of AR for quality control processes enables engineers to examine parameters like dimensional accuracy, tolerances, the surface finish, and interference. In addition, engineers can better gauge various component conditions. For example, quality engineers can photograph an assembly part then use augmented reality technology to overlay this image on top of the supplier-provided image to inspect and identify irregularities quickly.
Conclusion
Augmented reality is making its mark on the engineering industry and has even more potential to make an impact across various facets of engineering. It can generate concrete information about design, component parts, and machinery for significant time and expense savings. Also, AR can be applied to 3D designs showing various configurations to view the product as one would in real life.
About RGBSI
At RGBSI, we deliver total workforce management, engineering, quality lifecycle management, and IT solutions that provide strategic partnership for organizations of all sizes. As an organization of engineering experts, we understand the importance of modernization. Our engineering solutions provide clients with agility and enhancement through optimizing the value chain to meet industry protocols and full product specifications. Learn more about our automation and digital engineering services