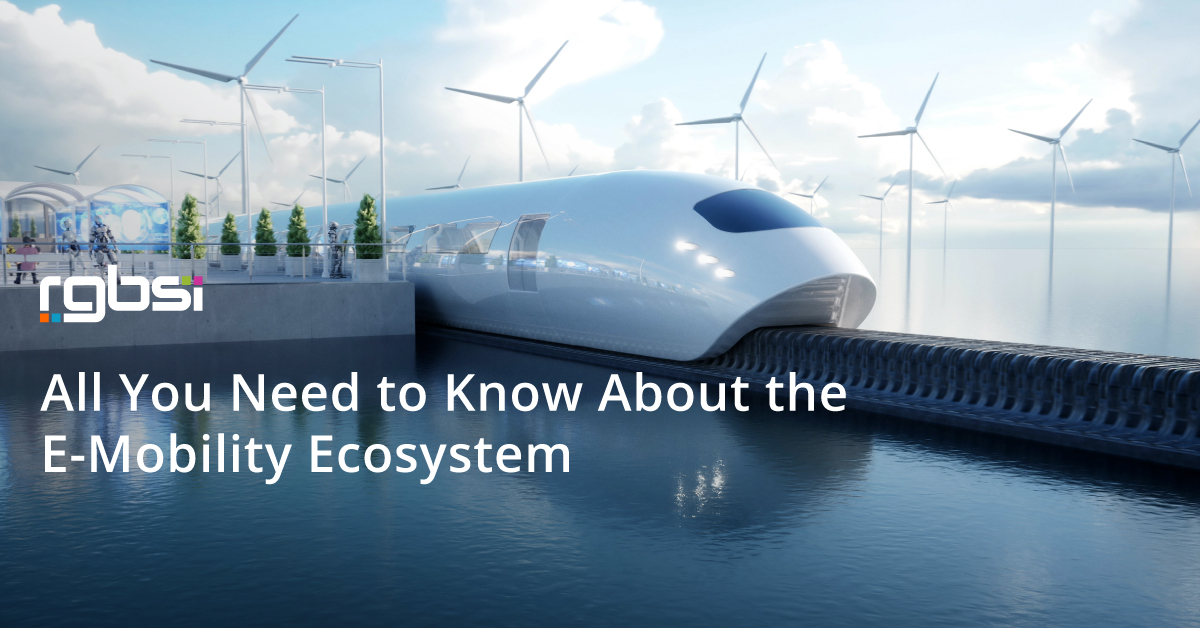 Adopting e-mobility does not only change the way we approach the road but also improves the quality of our lives. The emergence of electric vehicles in recent years introduced a new viable mode of transportation. As a result, the e-mobility ecosystem has become the pillar of the economy, providing millions of jobs worldwide.
What is E-Mobility?
The future of mobility is electric. E-mobility (electric mobility or electro mobility) refers to taking advantage of electric vehicles to get from one place to another. Examples of these vehicles include e-bicycles, e-motorcycles, cars, and other public transport vehicles powered by electricity. EVs offer sustainability, considering that these vehicles cannot emit harmful gases. The absence of combustion engines in e-mobility vehicles makes it possible to prevent the emission of carbon and greenhouse gases that are the main culprits behind climate change.
Apart from its benefits to the environment, urban public transport's electrification offers convenience and safety powered by advanced technologies. However, this massive change may require amendments in tax policies and regulatory policies to enforce transport management accordingly. Lastly, it takes enormous scale planning efforts before communities can integrate electric mobility in projected urban infrastructures. Needless to say, there are a fair share of challenges to e-mobility which will take time to overcome.
Components of the E-Mobility Ecosystem
To gain a clear understanding of e-mobility, you must know what makes up its ecosystem. Beyond electric vehicles, some stakeholders and sectors have a series of responsibilities to help build the e-mobility ecosystem. Here are the most critical components of the e-mobility ecosystem:
EVs
Electric vehicles have a combination of an electric motor and a small combustion engine. There are also hybrid EVs that can be recharged via a power grid system and filled with fuel. Multiple sectors comprise electric mobility vehicles. Besides the car manufacturers, OEMs and tier 1 and tier 2 suppliers contribute manufacture various component parts for electric vehicles. These companies include battery makers, EV accessories producers, and maintenance service providers.
Service Providers
The service providers assigned for electric mobility build the charging infrastructures for all forms of electric vehicles. Although some of these companies do not establish charging points, they often coordinate with charge point operators to fulfill charging services.
Charging Points
Managed by the Charge Point Operators (CPO), the charging points are where EVs recharge their batteries. Various charging points are scattered nationally to make it easier for motorists to manage their vehicles.
When you get into charging points, you can expect the Charge Point Operators to be responsible for the following:
Managing charging stations: From operations to maintenance

Coordinating with service providers

Charge point navigation and roaming
Energy Generation
Energy generation from the charging points is made possible by utility companies. The utility companies can acquire energy resources from wind, solar, nuclear, and hydro. However, some providers purchase electricity from other producers to sell it as a service.
Established utility support can help decrease recharging costs while contributing to a cleaner environment. It also gives more avenues for utilities to expand their infrastructure, building improved grid systems, and deliver new value-added services. Electric utilities will have an influential role in the growth and innovation of the e-mobility ecosystem.
Regulators
Lastly, one of the most vital stakeholders to the e-mobility ecosystem is the government. The public sector is the one that makes sure that the e-mobility approach runs smoothly. They establish policies and regulations, along with the deployment of the authorities that enforce the law.
---
About RGBSI
At RGBSI, we deliver total workforce management, engineering, quality lifecycle management, and IT solutions that provide strategic partnership for organizations of all sizes.
Engineering Solutions
As an organization of engineering experts, we understand the importance of modernization. By pairing modern technology with design expertise, we elevate fundamental engineering principles to accommodate growing product complexity requirements. We work with clients to unlock the full potential of their products and enable future innovation. Learn more about our automation and digital engineering services.