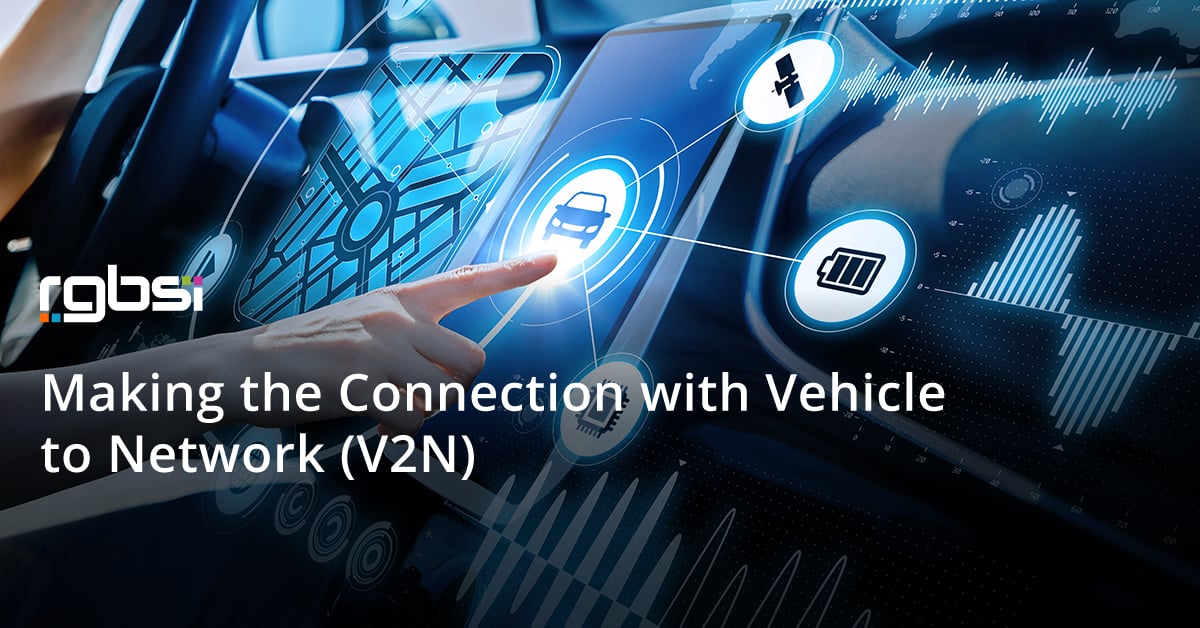 Every day brings tremendous developments in automotive technology. In the era of digitalization, making stable connections is more important than ever. Companies begin to leverage technology to develop an infrastructure of communication between a network and vehicles. Ultimately, this offers modern solutions to significant urban challenges, including traffic fatalities and traffic congestion that motorists face every day.
What is Vehicle to Network (V2N)?
One of the latest automotive technology trends features the electrification of cars, which enables new ways to communicate. As vehicles become less reliant on manual intervention, we are bound to experience safer, more efficient, and sustainable journeys, all thanks to V2N technologies. Vehicle to Network aims to transmit information between vehicles and the management system. This process is made possible through high-bandwidth, low-latency, high-reliability network infrastructure. Cars can receive broadcast alerts about traffic congestion or accidents further down the road to pave the way for autonomous driving with the future of mobility.
The Role of V2N in Vehicle Connectivity
Vehicle to Network (V2N) facilitates a cooperative exchange of information between cars, trucks, buses, traffic lights, lane markings, and other forms of the road infrastructure network. The goal is to improve road safety providing immense guidance regarding road updates sent in real-time, enhancing vehicle connectivity.
Communicate with Data Centers
Vehicle to network systems integrates vehicles with data centers to provide stable access and consistent communication. The car can receive uninterrupted broadcast alerts on traffic and road updates connected to high latency cellular networks and the cloud. For example, popular mobile applications such as Google Maps and Waze acquire real-time traffic information to assist drivers with their journey.
Communicate with Other Vehicles
Another function of the V2N network involves connecting vehicles with other vehicles. Although third-party applications can provide accurate data on traffic updates and navigation, their technology has its limits. For a generally unexpected phenomenon on the road, vehicles can rely on others' judgment to obtain guidance. Cars can reach out directly to another vehicle to share information about their position, speed, and status. Valuable technologies, including left turn assist (LTA) and intersection movement assist (IMA), allow direct communication between vehicles to improve road safety. You can talk to other drivers to alert them for potential collision when making a left turn or passing through an intersection.
Communicate with Pedestrian Devices
Simultaneously, the Vehicle to Network systems can also prompt pedestrian devices, known as V2P, to prevent potential accidents. V2N sends signals to road infrastructures like traffic lights to change the lights at specific intervals. For instance, it affects how quickly the signal changes under the day's predetermined times or when cars pass over sensors in the pavement.
Receive Alerts
Smart road infrastructures, including sensor cameras and traffic lights, interact with the environment to perform specific tasks. The actions that these technologies take depend on the number of cars and pedestrians waiting in each lane. The amount of time it can take to clear up every route gets calculated to reduce as much traffic as possible. Similarly, these signals are transmitted through V2N to provide you with alerts on road conditions, accidents, and other road anomalies.
Through V2N, the vehicles can receive information about the following:
Receive warnings when you are about to drive through a red light.

Alerts drivers when a pedestrian is about to cross or when someone pressed the crosswalk button.

Notifies drivers when an emergency vehicle is nearby.

Display the traffic signal countdown for the drivers' convenience.
---
About RGBSI
At RGBSI, we deliver total workforce management, engineering, quality lifecycle management, and IT solutions that provide strategic partnership for organizations of all sizes.
Engineering Solutions
As an organization of engineering experts, we understand the importance of modernization. By pairing modern technology with design expertise, we elevate fundamental engineering principles to accommodate growing product complexity requirements. We work with clients to unlock the full potential of their products and enable future innovation. Learn more about our automation and digital engineering services.