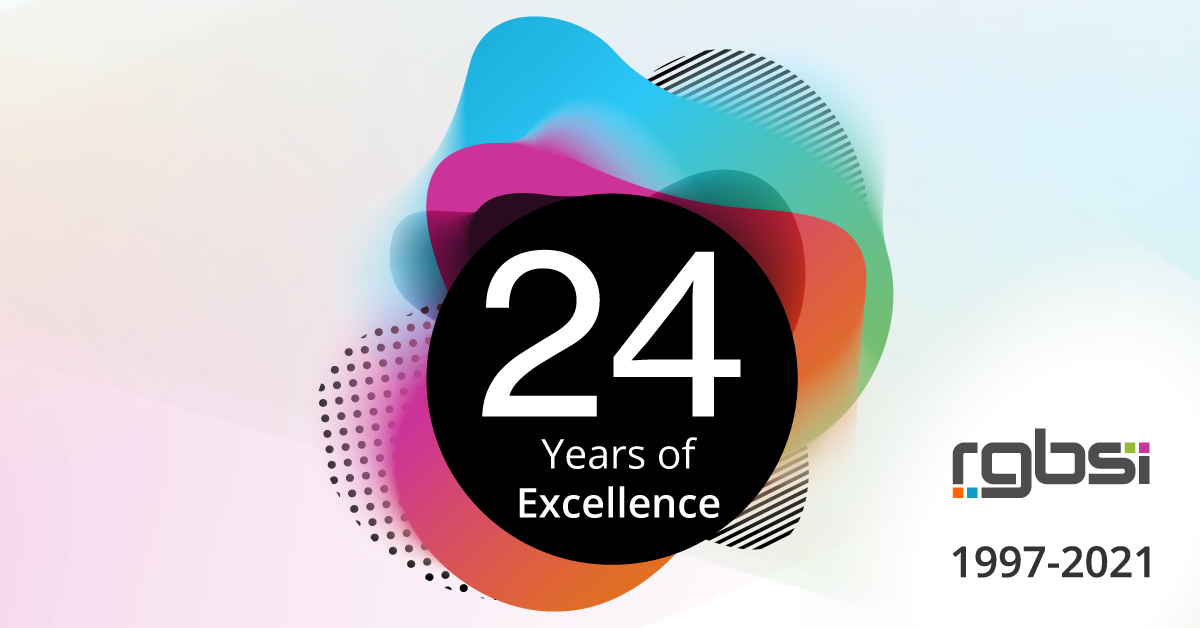 RGBSI is proud to celebrate its 24th anniversary as a renowned B2B solutions provider around the world. The past year has presented numerous challenges, as well as a very different business climate to navigate than ever before. Despite these obstacles, RGBSI continues to experience successful growth by unlocking the power of innovation to adapt its approaches to meet the needs of global markets.
RGBSI is a leading global solutions provider across the disciplines of workforce management, engineering, quality lifecycle management (QLM), and information technology (IT). From autonomous vehicles to 3D printing, technology is evolving faster than ever. The company sees this as a great opportunity to leverage its robust engineering and IT backing to enable process innovation and provide support for organizations across industrial markets.
RGBSI was incorporated in Troy, Michigan, USA on March 19, 1997. It started out as a technical staffing provider and has transitioned into a full-service B2B organization that comprehensively solves business challenges through equipping companies with the right tools to succeed. The company accompanies its clients with access to global reach, eliminates talent gaps, and provides management consulting to further excel innovation. Product innovation continues for RGBSI's proprietary software: UpGlide for total talent management and Empower QLM for total quality lifecycle management, as the demand for these cloud-based solutions are essential to the heart of today's operations.
With electrification of transportation on the rise, Empower QLM's current client base includes electric vehicle OEMs looking to master the future mobility. The software provides OEMs with the right tools to completely automate quality management activities required to bring electric-powered products to life.
"It is a proud moment to be celebrating our 24th anniversary. We see a promising future in years ahead, with great innovation underway as we continue to evolve with market demand. As the market is changing, we are excited to be at the forefront of innovation. We continue to build upon our expertise and proprietary software products (UpGlide and Empower QLM) to provide our clients with the top-of-the-line solutions in supporting digitalization through new products and new ways of doing business," said Dr. Nanua Singh, Chairman & CEO of RGBSI .
RGBSI continues to disrupt B2B marketplaces as it continues to advance. Focusing on current trends, the company is amplifying its delivery of integrated engineering and technology solutions primarily for the automotive, aerospace & defense, and manufacturing sectors. Through solutions comprised with the right talent, the right processes, and the right technology, RGBSI helps companies become agile in response to shifting business requirements.
RGBSI looks forward to future anniversaries as it continues to provide unique value through its evolving portfolio of solutions.
---
About RGBSI
RGBSI delivers business solutions that close the gap between strategy and execution for global organizations of all sizes. Its portfolio of solutions spans across the verticals of workforce management, engineering, quality lifecycle management (QLM), and information technology (IT). Through strategic partnerships, RGBSI helps clients enhance performance, adopt innovation, and access global resources. The company enables organizations to meet their corporate objectives by leveraging its robust capabilities.

RGBSI is ISO 9001:2015 and AS9100:2016 Rev D certified, as well as a Minority Business Enterprise.
About UpGlide
UpGlide is the cloud-based total talent management platform that allows you to manage candidates, employees, vendors, and independent contractors in a central location. UpGlide software is customizable to meet the role-specific needs of direct employers, staffing agencies, and MSPs in managing their workforce and vendors.
About Empower QLM
Empower QLM is a cloud-based quality management system (QMS) for total quality lifecycle management (QLM). The technology allows customers and suppliers to align supply chain management strategies with manufacturing quality through full workflow automation and digital transformation.