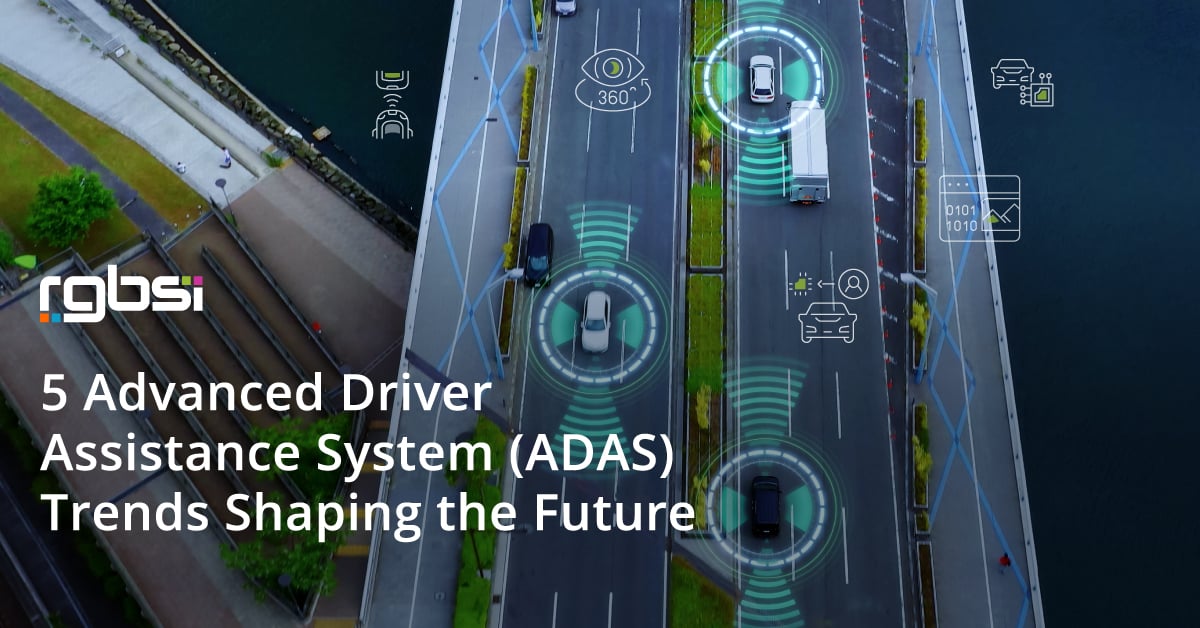 As the saying goes, "change is the only constant in the world." Several sectors are amid major changes as the world moves toward a technologically driven future. Due to the advent of autonomous vehicles (AVs), the automotive industry might get seen as one of the most affected industries impacted by this shift.
This article will discuss the advancements shaping the future of the automotive industry, particularly the emergence of advanced driver assistance systems (ADAS).
What is ADAS?
The Advanced Driver Assistance System, popularly known as ADAS, is a hybrid system that combines both active and passive safety features. Its primary purpose is to mitigate the risks associated with driving by minimizing the influence of human error. The goal is to enhance driver safety and performance by applying cutting-edge driving automation technologies to the process.
There are many advantages to using ADAS, as it improves user safety and response time through automated and early warning systems. Some cars have these elements already installed as standard equipment.
In contrast, others let the buyer add additional components or an entirely new system later for a more tailored driving experience.
Why ADAS is a Key Emerging Technology for Autonomous Vehicles?
ADAS is the newest component of auto technology that could bridge the gap between today's vehicles and the vehicles of the future. As consumer convenience and security increasingly become the primary selling points of new automobile models, ADAS widely gets regarded as a key emerging technology in the development of AVs.
5 ADAS Trends to Keep an Eye On
Here are 5 of the most notable ADAS trends should look for:
1. Embedded Vision
Embedded vision systems in vehicles are increasingly important for seeing and tracking moving obstructions. In addition to providing crucial input for high-level warning functions, these systems supply the data necessary to enable an expanding range of services, such as intelligent parallel parking or traffic sign recognition for speed-change notifications.
2. Sensor Fusion
Adaptive cruise control involves a suite of sensors to monitor the road, the vehicle, and the driver, going well beyond the capabilities of traditional visual traffic warning systems. Light Detection and Ranging (LIDAR), infrared detection, and radar sensors provide potent answers for Adaptive Cruise Control (ACC), which reacts to traffic changes and systems that can keep a safe distance even in heavy traffic with frequent stops and starts.
Together, signal-chain integration and the current trend toward enhanced sensor fusion enable the generation of more accurate and timely warnings.
3. Connectivity
Wireless networks are becoming increasingly important for both in-vehicle and outside communication as the number of digital data sources in automobiles continues to expand rapidly. Standard vehicle communications protocols can now take advantage of wireless solutions, expanding the range and adaptability of systems like tire pressure monitoring and anti-lock brake systems. This is also known as vehicle to everything (V2X) which promotes road safety, convenience, and comfort.
The Internet of Things (IoT) and other emerging technologies makes vehicle connectivity possible with the potential to connect in-vehicle smart gadgets with cloud-based apps, allowing for the delivery of ever-more-advanced services to customers.
4. Systems Infrastructure
An enhanced systems foundation is required across automotive systems design, not just in ADAS architectures, as smart sensors and control systems become increasingly commonplace in modern automobiles.
With the growing presence of safety features in real-time operating systems (RTOS) and related software tools, automotive software developers may rest easy knowing their work gets built on a solid technical basis. Today, many RTOS, middleware, and development tools get developed to satisfy road vehicles' worldwide functional safety standards.
5. HMI Design
The success of ADAS depends on means of interaction with the driver that does not cause distraction. This benefit is true even with advances in vision systems, sensors, communication options, and infrastructure. Notably, the evolution of touchscreen technology has made it simpler for passengers and drivers to communicate when the car is parked.
However, implementing cutting-edge human machine interface (HMI) technology in automotive settings represents a potentially game-changing development for the overall safety and quality of the driving experience.
Conclusion
ADAS addresses one of the most vital aspects of transportation: the protection of people. Because human error accounts for approximately 90% of all traffic accidents, injuries, and fatalities, every improvement in ADAS has a direct and undeniable bearing on the rate at which you can avoid injuries and fatalities.
---
About RGBSI
At RGBSI, we deliver total workforce management, engineering, quality lifecycle management, and IT solutions that provide strategic partnership for organizations of all sizes.
Engineering Solutions

As an organization of engineering experts, we understand the importance of modernization. By pairing modern technology with design expertise, we elevate fundamental engineering principles to accommodate growing product complexity requirements. We work with clients to unlock the full potential of their products and enable future innovation.
Learn more about our engineering services.