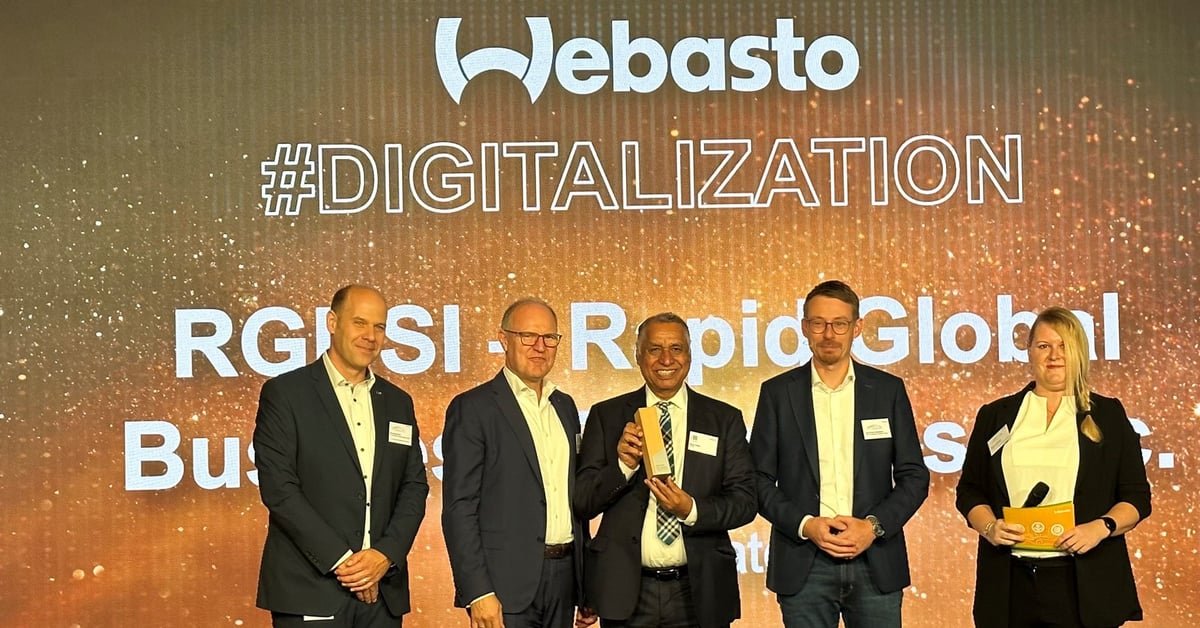 Webasto Group's International Supplier Day 2022, Munich, Germany, October 19, 2022.
Webasto Recognizes RGBSI for its Leading Global Digital Supply Chain Solutions through Digitalization Supplier Award, Presented in Munich, Germany on October 19, 2022.
RGBSI is honored to receive the Webasto Supplier Award in Digitalization as part of Webasto Group's International Supplier Day 2022, which took place in Munich, Germany on October 19, 2022. The event brought together Webasto suppliers from 20 countries that lend support to the mobility industry. Awards were presented under the categories of quality, cost performance, supply chain resilience, sustainability, and digitalization. Fresh perspectives were exchanged around building a resilient supply chain to untap opportunities in the future of mobility.
As a partner to Webasto, RGBSI delivers on digital supply chain transformation and was recognized for its expertise and solutions in digitalization. RGBSI's proprietary quality management software, Empower QLM, was successfully implemented to support Webasto's quality initiatives. This includes Empower QLM's APQP/PPAP, NC/8D, and CAPA modules for Webasto's high-tech roof, battery, and charging vehicle solutions.
RGBSI is the leading global provider of engineering and QLM (quality lifecycle management) solutions, comprised of service and technology. Specific to QLM, its solutions help companies capitalize on supply chain automation to improve efficiency and overall product quality, while minimizing risk exposure. Its cloud-based software Empower QLM helps companies adopt enterprise-wide collaboration by connecting supply chain networks through the digital transformation of existing systems.
From start to finish, RGBSI's expertise and customized approach offers its clients a door to operational excellence. A successful transition to a digital economy and the revolution of the automotive industry requires collaboration within the supply chain. RGBSI looks forward to furthering its partnership with Webasto to unlock mastery and pursue innovation.
---
About RGBSI
RGBSI delivers business solutions that close the gap between strategy and execution for global organizations of all sizes. Its portfolio of solutions spans across the verticals of workforce management, engineering, quality lifecycle management (QLM), and information technology (IT). Through strategic partnerships, RGBSI helps clients enhance performance, adopt innovation, and access global resources. The company enables organizations to meet their corporate objectives by leveraging its robust capabilities.

RGBSI is ISO 9001:2015 and AS9100:2016 Rev D certified, as well as a Minority Business Enterprise.
About RGBSI
Empower QLM, a division of RGBSI, is a cloud-based quality management system (QMS) for total quality lifecycle management (QLM). It establishes compliance with industry-specific standards. From product conception through manufacturing, Empower QLM provides complete transparency by connecting all relevant parts of the supply chain.