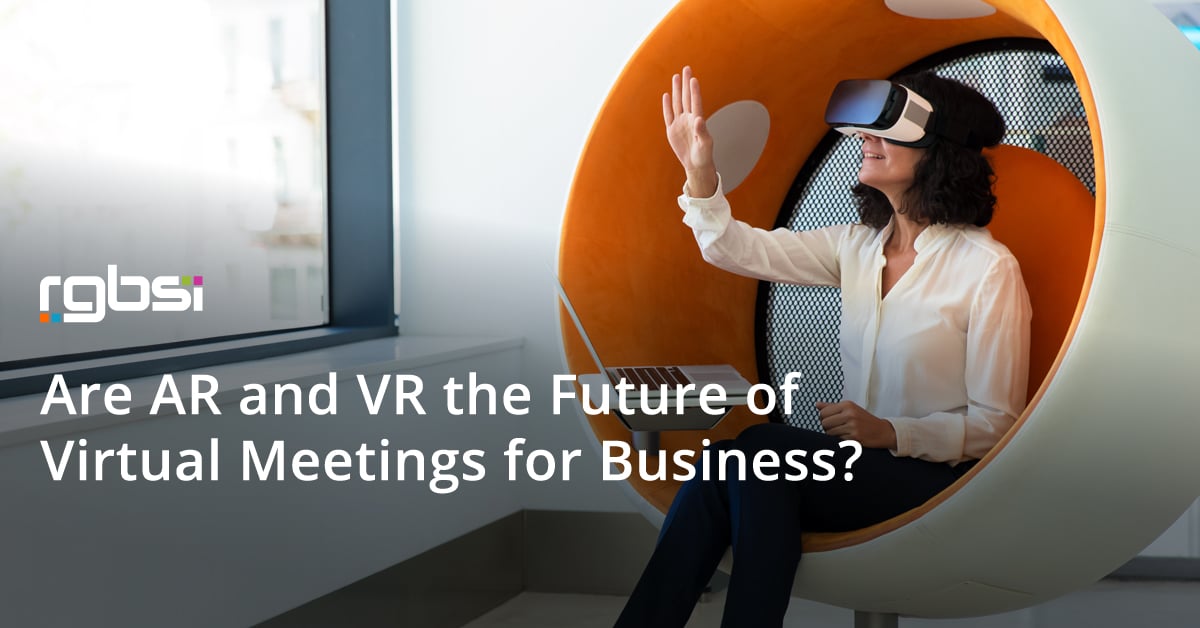 In today's era, it is not uncommon to attend a work meeting, a workshop, or a social event without leaving home. Video conferencing is just the beginning for interacting in the digital realm as virtual meetings are here to stay. Could augmented reality (AR) and virtual reality (VR) be the next big thing to evolve virtual communication? It's already happening.
AR and VR technology already have several applications. Virtual makeup try-on, build your own car, virtual room design, and virtual vacations are just a few of the applications used by businesses today. Therefore, it's not far-fetched to envision such technology maximized for digital interaction. Combining AR, which enhances the real world in view, and VR, which creates a completely different environment, is promising for business communication and virtual meetings.
Types of Virtual Meetings
Virtual meetings aren't one size fits all. There are different options for the type of business meeting being conducted.
Teleconference

– this is when users participate with audio only. This can one-on-one or with multiple people in a meeting room. It is difficult to understand another person's body language without video to share nonverbal cues.

Video conference

– most popularly associated with virtual meetings, this is when participants use audio (web or phone) and video. This can be one-on-one or multiple people in a meeting room. With video capabilities, users can see nonverbal cues of others as well as share data from their screens for better collaboration.

VR conference

– this is when users use VR technologies like headsets to participate and be placed in a 3D meeting rooming. This ultimately comes closest to in-person meetings.
How Virtual Reality (VR) Meetings Works
AR is already quite common in video conferencing technology. For example, superimposing a filter or a background scene on yourself during a Zoom meeting is AR. VR is strongly thought to be connected to the gaming industry, but it has potential value for business.
Virtual meetings with VR require two things: a platform to host the meeting on and hardware like glasses to experience the 3D environment. As opposed to traditional meetings with video conferencing technology, VR enables a more personal experience for remote teams. Personnel can have meetings that more closely resemble in-person meetings, collective thinking, and strategizing without communication lost in translation through displaying motion and body language. With VR headsets, such as Oculus or Samsung Odyssey, participants movements are tracked and translated into 3D interactions aka "immersions" in a virtual space.
Types of immersions
Head tracking

– follows head movement from different angles and assigns them to X, Y, Z coordinates to map out directional motion.

Eye tracking

– follows eye movements with an infrared controller to provide a wide field of view for better peripheral vision.

Gesture tracking

– follows face, limb, and hand movements with sensors or data gloves to track position, orientation, and velocity.
Team Collaboration
AR and VR technology lend limitless possibilities for global workforces to collaborate in a more engaging and sensory space. Team members can be in the same space while across the world. With VR, an individual can appear as a hologram in a 3D environment and brainstorm ideas on a whiteboard, present thoughts, and make eye contact with other team members. This is a revolutionary for product development and design teams to visualize something before investing the time and money into the real creation. For example, a team of engineers can virtually build models to analyze, identify improvements, and solve problems before moving forward with building a physical prototype.
Team applications
Candidate interviews - digital interviews simplify the recruitment process with the ability to interview more candidates from different locations.
Training – complex hands-on work can be taught from all over the world in a VR environment just as if it were taught standing side by side. Visual knowledge transfer is possible at a lower cost with improved retention.

Design

– products can be designed more efficiently through spatial collaboration with sketching, brainstorming, and reviewing before a commitment is made to production.
Client Experience
AR and VR technology can be used for businesses to provide potential or existing clients with an unforgettable experience. Imagine transforming a traditional product demo into a full blow visual experience. For instance, relevant 3D data applicable to a potential client can be customized to shown how it solves that individual's unique challenges. A simulation of the user's day-to-day experience with the product gives them the ability to test it out before making a purchase decision. This eliminates unnecessary travel expenses for sales reps as well as the inconvenience of transporting products.
Reality technology opens doors to more engaging client events. For example, a business can hold a virtual user experience conference across a segment of clients that use its software with the enhancements of VR. Clients can be in the same room irrespective of their location and share their individual use case scenarios with the software and how it benefits their business. This promotes engagement through knowledge sharing as clients can takeaway ideas from one another and apply them in their own business setting.
Client applications
Product visualization

– more detailed information about a product/service is delivered with the ability to demonstrate full capabilities for more informed purchase decisions.

Troubleshooting

- practical support post-sale for clients is offered in a faster amount of time because both parties can see what the other is viewing and experiencing.

Building relationships

– virtual communication is humanized, and digital trust is built between the business and the client.
Conclusion
AR and VR technology in business can make remote feel real. They empower virtual meetings with by transforming digital communication into an immersive visual experience. With the right conferencing platform and a pair of VR glasses, businesses can run more engaging meetings. Internal communication across employees is improved with the ability to visually support statements and a more inclusive workplace culture is formed. There is also potential in boosting client relationships by making them feel special and valued. Although these concepts are still a developing area, AR and VR have a promising role in how businesses will run virtual meetings in the future.
---
About RGBSI
At RGBSI, we deliver total workforce management, engineering, quality lifecycle management, and IT solutions that provide strategic partnership for organizations of all sizes.
We deliver workforce management solutions that provide organizations with complete employee process management. Companies leverage our expertise so they can spend more time focusing on their core business. Solution areas include:
Contract, contract to hire, project-based, and permanent staffing
MSP/VMS
RPO
Payroll administration
Onboarding
Interested in learning more about our workforce management solutions? Inquire
WORK WITH RGBSI
We provide contract, contract to hire, project based, and permanent job opportunities for engineering, IT, and professional and administrative careers. We have established relationships with top companies in engineering and IT industries around the globe. The opportunities are endless for engaging in different career paths.
View our job portal to see all of our current openings.