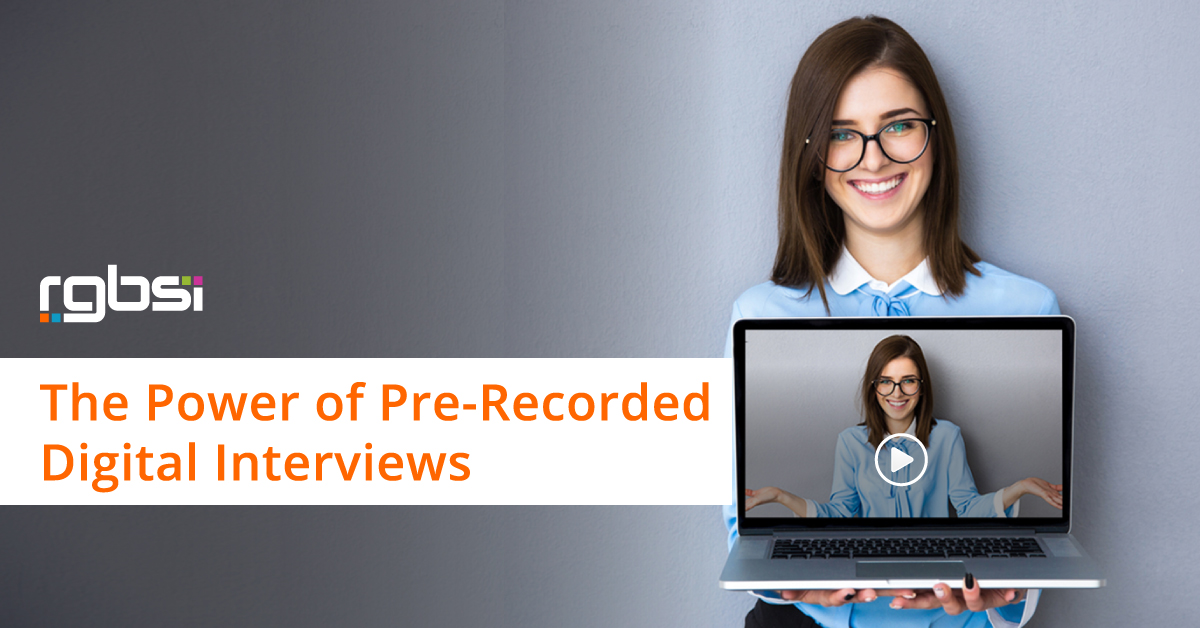 A digital interview is the use of virtual tools for employers to conduct interviews with candidates as a method of selection. These are also known as video interviews, virtual interviews, and web conference interviews. They come in two formats: live or pre-recorded.
A study found that 47% of hiring managers and recruiters use video interviews to shorten the time to hire and 22% would consider it to interview candidates in different geographic areas.
At RGBSI, utilizing technology to facilitate live and pre-recorded digital interviews is at the forefront of our recruitment process. Application of virtual tools for on-demand interviews helps us streamline screening, accelerate hiring, and provide more qualified candidates for our clients.
What are live digital interviews?
Live digital interviews are simply the use of any two-way video and/or audio conference tools to conduct interviews in real-time.
What are pre-recorded digital interviews?
Pre-recorded digital interviews are where candidates can record audio or video, or complete skills assessments based on a given set of questions and/or requirements. This on-demand approach provides flexibility for applicants to conduct a job interview at their leisure and employers to screen more candidates. This is fully customizable for employers to design a unique set of questions for each job.
How do they work?
One method of conducting pre-recorded digital interviews is in a two-way manner. For example, each question can be prompted by text across the screen or by a video recording of the interviewer asking the question. After the prompts, the candidate is given time to think and then signaled to record an answer to question. The second method of conducting a pre-recorded digital interview is in an instructional manner. The employer supplies a full written list of interview questions. The candidate then creates and submits a full video or audio recording of answers for all interview questions.
The flexibility of pre-recorded digital interviews is endless. The hiring process is customizable with multiple output methods.
Format (how you want to collect responses?) – written answers, audio answers, or video answers

Time limit

(How long does a candidate have to respond after viewing a question?) – timed or untimed
Benefits for Companies
Application of pre-recorded interviews is beneficial for companies to attract a more diverse talent pool for any given position. The talent pool broadens when interviews can be conducted flexibly, remotely, and at any time. Removing travel conditions and geographic restrictions provides an opportunity for more people to apply and share their background. This further promotes a positive candidate experience.
Benefits for Candidates
Pre-recorded digital interviews ease the stress of job interviews and makes the hiring process more interactive. Candidates are not put on the spot with interviews questions and have time to prepare their answers. This format opens the hiring process to a more direct approach of aligning a candidate's needs with a position before conducting a face to face interview. Candidates can identify if they fit in with the workplace culture early on.
Benefits for Recruiters
Pre-record digital interviews are a time saver for the recruiting process. They help recruiters paint a picture of a candidate early in the hiring process. Application of this format streamlines the recruitment process.
Eliminate manual scheduling of phone screens.

Collaborate with multiple parties on hiring decisions by sharing interview recordings.

Interview consistency across candidates for one position. It is easier to compare answers when asking the same set of questions across the board.
It is a top priority for all companies to find the best talent. Taking an innovative approach to hiring is essential as digital interviews pave the way to a smarter recruiting process. Pre-recorded digital interviews optimize the time to screen candidates and broadens a talent search outside of the local area for more qualified talent. Pre-recorded interviews allow candidates to be creative and bring a written resume to life with video.
As a company, RGBSI continuously adopts innovative recruiting approaches throughout the hiring process. Leveraging technology such as digital interview tools is a key initiative for us to find top-notch talent to support our clients in their workforce management needs. With application of digital interviews, we can find candidates with the right skillset faster for even the most technical and niche job requirements. We help clients avoid the extensive hiring process of managing job postings, reviewing hundreds of resumes, and screening candidates to make qualified selections.
---
About RGBSI Workforce Management Solutions
At RGBSI, we deliver workforce management solutions that provide organizations with complete employee process management. Companies leverage our expertise so they can spend more time focusing on their core business.
Workforce management solution areas
Contract, contract to hire, project-based, and permanent staffing

MSP/VMS

RPO

Payroll administration

Onboarding
Interested in learning more about our workforce management solutions? Inquire
WORK WITH RGBSI
We provide contract, contract to hire, project based, and permanent job opportunities for engineering, IT, and professional and administrative careers. We have established relationships with top companies in engineering and IT industries around the globe. The opportunities are endless for engaging in different career paths.
View our job portal to see all of our current openings.