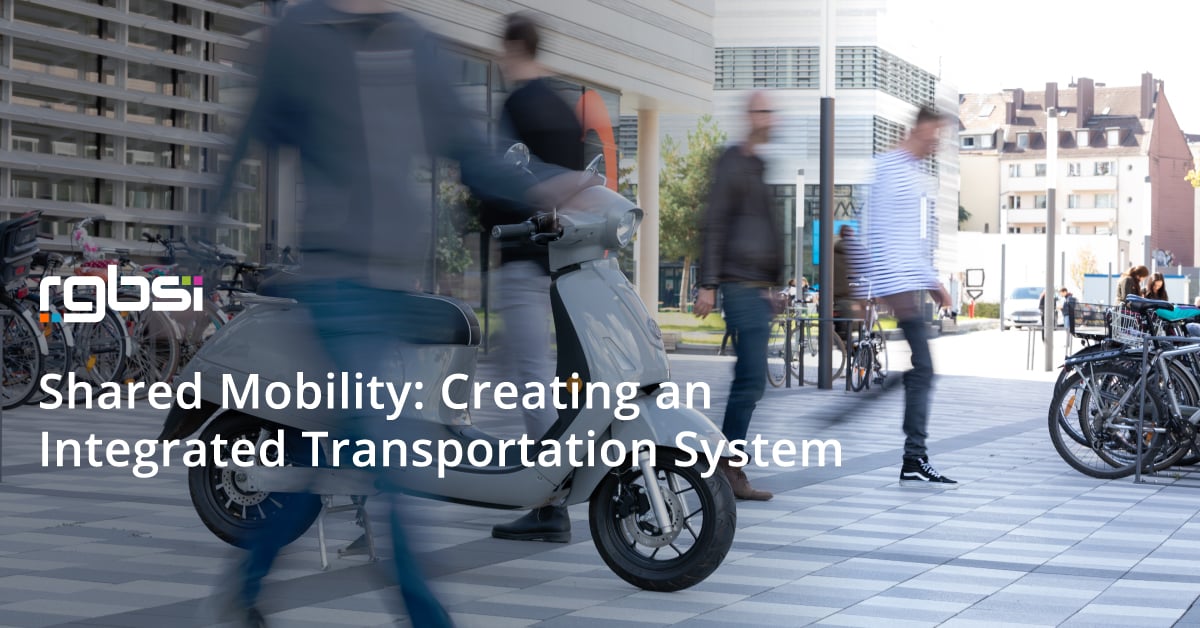 As we enter the 21st century, large cities face increasing challenges regarding public transportation, vehicular congestion, environmental pollution, and the efficient use of available space. Electrification of transport is one initiative driving sustainability. In addition, another innovative concept that aims to address these challenges is shared mobility.
The goal of this article is to give the reader a birds-eye-view about shared mobility and how this concept can assist in creating an integrated transportation system in the not so distant future of mobility.
What is shared mobility?
In its simplest form, shared mobility can be defined as a transportation strategy which gives users access to innovative mobility services that enables them to use shared vehicles when required.
What elements make shared mobility possible?
To fulfill its purpose, shared mobility relies on technologies, services, and concepts such as:
Telecommunications infrastructure - Cloud computing, high-speed broadband internet, and widespread usage of smart devices are the foundation of many innovative services, including next-gen integrated mobility services. Thanks to the telecommunications infrastructure users can access cloud-based services on-demand regardless of their location.
Integrated mobility services - A key factor that local governments, city authorities, and private companies are working on is a truly integrated mobility platform. This platform would provide users with access to services to plan their trips, book services, verify availability of seats, and make their payments, all from a unified interface interconnecting all these services in real-time. Mobility as a service (MaaS) is a key source for this as it creates on-demand access to all transportation modes.
Shared mobility modalities

- Shared mobility comprises different types of modalities, each one addressing specific use cases. Some examples of mobility modes include bikesharing, carsharing, ridesharing, microtransit, on-demand ride services, private shuttles, public transportation, and more.
As a result of the increasing need for transportation alternatives, shared mobility modes, also known as multimodal transportation systems, have experienced an unprecedented surge in recent years. In the subsequent sections, we will explore the most relevant transportation methods supporting shared mobility.
Source: CB Insights Disrupting the Car
Carsharing
Carsharing is arguably one of the most promising shared transportation modes currently available. It consists of a service that enables users to drive a car and paying by daily, hourly, or even by minutes usage. Carsharing usually requires users to join a membership program that allows them to use a fleet of privately owned vehicles as well as access to the carsharing provider mobility services. Carsharing business models usually fall into two categories:
Station-based (round-trip and one-way) model

requires that users pick up and deliver the vehicle at predetermined locations (stations).

Free-floating (one-way) model

has the advantage of letting users dropping off the vehicle anywhere within a designated operating area.
Further adoption of vehicle to everything (V2X) technology can help promote carsharing solutions with safety.
Personal vehicle sharing
Opposed to carsharing where a company keeps and maintains a fleet of vehicles available to members, personal vehicle sharing (PVS) involves using a broker that rents privately-owned vehicles for short periods of time and thus convert them into shared cars. An active business example is Turo, a global car sharing marketplace.]
In this scenario, both the car owner and the users need to register into an online platform provided by the broker that makes the process possible. Although the peer to peer (P2P) model described above is the most common PVS mode because it allows car owners to earn money when they are not using their vehicles, worth mentioning that there is another PVS modality known as fractional ownership that does not involves renting the vehicle but instead sharing its ownership among a small group of people. The key benefit of fractional ownership is lowering the total cost of ownership of the vehicle by sharing maintenance and financing expenses among the car owners.
---
---
Ridesharing
Ridesharing is a popular shared mobility modality used for years in big cities. As its name implies, ridesharing consists of grouping multiple passengers with similar or overlapping destinations and schedules into the same vehicle. Ridesharing is a great solution to decrease the number of vehicles on roads and thus lower carbon footprint. This solution also lets car owners alternate the responsibility of driving, allowing saving fuel, maintenance costs, and even overall stress associated with daily commuting.
On-demand ride services
Another successful model of shared mobility is on-demand ride services. From the convenience of a mobile device, users can easily interact with on-demand ride services and make reservations, choose from several service tiers, pay service fees, and even rate the quality of service received. Among on-demand ride services, ridesourcing has become the most successful one. This type of business model uses private vehicles for on-demand rides that can be completely managed from a mobile app installed on users' devices. Through the provider app, users have the flexibility to perform personalized requests indicating both the departing point and destination location which gives this service an unsurpassed level of convenience.
Bikesharing
This service works in a similar fashion to carsharing but using bikes instead of cars. Users apply to a membership that gives them access to the provider mobile app from which the entire rental process is handled. Once the member is registered, the app provides bike availability on pre-established docking stations, letting members book a ride, pay fees, and more.
Public transit
Public transport is far from being neglected in the future of shared mobility. On the contrary, public authorities are investing in intelligent systems that will take public transportation to the next level. Next-gen vehicle to vehicle (V2V) and vehicle to infrastructure (V2I) communications will allow public transport to adapt more efficiently to city hauling demands, broadcast updates via smart apps, and more.
Microtransit
Microtransit is one innovative shared mobility system that dynamically adapts according to demand. Private microtransit service providers use sophisticated algorithms to route their vehicles only where they are need (or expected to be needed) based on users' demand. Under this business model, users are expected to book the service and then make their way to and from designated pick-up and drop-off locations. Depending on users' reservations the service provider can allocate the appropriate kind of vehicle on specific points of the city allowing better resource management.
Conclusion
The concept of shared mobility is a key component in creating the integrated transport system of the future. As technology evolves and multimodal shared mobility options become more widespread, cities will be able to create inclusive cloud-based applications that integrate all available services, departure times, and general transportation information under the same common framework. In that not too distant future, users will be able to access all that information from their phones, their homes, or even from public stops and plan their trips conveniently.
---
About RGBSI
At RGBSI, we deliver total workforce management, engineering, quality lifecycle management, and IT solutions that provide strategic partnership for organizations of all sizes.
Engineering Solutions
As an organization of engineering experts, we understand the importance of modernization. By pairing modern technology with design expertise, we elevate fundamental engineering principles to accommodate growing product complexity requirements. We work with clients to unlock the full potential of their products and enable future innovation. Learn more about our automation and digital engineering services.
IT Solutions
We work with clients to support IT related areas of application development, ERP, infrastructure, project management, and digital engineering.
Learn more about our IT solutions.