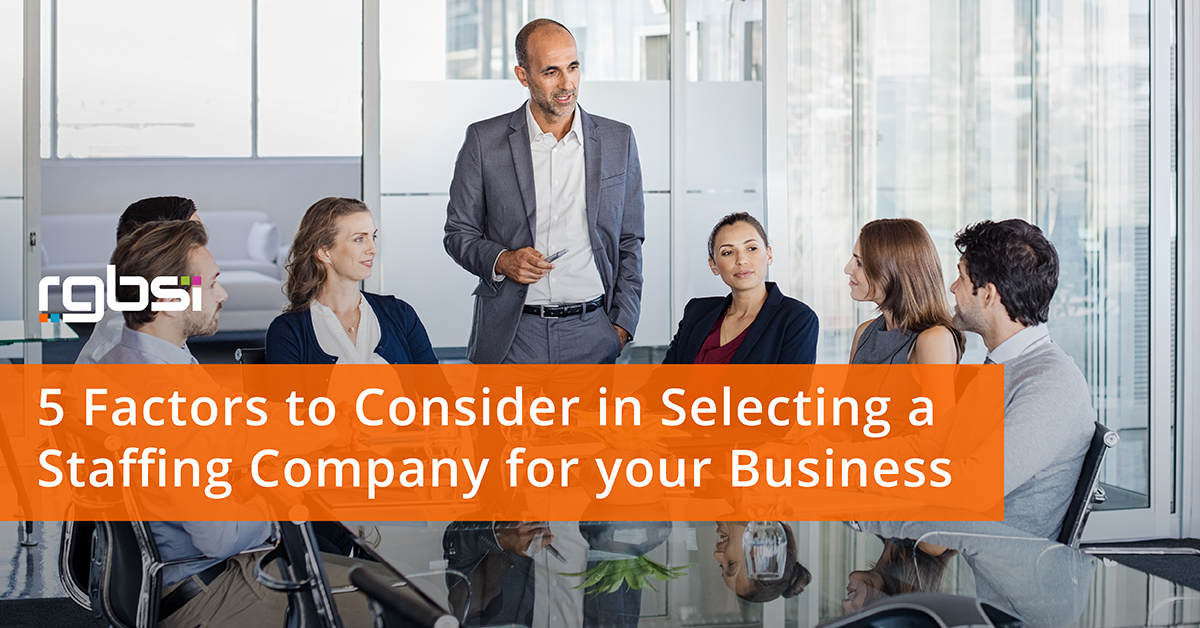 Has your business decided to take the next steps to find a company to support its staffing and workforce needs? With endless staffing options available in the market, it may seem difficult to select the right provider for your business. Having the right staffing company in your corner can be an important asset for your business. To position your business at an advantage, you must do your due diligence when trying to find "the one". Not sure what to look for or what questions to ask? Here are 5 of the most important factors to consider when selecting a staffing company for your business.
1. History
In the staffing industry, doing your time matters. The number of years in business not only displays a company's experience but also its ability to navigate economical and operational obstacles. For example, a company that has successfully guided its clients through the US housing bubble and 2007-2009 financial crisis indicates future actions through the good, the bad, and the ugly. Before selecting a company to work with for your staffing needs, be sure to understand its tenure as an industry player. Companies with a broader history will be able to show you their strategies through both privilege and adversity.
RGBSI has been a key player in the staffing industry since 1997. Being in business for over 22 years has allowed our company to grow, refine our processes, and expand our network. We have had the time to develop our talent pipeline to provide clients with global access to a broad network of resources.
2. Expertise & Leadership
If you don't know what to look for, it can be challenging to fill open positions. Businesses opt to work with a staffing provider if they are looking for talent in areas that they are unversed in. It is important to understand the expertise and leadership backing behind any contenders for your hiring requirements. If your open positions require some degree of specialization make sure to partner with a company that is well-versed in that domain and knows the skillsets that go along with it. A true indication of credibility is if a company has well-known companies in its portfolio with successful placements.
At RGBSI, we leverage our in-depth engineering and IT expertise to help businesses find candidates with the right technical skillsets. Our ability to find specialized talent is backed by the physical actions of our leadership team and specialized recruitment teams. We have dedicated recruitment teams to specific career segments such as engineering, IT, and administrative & professional. We work with some of the largest aerospace and automotive companies in the world.
3. Staffing vs Workforce Management
The terms staffing and workforce management may seem interchangeable, but each term describes a different degree of service. Staffing is just that – a service that helps your business fill its temporary, contract, contract to hire, project based, or permanent positions. Workforce management encompasses staffing plus more. A workforce management provider will deliver an end to end solution to optimize everything and anything affecting your business' talent. This may include addressing paint points such as:
Skills/experience predictions for open positions
Recruiting and qualifying candidates
Employee onboarding/ off boarding
Performance management
Time and expense management
Benefits management
Payroll administration
Process automation
Compliance
At RGBSI, we provide workforce management solutions which are unique to your business requirements. We help you capitalize on the most qualified skillsets to drive workforce stability and business optimization. Our workforce management solutions include staff augmentation, MSP, VMS technology, RPO, and payroll administration. In addition to workforce management, we provide solutions across the verticals of engineering, quality lifecycle management, and IT.
4. The Process Behind Qualifying Candidates
Everyone says they find qualified candidates, but what's the actual process behind this? If your business is considering working with a staffing company, you want to confirm that you will get better hires than you would on your own. The purpose of working with a third party for staffing needs is to eliminate the expenses as a result of poor hiring decisions and centralize focus on your core business. As you assess different partners to fulfill your workforce needs, make sure to fully understand their process of finding candidates to match your job requirements.
At RGBSI, we have carefully strategized a detailed recruitment model that is backed by our recruitment team of experts. We use highly specialized recruiters to qualify and connect the right candidates to your opportunities. Our LINKyou client and employee engagement framework solidify how we attend to the employment lifecycle while your business capitalizes on qualified skillsets.
5. Employee Engagement & Retention
The truth be told if a staffing company practices what it preaches. If a company cannot retain and engage its employees, how can it possibly do so for your business? Ask the company what processes and initiatives they have in place to engage and retain their internal employees. You want to work with a company that is great at building skillful teams and creating a desirable company culture. If the company has internal employees with long tenure with the company, that is a good indication that it's a desirable place to work.
We prioritize employee engagement at RGBSI. We define our delivery initiatives through our PROPEL framework which is an acronym for purposeful work, recognition, opportunities, processes, experience, and leadership. With this framework, we outline the actions items taken to stay in touch with employees. Through our approach, we help clients adopt a lean approach to employee management.
It is important to carefully consider your options before selecting a staffing company for your business. Partnering with a company for staffing and workforce support can be extremely advantageous for your bottom line. By selecting the right partner, you will retain control over your core business while allowing your partner to oversee all workforce and staffing related processes.
---
ABOUT RGBSI WORKFORCE MANAGEMENT SOLUTIONS
At RGBSI, we deliver workforce management solutions that provide organizations with complete employee process management. Companies leverage our expertise so they can spend more time focusing on their core business.
Workforce management solution areas:
Contract, contract to hire, project-based, and permanent staffing
MSP/VMS
RPO
Payroll administration
Onboarding
---
---