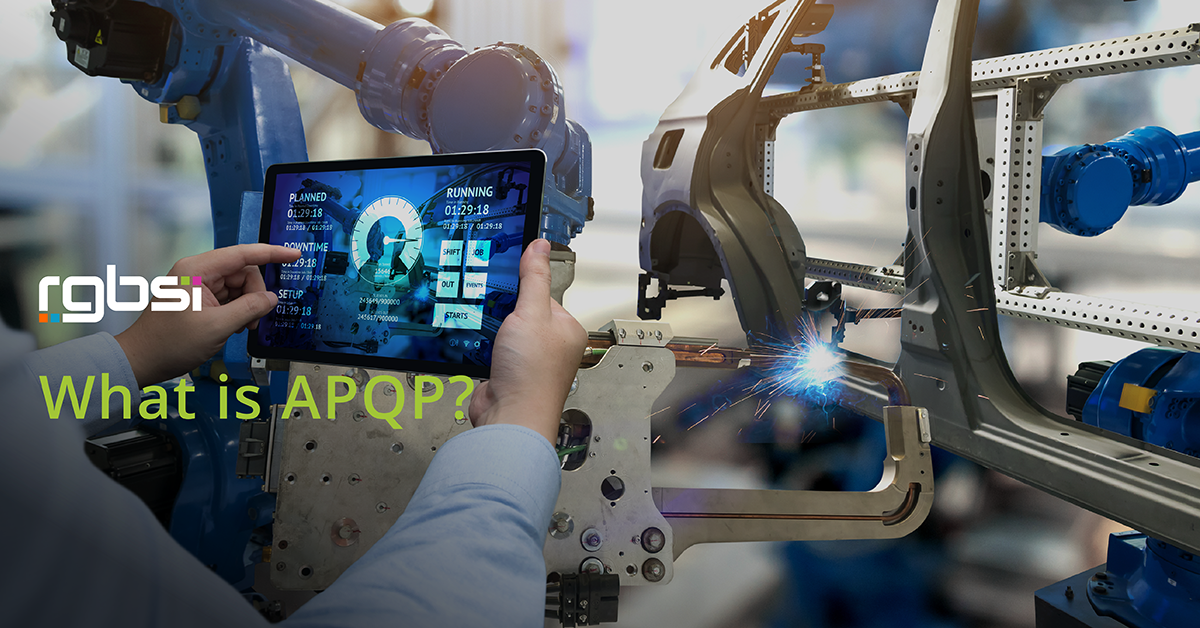 The goal of advanced product quality planning (APQP) is to establish new products and processes that are successful in meeting customer requirements. APQP essentially helps identify critical to quality sub-systems from the client's perspective. The production part approval process (PPAP) is an output of APQP processes and techniques. PPAP highlights the evidence established through the APQP. In addition, APQP has become an important factor for aerospace & defense industry segments as it's a key component of the AS9145 standard.
During the product development lifecycle, quality tools are implemented in various phases to facilitate cross functional collaboration across the supply chain. This allows early detection of problems before they become too capital and resource draining. These tools help:
Identify project risk
Develop a mitigation plan
Review design for manufacturing feasibility
Identify and prepare suppliers for upcoming phases
Create and validate the outcome to ensure absolute customer satisfaction
Why do we conduct APQP?
APQP establishes clear lines of communication between customers and suppliers to define project specifications that translate into more comprehensive deliverables such as:
Robust product design
Lean manufacturing process to produce part within cost and on-time
Design Validation Plan to ensure customer satisfaction using product testing
Ensure supplier preparedness before start of production
Importance of APQP for Clients
Finished products received are of high quality
Speeds up new product to market time
Establish transparent communication with the supplier.
Establish confidence in a supplier's delivery.
Key part of
Importance of APQP for Suppliers
Ensures client satisfaction
Creates structure for standardized systems and processes
Early detection of problems before they get out of hand
Better communication across the supply chain throughout the product development process.
Phases of APQP
1. Planning Phase
Identify critical to quality (CTQ) subsystems
2. Product Design & Development Phase
Design risk analysis (DRA)
Identify critical characteristics (CC) and significant characteristics (SC)
Design verification plan & report (DVP&R)
3. Process Design & Development Phase
Technical review
Process flow diagram (PFD)
Process failure mode effects analysis (PFMEA)
4. Product & Process Validation Phase
Inspection plan
Measurement system analysis (MSA)
Standard work instructions (SWI)
5. On-Going Production, Use & Post-Delivery Service Production Phase
Lessons learned
Continuous improvement
Reduce variation
Why is APQP important?
APQP helps ensure good system engineering practices and cross functional communication. This work begins with good product definitions by identifying the customer requirements and specifications. Successful product design and process validation is derived from understanding these requirements upfront. Most importantly, APQP results in happier customers through high quality, on-time delivery of products.
---
About RGBSI
At RGBSI, we deliver business solutions that close the gap between strategy and execution for global organizations of all sizes. Our portfolio of solutions spans across the verticals of workforce management, engineering, quality lifecycle management (QLM), and information technology (IT). Through strategic partnerships, we help clients enhance performance, adopt innovation, and access global resources.
About RGBSI QLM Solutions
Need help with APQP, PPAP, or other quality areas? At RGBSI, we provide full service quality lifecycle management (QLM) solutions that optimize manufacturing supply chain initiatives. Organizations within automotive, aerospace, and other engineering segments leverage our expertise to validate, manage, and assess their current processes.
Need help with your quality lifecycle management activities? Inquire.