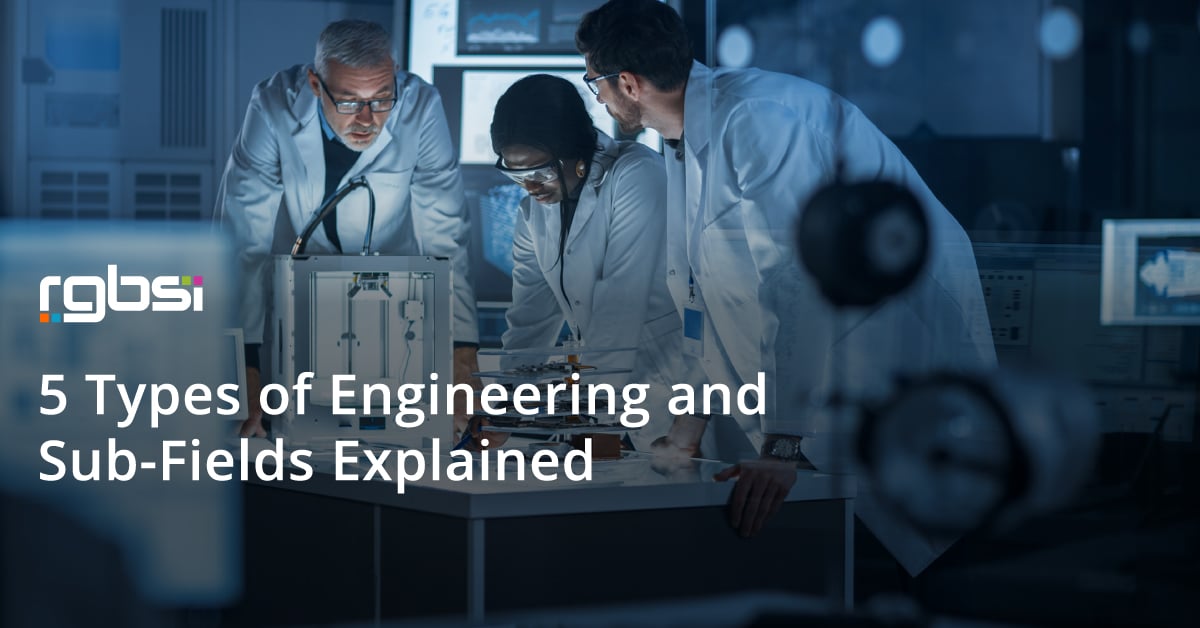 At the core, engineers design, develop, test, evaluate, install, inspect, and maintain an array of products and systems. However, the products and systems they work with vary depending on the field of their specialization.
There are five main branches of engineering. However, several sub-fields arise from each of these branches due to engineering that assimilates the knowledge and skills associated with other disciplines — interdisciplinary engineering or IDE.
The following are the 5 main areas of specialty in engineering fields and the subfields associated with each path.
1. Electrical Engineering
Electrical engineering focuses on electric-powered technology. Electrical engineers work on electrical components, devices, or systems, ranging from minute pieces like microchips to intricate battery management systems for EVs as well as huge plants like power station generators. The invention of the radio, television, induction motor, among other things, can be credited to electrical engineers. Daily, electrical engineers design, develop, and test electrical equipment and supervise these pieces' production.
Among the popular electrical engineering sub-fields include:
Electronics and Communications Engineering
Or simply, electronic engineering is a discipline that uses nonlinear and active electrical components to design electronic circuits, electronic devices, and the equipment and systems that use them.
Computer Engineering
Computer engineering is a discipline that incorporates the science and technology of design, construction, implementation, and maintenance of software and hardware components of modern computers and computer-controlled equipment.
Software Engineering
Software engineering is the application of engineering principles to software development. Software engineers analyze user needs to design, develop, and test end-user applications to satisfy their needs.
Data Engineering
Data engineering is responsible for designing and creating pipelines that transform and transport big data into a format that is in its usable state.
2. Chemical Engineering
Chemical engineering incorporates engineering and science to support food production, the creation of industrial chemicals, and pharmaceuticals. The wide variety of industries that rely on their products makes chemical engineers high in demand.
Among the popular chemical engineering sub-fields include:
Materials Engineering
Materials engineering utilizes math, physics, and chemistry as tools to explore, explain, and control how materials work and design new materials, identify best materials and processing techniques and understand why materials fail.
Biomedical Engineering
Biomedical engineering aims to improve human health by focusing on advances in technology and medicine to develop new devices and equipment.
3. Civil Engineering
Civil engineering is one of the oldest forms of engineering. Civil engineers receive credit for city and country infrastructure, such as roads, bridges, dams, and edifices. Without civil engineers, cities, as we came to see and understand them, would be nonexistent.
Among the popular civil engineering sub-fields include:
Environmental Engineering
Environmental engineering aims to improve the environment and provide healthful water, air, and land for human habitation, by combining environmental science with engineering principles.
Structural Engineering
Structural engineering is responsible for creating design and specifications, performing calculations, reviewing other engineers' work, writing reports and evaluations, and overseeing construction sites.
Geological Engineering
Geological engineering is responsible for the cultivation and conservation of natural resources in ways beneficial to humankind.
4. Mechanical Engineering
Mechanical engineering is responsible for the design and production of certain products and machines. From spacecraft to microscale sensors, mechanical engineering is among the most diverse branches of engineering. Additionally, mechanical engineers receive credit for transforming ideas into reality.
Among the popular mechanical engineering sub-fields include:
Automotive Engineering
Automotive engineering is responsible for designing, testing, and developing motorcycles, trucks, automobiles, and their systems. Automotive engineers are also responsible for the modifications of these vehicles. With the future of mobility, requirements of automotive engineers continue to shift.
Aerospace Engineering
Aerospace engineering is among the newest disciplines of engineering. Aerospace engineers are primarily responsible for designing and building machines that fly.
5. Industrial Engineering
Industrial engineering deals with enhancing and optimizing complex processes, systems, or organizations by developing and implementing integrated strategies of people, money, information, and equipment. Industrial engineers determine the number of workers needed for a project, the duration of a project, and the processes involved to accomplish an assignment. Industrial engineers are qualified to work in just about any industry.
Among the popular industrial engineering sub-fields include:
Manufacturing Engineering
Manufacturing engineering is a discipline that ensures the manufacturing gets completed in the most time-efficient and cost-effective way without compromising the quality of the product.
Quality Engineering
Quality engineering deals with principles and practices of product and service quality assurance and control.
Engineers incorporate various disciplines in their line of work, making their work overlapping with others. Thus, it is essential to distinguish the engineers based on their specialization fields to avoid confusion and practically prevent overlapping roles when landing a job.
---
About RGBSI
At RGBSI, we deliver total workforce management, engineering, quality lifecycle management, and IT solutions that provide strategic partnership for organizations of all sizes.
WORK WITH RGBSI
At RGBSI, we provide engineering, IT, and administrative job opportunities for contract, contract to hire, project based, and permanent positions. We have established relationships with top companies in engineering and IT industries around the globe. The opportunities are endless for engaging in different career paths.
View our job portal to see all our current openings.
Engineering Solutions
As an organization of engineering experts, we understand the importance of modernization. By pairing modern technology with design expertise, we elevate fundamental engineering principles to accommodate growing product complexity requirements. We work with clients to unlock the full potential of their products and enable future innovation.
Learn more about our engineering services.