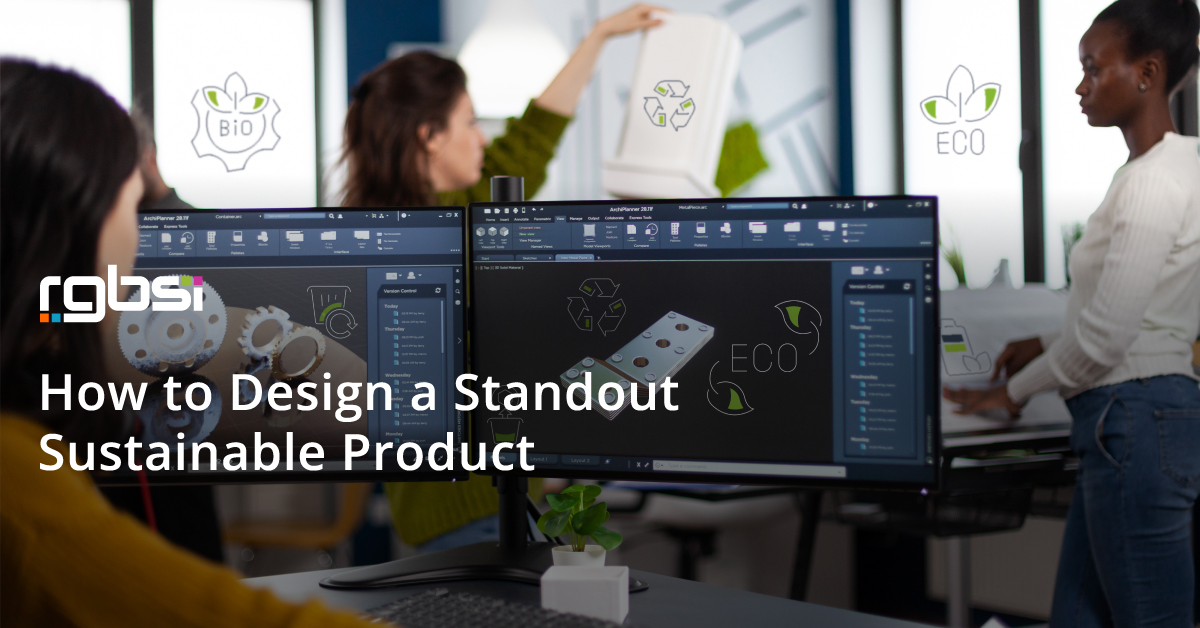 Alongside profits, sustainability is a just as important priority when launching new products. We must reduce waste and depletion of finite resources as these continue to harm the environment.
As a principle, sustainable design considers the effects of products and services on the environment, society, and economy from the design phase to the end of their lifespan. Therefore, a standout sustainable product all starts with design.
Sustainable Product Design
As a product progresses through the product lifecycle, the impact of the product on the planet will be determined by what happens in the design phase. Therefore, it is imperative for designers to consider sustainability from the outset.
Key considerations include:
Design for longevity in functional use and durability
Limit the number of materials used
Choose materials that produce low waste
Use recycled or recyclable materials
Reduce material weight
Use circular design for many product lives and a closed loop system
Design for easy disassembly to use components elsewhere once recycled
In general, a great product must have differentiation that makes it more valuable than its substitutes. It also must be distinguishable from other products that are less environmentally friendly when designing for sustainability.
Total Supply Chain
In B2B, sustainability can be a powerful source of product differentiation through the supply chain. For example, a company manufacturing sustainable printed circuit boards (PCB) supplies them to the manufacturer of vehicle infotainment systems, who then supplies these systems to the automaker as part of vehicle assembly. This adds end-to-end sustainability to the finished product. Therefore, sustainable products can be mutually beneficial for all supply chain stakeholders.
Luxury & Convenience
Aside for protecting the planet, eco-friendly products have a luxury appeal. Placing emphasis on how a product is designed with the environment in mind will make the product appeal to a broader market. Products designed for long term use also conveys that they are of high quality. As an additional benefit, sustainable design can be used as a point of convenience for the end customer. For example, designing a modular product allows for individual components to be replaced instead of replacing the entire product, which eliminates waste.
Digital Tools
Using technology during the design process can eliminate physical byproduct from testing, conceptualizing, and prototyping. Using a virtual space allows designers to test different product concepts using integrated data that mimics real-world conditions without depleting physical resources. For example, using AI in generative design makes it possible to explore millions of options without having to physically produce each product iteration. Digital tools such as the digital thread make it easier for total supply chain collaboration and data sharing to make more informed design decisions for more sophisticated products. In addition, CAD to CAM integration and design automation save time, while reducing energy and materials used through the process.
Social Responsibility
Acknowledging professional contribution to social responsibility shows consideration for the community we all share. A product that is innovative with desirable aesthetics that fulfills the end user's needs is great, but a product that does all these things plus serves the needs of environment is the best.
Design considerations are affluent in creating a standout sustainable product. Designers need to focus on creating long-lasting products with the least number of natural resources to cultivate product sustainability while complying with regulations and guidelines.
Related: Ensuring Product Compliance and Sustainability in Quality Management
---
About RGBSI
At RGBSI, we deliver total workforce management, engineering, quality lifecycle management, and IT solutions that provide strategic partnership for organizations of all sizes.
Product Compliance & Sustainability Services
Whether you need support or complete delegation, we have the expertise and the global reach to effectively manage your product compliance & sustainability requirements.
Learn more about product compliance & sustainability services
Product Design & Development Services
We supplement our clients' core design teams with 2D & 3D modeling, CAD customization & design automation, CAD conversions, animation, reverse engineering, concept sketch proposals, and embedded system services.
Learn more about engineering services
Electrical & Electronic Services
We offer state-of-the-art services that fully integrate electrical and electronic design through manufacturing to ensure products, systems, and processes are always current and compliant with efficiency.
Learn more about electrical & electronic services