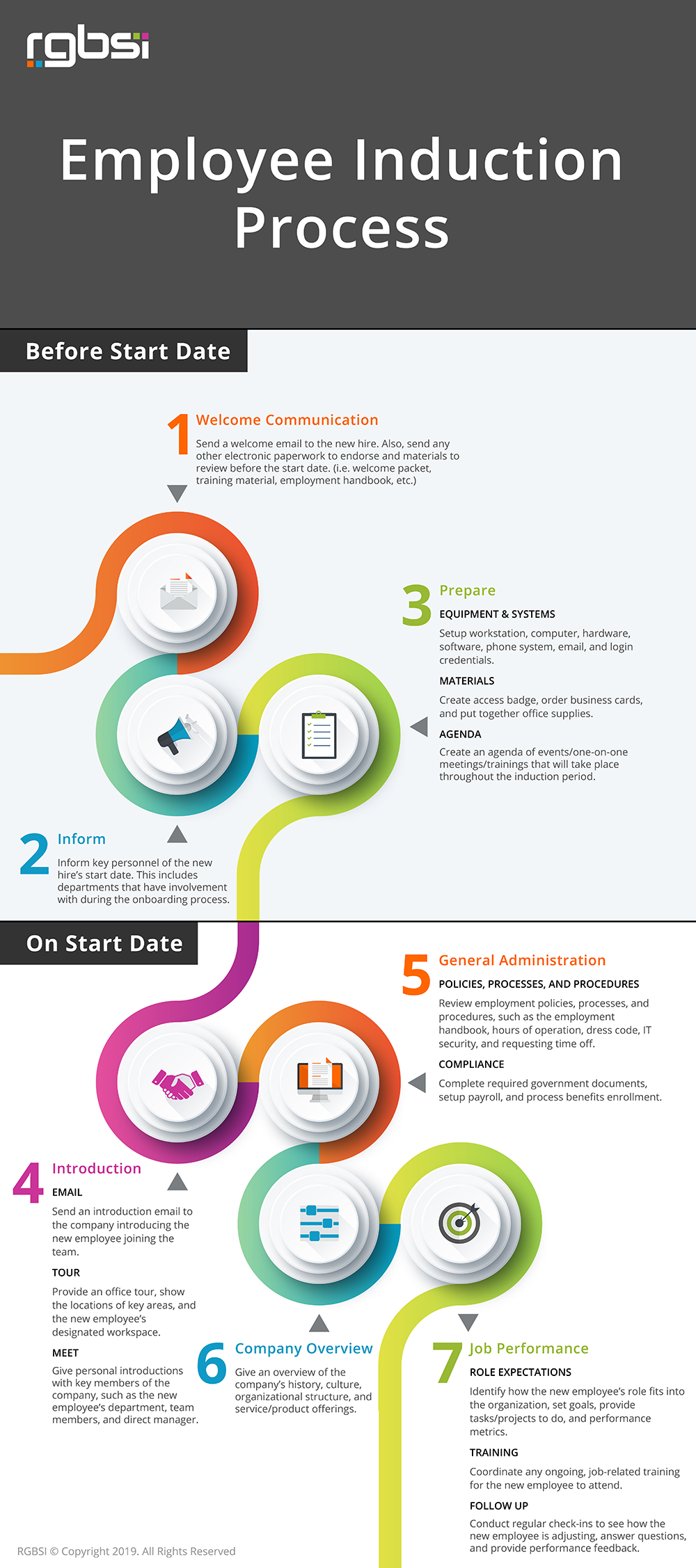 Before start date
1. Welcome Communication
Send a welcome email to the new hire. Also, send any other electronic paperwork to endorse and materials to review before the start date. (i.e. welcome packet, training material, employment handbook, etc.)
2. Inform
Inform key personnel of the new hire's start date. This includes departments that have involvement with during the onboarding process.
3. Prepare
Equipment & systems - Setup workstation, computer, hardware, software, phone system, email, and login credentials.
Materials - Create access badge, order business cards, and put together office supplies.
Agenda - Create an agenda of events/one-on-one meetings/trainings that will take place throughout the induction period.
On start date
4. Introduction
Email - Send an introduction email to the company introducing the new employee joining the team.
Tour - Provide an office tour, show the locations of key areas, and the new employee's designated workspace.
Meet - Give personal introductions with key members of the company, such as the new employee's department, team members, and direct manager.
5. General Administration
Policies, processes, and procedures - Review employment policies, processes, and procedures, such as the employment handbook, hours of operation, dress code, IT security, and requesting time off.
Compliance - Complete required government documents, setup payroll, and process benefits enrollment.
6. Company overview
Give an overview of the company's history, culture, organizational structure, and service/product offerings.
7. Job Performance
Role expectations – Identify how the new employee's role fits into the organization, set goals, provide tasks/projects to do, and performance metrics.
Training - Coordinate any ongoing, job-related training for the new employee to attend.
Follow up – Conduct regular check-ins to see how the new employee is adjusting, answer questions, and provide performance feedback.
---
About RGBSI Workforce Management Solutions
At RGBSI, we deliver workforce management solutions that provide organizations with complete employee process management. Companies leverage our expertise so they can spend more time focusing on their core business.
Workforce management solution areas
Contract, contract to hire, project-based, and permanent staffing
MSP/VMS
RPO
Payroll administration
Onboarding
Interested in learning more about our workforce management solutions? Inquire