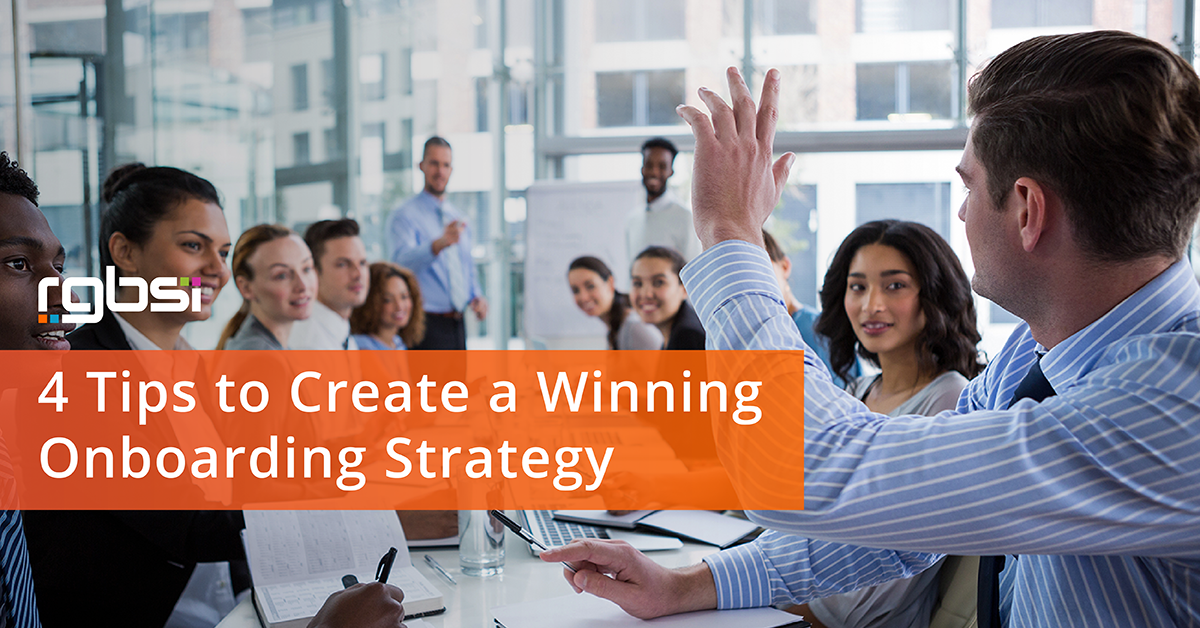 When anyone starts a new job, it can be daunting to fit into a new work environment. Aside from getting acclimated with the duties of a new role, new employees can feel bogged down by onboarding paperwork and administrative tasks. For example, they may not receive their badges on time, don't have the proper network access, or lack a thorough understanding of your workplace policies.
The US Bureau of Labor and Statistics reported 5.7 million new hires in February 2019. This number sounds impressive standalone – but there was a total turnover of 5.6 million during this same timeframe. Even though this is a 100,000 employment gain, it is worrisome to think about the true costs associated with turnover.
It is important to provide a seamless onboarding experience for employees. Companies can do so by easing the transition process and creating a positive new workplace experience. Taking such approaches helps build new employee trust, reduce turnover, and promote productivity. According to Glassdoor, the average replacement cost of an employee is $4,000. This is yet another reason why it is so important to get the new hire onboarding process right the first time.
Here are 4 tips to create a winning onboarding strategy that will set new hires up for success within your company.
1. Create Welcome Messages
Make new employees feel welcome right after they accept the offer. This could be as simple as sending an email which says:
---
"Congratulations [NAME] on your new position with our company. We are happy to have you as part of our team."
---
Some companies send videos of key executives welcoming new team members, while others send handwritten notes. Find a way that works best to introduce new hires to key people within your company. In addition, laying out the first day agenda can help new employees prepare. Most importantly, show how excited your company is about having them join the team! The options to make your new hire feel welcome are endless.
2. Electronic Paperwork
Using an electronic document management tool to manage new hire paperwork streamlines the onboarding process. It's also beneficial in optimizing the entire new employee induction process. Use of such technology helps HR teams stay organized, while automating required paperwork and tasks that need to be completed. It is easy for things to fall through the cracks, especially if everything is paper-based and manual. In addition, an electronic document management system comes in handy to pre-board employees by distributing documents for endorsement before an employee's first day.
3. Prepare & Create Self-Reference Guides
It is important to have an internal checklist of items that must be ready to go prior to your new hire's arrival. Here are some examples of these tasks:
Send an internal email to everyone that introduces the new employee including what the new employee will be doing at the company and some background information.
Assign a workstation with all hardware and peripherals set-up
Setup employee email ID and email signature
Setup employee phone system with instructions to customize voicemail
Create name plate for the assigned work space
Get business cards printed
Provide essential stationery such as pens and paper
Create badges if needed to enter the building
In addition, self-reference materials should be created for new employees to use as start guides. This way employees have all the available information to self-service common topics of concern. Here are some examples of topics these materials should cover:
Benefits enrollment instructions
Time and expense logging process
Hours of operation
Pay days and company holidays
IT support for phones, email, equipment, and VPN
Guides for any software that will be used
Organizational charts
4. Be Upfront About All Expectations
Transparency is the best policy. It is important to let new employees know the expectations of the role upfront. Assigning timelines around these expectations can help new employees establish SMART goals to work towards. A great example of this is strategizing a 30-60-90 plan that outlines what is expected after 30 days, 60 days, and 90 days. Prioritize regular communication with new employees to discuss their progress. Make sure to acknowledge what they are doing great and what needs some refinement. This provides positive affirmation and allows individuals to feel confident in their roles with the organization. Moreover, keep an open door policy which allows individuals to flexibly ask questions as they come up.
Conclusion
Implementing onboarding measures that promote positive employee integration with your organization deters expense-draining turnover. Setting new employees up for success from day one facilitates a trusting employee-employer relationship. Supporting new employees through the adjustment period allows them to feel assurance in their roles and promotes productivity. Using the tips provided to strategize onboarding practices will allow your company to attract and retain top talent.
---
About RGBSI Workforce Management Solutions
At RGBSI, we deliver workforce management solutions that provide organizations with complete employee process management. Companies leverage our expertise so they can spend more time focusing on their core business.
Workforce management solution areas
Contract, contract to hire, project-based, and permanent staffing
MSP/VMS
RPO
Payroll administration
Onboarding
Interested in learning more about our workforce management solutions? Inquire