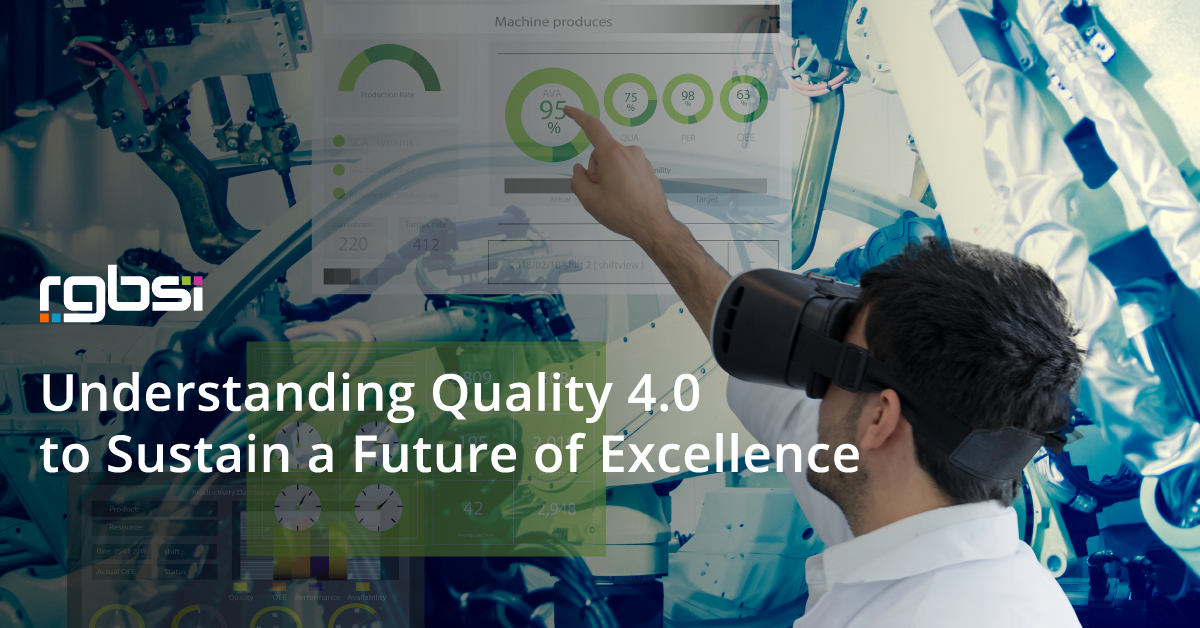 The Fourth Industrial Revolution was ushered in by introducing new digital technology. Within the context of Industry 4.0, the term "Quality 4.0" refers to the future of quality and organizational excellence. Quality specialists can make a big difference in bringing proven quality practices to new, digital, and disruptive technologies. This is everything you need to understand about Quality 4.0 to sustain a future of excellence in quality management.
What is Quality 4.0?
Within the construct of Industry 4.0 exists Quality 4.0. Right now, the Fourth Industrial Revolution is taking place worldwide. It connects the physical and natural worlds to the digital influence of the third revolution. Advances in data, analytics, connection, scalability, and collaboration, among other things, have made this possible.
Ultimately, the true focus of Quality 4.0 is not only on the technology standalone but also on the people who utilize it and the processes they employ to optimize its value.
What are Quality 4.0 Technology Tools?
It can be challenging to implement a company's digital strategy. When implementing and deploying systems to enable digital transformation, the Quality 4.0 tools below, in addition to the timeless and well-known quality tools and principles, should be used to ease these issues.
How do You Create and Implement Quality 4.0?
To achieve excellence through quality is to embrace the future of quality. To create and implement Quality 4.0, it is paramount that quality professionals to help their organizations make the vital connection between quality excellence and their ability to thrive in disruption using quality principles to enable transformation and growth.
It is important to consider the following components.
People
A lot more than just technology goes into Quality 4.0. It is a new method for qualified experts to manage quality with today's digital tools and learn how to use them to achieve quality excellence.
Quality experts may upgrade their role from enforcers to navigators to successfully steer enterprises through digital disruption and toward excellence by communicating the digital language and making a case for quality in disruption.
Process
The necessity for seamless processes remains the same, if not more vital, as more work is automated. As a result, not only will new techniques and strategies be implemented, but so will existing procedures, making it critical to educate the next generation of workers on how to do so.
In the end, Quality 4.0 is a critical connection that organizations should incorporate into the digital transformation strategy to ensure long-term viability.
Technology
Technology is a tremendous leveler since it offers everyone the right idea and opportunity to do previously only possible to enterprise corporations. By engaging with new technologies, understanding them and the potential outputs they provide, and selecting how and when to employ them, quality experts must evolve from data analysts to data wranglers in responsibilities. For example, employing a quality management system (QMS) that is integrated across the supply chain lends opportunities to automate requirements such as product compliance validation.
11 Axes of Quality 4.0
The Axes of Quality 4.0 have strong interrelationships through adding new capabilities to make it easier to create new applications on other axes. With that in mind, here are the 11 Axes of Quality 4.0.
Data

Analytics

Connectivity

Collaboration

App Development

Scalability

Culture

Leadership

Competency
Revolution of Quality Method through Quality 4.0
The world should expect a renaissance in quality tools and processes as connected, intelligent, and automated systems become more extensively used. You can use four themes to summarize the progression:
Quality Inspection: statistical process control (SPC) to identify if the bad quality was a one-off or specific cause.
Quality Design: for example, design a better process to prevent quality issues.

Quality Empowerment: for instance, establish total quality lifecycle management through people participating in continuous improvement.

Quality Discovery

: for instance, discover the root cause of problems and new product insight.
Why You Need a Quality 4.0 Strategy
The technologies that contribute to Industry 4.0 have been nothing short of transformational. An effective Quality 4.0 strategy enables businesses to address long-standing quality issues such as poor communication, a lack of cross-functional ownership, and disintegrated traditional management systems.
Organizations can utilize Quality 4.0 to examine the fundamental causes of existing challenges and improve their chances of success. Ultimately, you can achieve a culture of excellence through increased openness, automated operations, and high-quality data-driven insights.
Conclusion
The digitalization of quality using Quality 4.0 technologies is a real thing that is gaining traction and is a technological gift to the industry. Quality leaders should prioritize Quality 4.0 plans to mitigate the risk of being left behind.
---
About RGBSI QLM Solutions
Need help with quality audits, compliance & sustainability, PPAP, or other quality areas? At RGBSI, we provide full-service quality lifecycle management (QLM) solutions that optimize manufacturing supply chain initiatives. Organizations within automotive, aerospace, and other engineering segments leverage our expertise to validate, manage, and assess their current processes.
Need help with your quality lifecycle management activities? Inquire
Learn more about QLM solutions