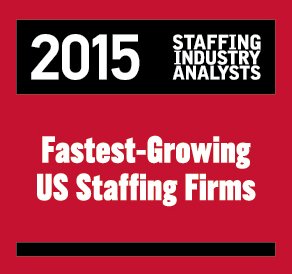 Troy, Michigan – [September 16, 2015] –RGBSI, a staffing and engineering company in business for almost twenty (20) years, has been named to the Staffing Industry Analysts Fastest-growing U.S. Staffing and Talent Engagement Firms list. RGBSI's continued growth between 2010 and 2014 put the firm in the list.
"It is an honor to be named one of the fastest-growing staffing firms in the US," says Ravi Kumar, President and CIO. "We attribute our success to the truly customized programs that we create for clients that allows for a true growth partnership. But also the extraordinary customer service levels we provide and the innovative solutions we develop to help clients grow their business."
The Staffing Industry Analysts list of fastest-growing U.S. staffing firms has been issued annually since 2005 and is based on staffing revenue, which includes temporary staffing revenue, direct hire, retained search and temp-to-perm conversion fees. To qualify for the list, staffing firms had to post at least $1 million in revenue in 2010 and have compound annual growth of at least 15 percent between 2010 and 2014. A story will appear in the October 2015 issue of Staffing Industry Review magazine. The full list of the 102 fastest-growing firms can be found on the web at http://fastestgrowing.staffingindustry.com/
The list of fastest-growing U.S. staffing and talent engagement firms is sponsored this year by Bullhorn, which provides cloud-based CRM solutions for companies in business services industries, including specialized products for staffing firms.
About RGBSI
RGBSI was incorporated in 1997 in Troy, Michigan, USA with a mission to provide quality and cost effective engineering design and staffing services to companies of all sizes. RGBSI is ISO 9001:2008 certified, AS9100:2009 Rev C Certified (Aerospace Standard), and a Minority Business Enterprise (MBE) certified by the Michigan Minority Supplier Development Council (MMSDC).
About Staffing Industry Analysts
Staffing Industry Analysts is the source of global business information about workforce solutions. Known for its objective, independent research, analysis and insights focused on staffing and contingent work, the company offers membership, events training and publications across the workforce solutions ecosystem. These proprietary tools and techniques enable companies to make better-informed decisions, execute strategies that accelerate growth, improve business results and minimize risk. Founded in 1989 and acquired by Crain Communications Inc. in 2008, the company is headquartered in Mountain View, California, with offices in London, England. For more information: www.staffingindustry.com.