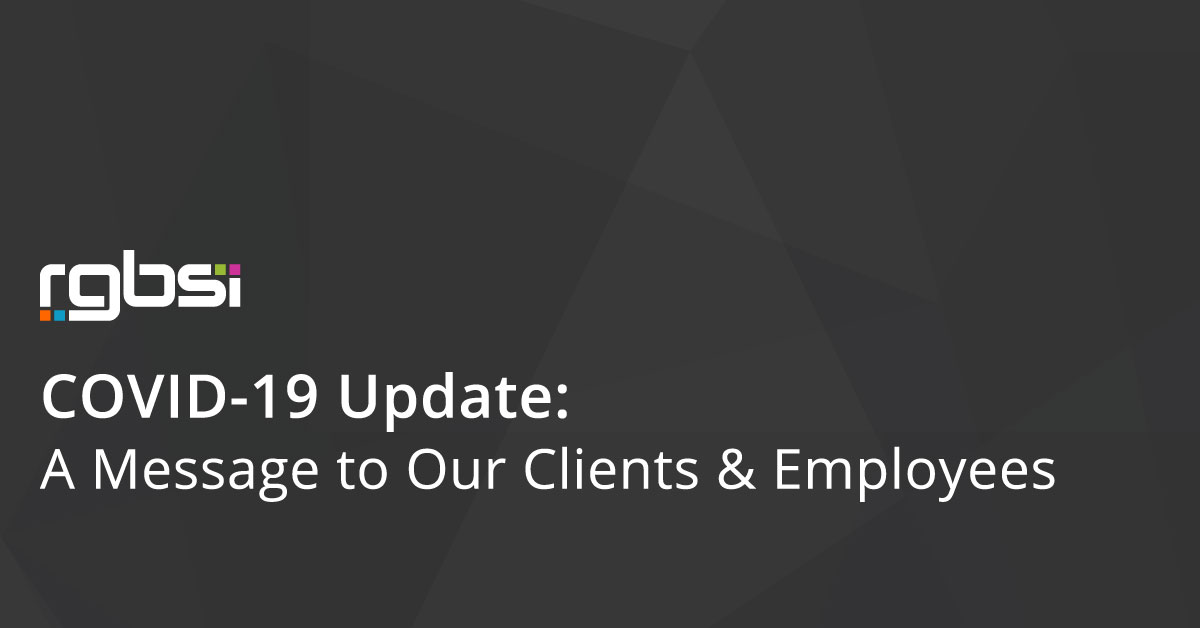 Dear Valued Clients & Employees,
Together, we are facing a truly unprecedented situation. The global COVID-19 pandemic is affecting all of our families, our businesses, our communities, and our way of life. During this time, we want to reach out and update you on how we're approaching the situation at RGBSI.
First and foremost, our hearts go out to anyone who has been impacted by the virus, either directly or indirectly. Our thoughts are especially with those who are sick and to whom we extend our heartfelt wishes for a full recovery. We're truly inspired by the selflessness displayed by healthcare workers around the world who are on the front lines working tirelessly to care for people in need.
Similarly to other companies alike, we at RGBSI are focused on the health and safety of our clients, employees, families, and communities.
We have amazing teams across RGBSI that are available for you during this period of difficulty. We have transitioned all of our employees to work from home arrangements on a global scale.
We continue to deliver the highest level of service to our clients and employees. All of our business solutions remain available, all of our employees are fully functional and generally available via email and phone for support.
This moment reminds us that we're all connected like never before. We're called upon to be our best selves, with patience, understanding, and compassion. On behalf of all of us at RGBSI, we're committed to being your partner and persevering together in all the days and years ahead.
As we move forward, we'll be sure to keep you updated, and know that we always value your questions, ideas, and feedback.
Sincerely,
Ravi Kumar, President and CIO
---
About RGBSI
RGBSI delivers business solutions that close the gap between strategy and execution for global organizations of all sizes. Its portfolio of solutions spans across the verticals of workforce management, engineering, quality lifecycle management (QLM), and information technology (IT). Through strategic partnerships, RGBSI helps clients enhance performance, adopt innovation, and access global resources. The company enables organizations to meet their corporate objectives by leveraging its robust capabilities.
RGBSI is ISO 9001:2015 and AS9100:2016 Rev D certified, as well as a Minority Business Enterprise.