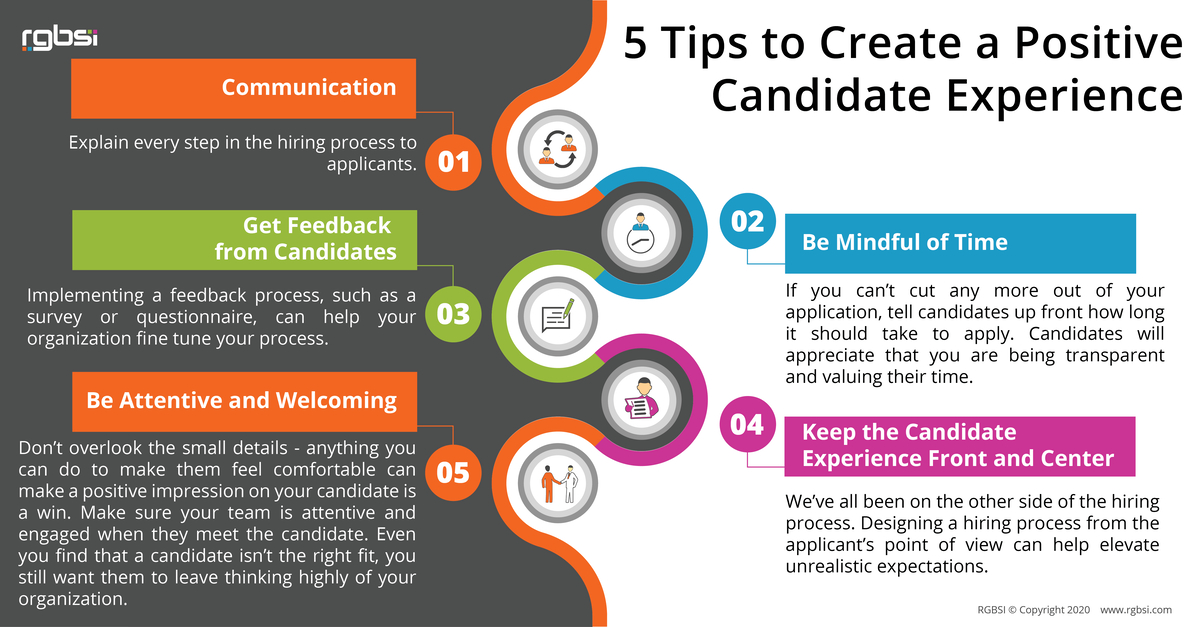 Attracting the best candidates is always the goal of recruiting and hiring, so focusing on creating a positive candidate experience is imperative to improving your employer brand.
During the hiring process, organizations use several resources to find the right talent for their job openings. Creating structuring for recruiting and hiring processes helps employers establish credibility in the market. Examples include having an onboarding strategy and employee induction process in place.
From recruiting to the first day on the job, here are 5 tips to create a positive candidate experience strategy.
1. Communication



Explain every step in the hiring process to applicants.
2. Be Mindful of Time
If you can't cut any more out of your application, tell candidates up front how long it should take to apply. Candidates will appreciate that you are being transparent and valuing their time.
3. Get Feedback from Candidates
Implementing a feedback process, such as a survey or questionnaire, can help your organization fine tune your process.
4. Keep the Candidate Experience Front and Center
We've all been on the other side of the hiring process. Designing a hiring process from the applicant's point of view can help elevate unrealistic expectations.
5. Be Attentive and Welcoming
Don't overlook the small details - anything you can do to make them feel comfortable can make a positive impression on your candidate is a win. Make sure your team is attentive and engaged when they meet the candidate. Even you find that a candidate isn't the right fit, you still want them to leave thinking highly of your organization and an exceptional candidate experience.
People are the lifeblood of any operation; therefore, candidates are assets and need to be treated as such from the first touch point of interaction. Focusing on creating a positive candidate experience is imperative to holding a strong employer brand.
---
About RGBSI Workforce Management Solutions
At RGBSI, we deliver workforce management solutions that provide organizations with complete employee process management. Companies leverage our expertise so they can spend more time focusing on their core business.
Workforce management solution areas
Contract, contract to hire, project-based, and permanent staffing
MSP/VMS
RPO
Payroll administration
Onboarding
Interested in learning more about our workforce management solutions? Inquire