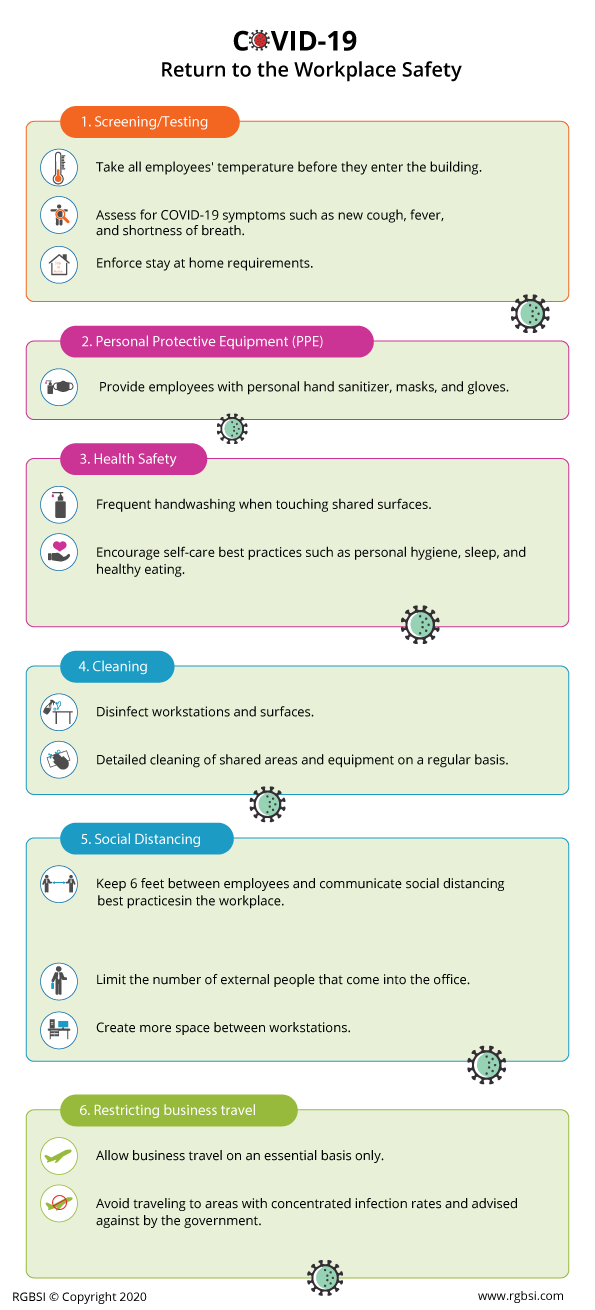 Return to the Workplace Safety
As people start returning to the workplace, here are the best practices for employers to execute as a safe re-introduction of employees in the workplace post COVID-19.
Screening/Testing



Take all employees' temperature before they enter the building.
Assess for COVID-19 symptoms such as new cough, fever, and shortness of breath.
Enforce stay at home requirements.
Personal Protective Equipment (PPE)
Provide employees with personal hand sanitizer, masks, and gloves.
Health Safety
Frequent handwashing when touching shared surfaces.
Encourage self-care best practices such as personal hygiene, sleep, and healthy eating.
Cleaning
Disinfect workstations and surfaces.
Detailed cleaning of shared areas and equipment on a regular basis.
Social Distancing
Keep 6 feet between employees and communicate social distancing best practices in the workplace.
Limit the number of external people that come into the office.
Create more space between workstations.
Restricting business travel
Allow business travel on an essential basis only.
Avoid traveling to areas with concentrated infection rates and advised against by the government.
---
About RGBSI Workforce Management Solutions
At RGBSI, we deliver workforce management solutions that provide organizations with complete employee process management. Companies leverage our expertise so they can spend more time focusing on their core business.
Workforce management solution areas
Contract, contract to hire, project-based, and permanent staffing
MSP/VMS
RPO
Payroll administration
Onboarding
Interested in learning more about our workforce management solutions? Inquire