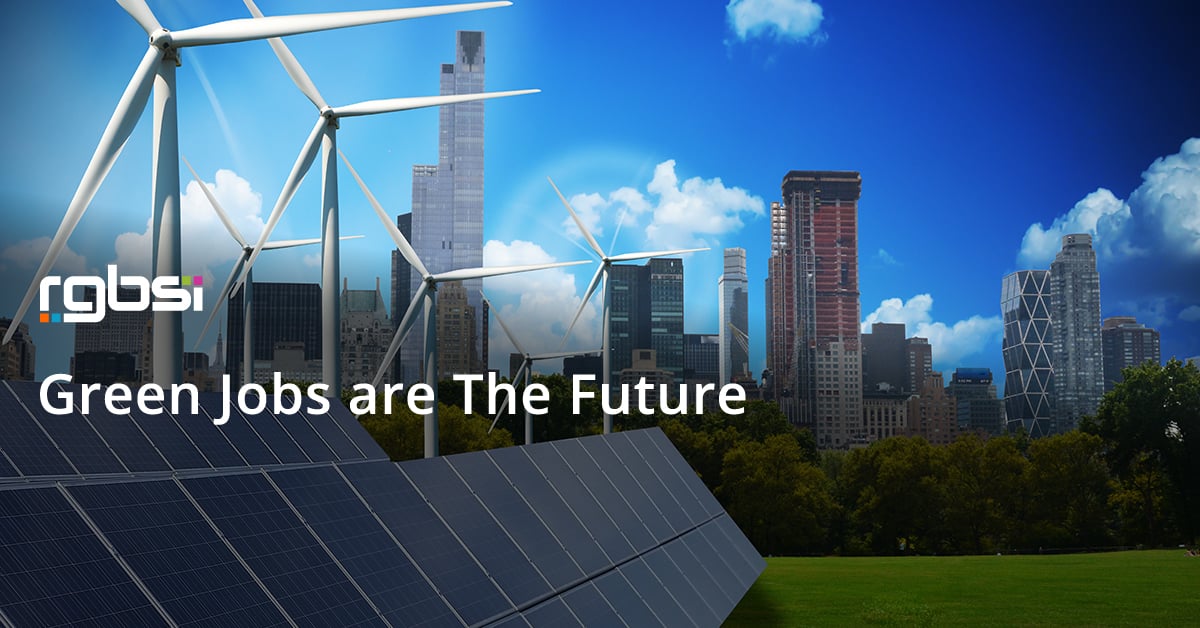 Many people have heard the phrase "green job" but are unfamiliar with the idea of what a green job is. A green job is a job that has a positive effect on the environment. As we look to the future, issues like sustainability and global warming are a real concern. Industry and manufacturing are often wasteful, and harmful to the environment. Green jobs are the future, as they address these issues and protect the environment by maximizing energy efficiency and eliminating waste.
What are Green Jobs?
The Bureau of Labor Statistics defines a green job in two ways:
Jobs in businesses that produce goods or provide services that benefit the environment or conserve natural resources.
Jobs in which workers' duties involve making their establishment's production processes more environmentally friendly or use fewer natural resources.
There are millions of jobs in the United States that are considered green. There are green jobs in every sector, and they can range from renewable energy to green construction to recycling.
Renewable Energy
Jobs relating to renewable energy are very plentiful. The smart grid, solar power, wind energy, and geothermal energy are all growing technologies. Careers in the electric vehicle industry are expected to create opportunities across all occupations, such as engineering careers in EVT. In addition, physicists, mobility engineers, and equipment operators are a few other career options in the renewable energy field. As we try to distance ourselves from our dependence on fossil fuels, these alternative energies will continue to grow and expand the job market.
Green Construction
Green construction is gaining popularity, not only because the materials and construction techniques are environmentally friendly, but also because these buildings are more cost effective to own. Companies that own green buildings cut expenses daily, since they are designed to conserve water and electricity. Architects, engineers, and laborers are needed to design and build green infrastructure, so there are a growing number of green jobs in the construction sector.
Environmental Remediation
Environmental remediation is cleaning up the environment by removing pollution and contaminants. Before the current industrial standards were made into laws, companies would contaminate rivers and lakes with chemical pollutants, displaying total disregard for the environment. Cleaning contaminated water or soil is a process that requires hiring chemists, hydrologists, and environmental engineers, among several other positions.
Recycling
Recycling has grown in popularity in the United States. Many jobs are available in the recycling industry across skillsets. People are needed to collect and sort the recyclables, as well as maintain the equipment and manage facilities. As the recycling industry experiences growth, so will the demand for workers.
The Future
These are just a few examples of green jobs that are currently available. As the world becomes more environmentally conscious, the demand for green employees will continue to rise. Global government regulators are even offering financial incentives for eco-friendly businesses to encourage green business growth. Sustainability, conservation, and energy efficiency are important in maintaining a healthy earth going forward. As more people realize the need to reform wasteful commercial practices and end the world's reliance on fossil fuels, green jobs will continue to be a necessity.
---
About RGBSI
At RGBSI, we deliver total workforce management, engineering, quality lifecycle management, and IT solutions that provide strategic partnership for organizations of all sizes. We leverage our expertise to fill workforce gaps and deliver full range business solutions that optimize client operations worldwide.
WORK WITH RGBSI
We provide contract, contract to hire, project based, and permanent job opportunities in engineering, IT, and business and professional administration. We have established relationships with top companies in engineering and IT industries around the globe. The opportunities are endless for engaging in different career paths.
View our job portal to see all of our current openings.