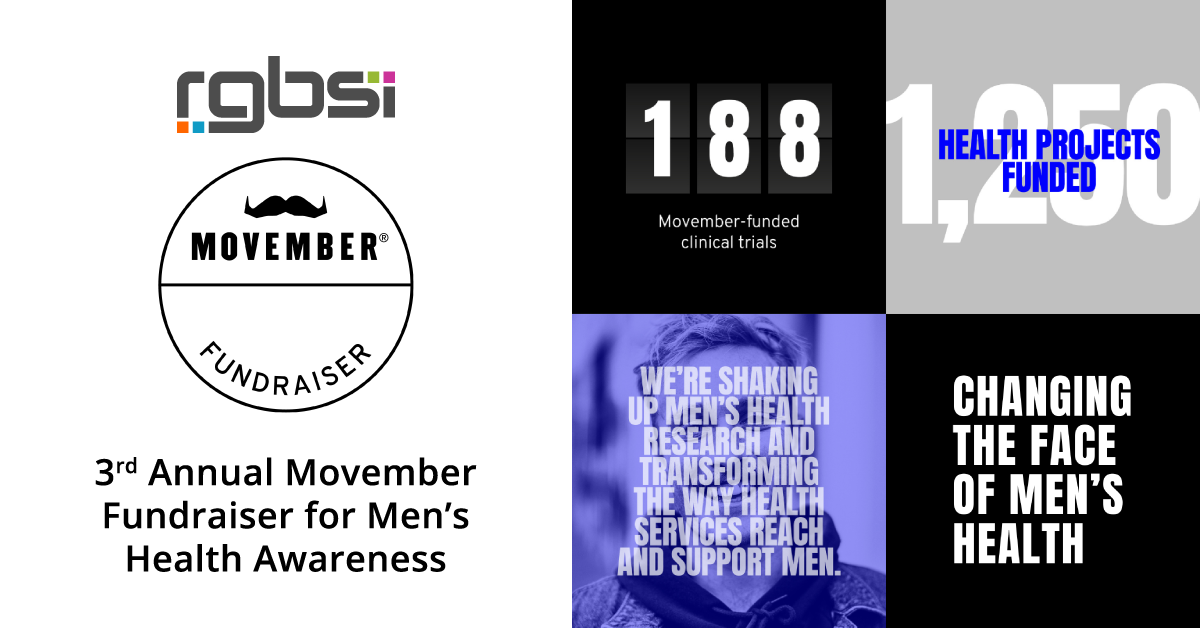 The RGBSI team is hosting its 3rd annual employee Movember fundraiser for men's health awareness with a Move for Movember Challenge. In 2020, RGBSI proudly donated $2,500 to the leading charity Movember to support groundbreaking health projects all over the world that change the face of men's health and save lives.
To transform the way health services, reach and support men, RGBSI will donate $100 for each employee that completes 60 miles of physical activity in the month of November. In addition, RGBSI will donate $50 for each employee that participates in the challenge. All funds will be donated to the Movember organization to support projects across the three biggest health issues faced by men: mental health and suicide prevention, prostate cancer, and testicular cancer. Working together, we can help men live happier, healthier, and longer lives.
The men's health crisis is real. Men die on an average of 5 years earlier than women. Approximately 10.8 million men in the world have been diagnosed with prostate cancer. Testicular cancer is the most common cancer among young men on a global scale. Males account for 75% of all suicides across the world. By supporting organizations such as Movember, we can transform the state of men's health in men acting early to change outcomes, save lives, and feel mentally and physically well.
Movember addresses the men's health crisis by funding global projects that engage men about their health, encourages conversations, and saves lives. The organization continues to make accelerate progress by giving men the facts, changing behavior for the better, creating programs that work for men, and uniting experts. One Mo can help change the face of men's health through the powerful conversations created globally during "Movember".
Men's Health Stats:
1 man dies every minute by suicide (globally).
4 out of 5 suicides are by men (US).
Prostate cancer is the 2nd most diagnosed cancer among men (globally).
1 in 8 men will be diagnosed with prostate cancer during their lifetime (US).
Testicular cancer is the most common cancer diagnosis among young men (US).
1 out of 20 men will die from testicular cancer (globally).
---
About Movember
Changing the Face of Men's Health
Movember is the world's leading charity changing the face of men's health that focuses on the three key areas of mental health & suicide prevention, prostate cancer, and testicular cancer. Movember has funded over 1,250 men's health projects in more than 20 countries around the world. Since 2003, Movember has raised over $1 billion for men's health initiatives. The organization's global action plan is to connect clinicians and researchers from around the world to accelerate health outcomes for men living with prostate and testicular cancer.
About RGBSI
At RGBSI, we deliver business solutions that close the gap between strategy and execution for global organizations of all sizes. Our portfolio of solutions spans across the verticals of workforce management, engineering, quality lifecycle management (QLM), and information technology (IT). Through strategic partnerships, we help clients enhance performance, adopt innovation, and access global resources.