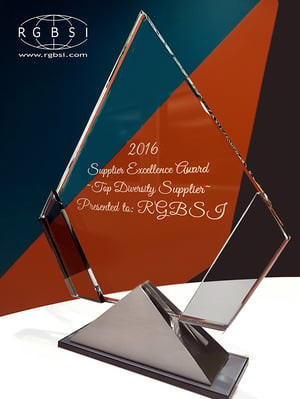 Thursday, February 23rd, RGBSI was honored with the 2016 Supplier of Excellence Award by Allegis Global Solutions (AGS) in recognition of being a Top Diversity Supplier to the GM program. The award was based on headcount growth, AGS partnership strength, and supplier talent quality. AGS, the contingent workforce MSP provider to GM, holds an annual supplier forum to provide an overview of enhancements, diversity initiatives, vendor performance metrics, and recognize its top suppliers to the GM program.
RGBSI has been a direct engineering supplier to GM since 2005 and a tier 1 staffing supplier to the AGS MSP program since 2012. Sheenoo Sekhon, VP of HR at RGBSI, had the opportunity to share RGBSI's success story among the entire AGS GM supplier base.een
RGBSI faced communication and relationship building challenges as a supplier to the AGS MSP program early on. In 2015, AGS began mentoring RGBSI through an instrumental transformation process to improve its delivery metrics. This included creating dedicated teams for RGBSI supplier programs.
With the supportive partnership of AGS, RGBSI has achieved significant headcount growth by staying current with talent trends to enhance its workforce management strategies.
"As part of our successful contribution to the AGS MSP program, we keep lines of communication open among our recruitment and leadership teams to encourage collaboration and successful delivery of quality talent to our partners and clients," said Sheenoo Sekhon, VP of HR at RGBSI.
There is a talent shortage when it comes to fulfilling high tech professions. Understanding the talent pool and having large networks has propelled RGBSI to place qualified talent in positions that require those with technical skill sets. "Having a recruitment team that truly understands what characteristics to look for in a tight labor market is fundamental in sourcing qualified talent for specified job requirements," said Sekhon.
Through strategic planning, RGBSI tracks talent data to expose performance gaps for implementing process improvements. Taking a proactive approach over recruitment funnel management has allowed RGBSI to build a strong and reputable hiring pipeline. "We thank AGS for its continuous guidance, support, and mentorship in making RGBSI a successful part of the AGS MSP program," said Sekhon. RGBSI's strong partnership with AGS has presented great business development opportunity to progress as an influential company.
About RGBSI
RGBSI delivers high quality workforce management, supplier quality, engineering, and IT solutions to global organizations through its unique engagement models. Working across industries, RGBSI provides continued support to businesses of all sizes with its diversified portfolio of solutions. RGBSI leverages its workforce solutions to bring in quality talent for the most qualified positions.