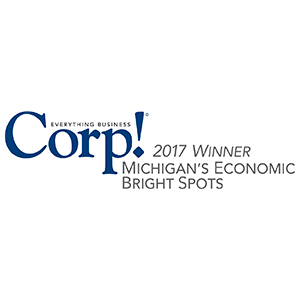 Thursday, June 8th, RGBSI was honored as a 2017 Corp! Magazine Economic Bright Spot winner. The award is presented to companies that demonstrate ingenuity, economic growth, and expansion in Michigan. This is the fourth year RGBSI has accepted the award. "Corp! Magazine is dedicated to celebrating Michigan businesses that show a passion for not only their businesses, but for improving the economy throughout the State of Michigan. This year's Economic Bright Spot winners are a combination of statewide companies who are proud to be headquartered in Michigan and enrich the lives of their employees and communities "said Jennifer Kluge, publisher of Corp! Magazine.
RGBSI delivers total workforce management, supplier quality, engineering design, and IT solutions that provide strategic partnership for organizations of all sizes. The company continues to be recognized as one of the top private companies and largest staffing companies in Michigan. "We continue to expand together as a company and are privileged to be recognized for our accelerated growth trend through emphasizing business development initiatives," said Ravi Kumar, President & CIO of RGBSI.
Recently, RGBSI revealed a new company logo and announced its rebranding efforts to modernize with an evolving market. The company has stays true to continuously improving its operations through innovation and resourcefulness. Focusing on pooling diverse strengths across talented employees has allowed the company to persistently introduce new products, services, and technology to the market.
"By implementing strategic product value management, we have effectively expanded on new offerings, while better accommodating client needs. Placing importance on customer loyalty has allowed us to expand with existing clientele through channeling unsurpassed sales and client retention strategies," said Kumar.
With future outlook, RGBSI sees its biggest opportunity in expansion of its business disciplines that are relevant to the booming engineering and technology industries globally.