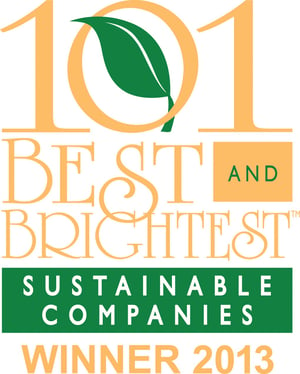 RGBSI has been named to Michigan's "101 Best and Brightest Sustainable Companies" list for 2013. The list is compiled by Corp! magazine, Davenport University, and dmStrategists.
The 101 Best and Brightest Sustainable Companies program celebrates organizations that inspire and produce green technology. The program honors companies that are dedicated to sustainability in the workplace. Those recognized are leaders in improving the lives of their employees and are committed to improving local and global environments.
Companies are nominated by individuals and are evaluated in the following categories: education, communication, strategic planning, innovation, community leadership, building and grounds, financial performance. Those companies that receive the highest amount of points are selected as winners.
RGBSI's sustainable initiatives include moving to an electronic signature process for all human resources paperwork, eliminating paper waste; instituting company wide recycling policies; exchanging disposable paper products for washable cups and plates in offices; installing motion sensor activated lights to conserve energy; and installing NEST energy wi-fi thermostats for all global locations to better conserve energy resources.
RGBSI formally received their award on September 18, 2013 at Davenport University in Grand Rapids. Michigan Governor Rick Snyder was in attendance to honor the winners.
For more information about the 101 Best and Brightest Companies Program, visit their website.