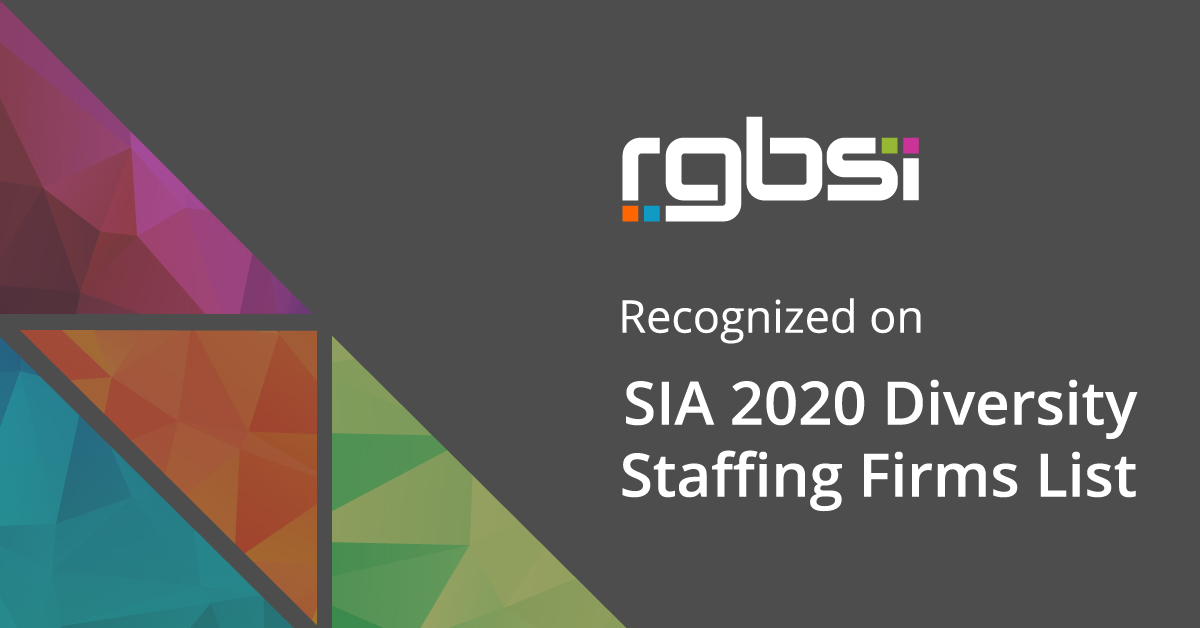 RGBSI is recognized as a leading diversity-owned company on the SIA (Staffing Industry Analysts) 2020 Diversity Staffing Firms list. The list includes 147 firms that are under diversity ownership in the US & Canada. For companies looking to optimize their use of diversity staffing suppliers, the list is a credible tool.
Among the firms on the 2020 list, RGBSI is a Minority Business Enterprise certified by Michigan Minority Supplier Development Council (MMSDC). The 2020 SIA Diversity Staffing Firms list includes approximately 62% woman-owned, 50% minority-owned, and 3% veteran-owned companies. Firms on the list range from small to enterprise in size and niche to full range in solution offerings.
View the 2020 SIA Diversity Staffing Firms List
With the changing workforce requirements, RGBSI continues to be the leading global provider of full range business solutions that address current challenges while enhancing diversity. With global presence in 8 countries, RGBSI continues to be recognized for growth, service innovation, and commitment to diversity. The company accompanies its clients with a global network, access to resources, and innovative thinking to successfully eliminate talent gaps.
RGBSI provides workforce management solutions such as staff augmentation, MSP, RPO, and payroll administration. It also offers its self-developed technology, UpGlide, for total talent management. In addition to staffing, RGBSI delivers solutions in the areas of engineering, quality lifecycle management (QLM), and IT.
---
About Staffing Industry Analysts (SIA)
Staffing Industry Analysts is the global advisor on contingent work. Founded in 1989, it is known for independent and objective insights, research, award-winning data, support tools, publications, and conference that work to inform those in the staffing industry and those looking to use contingent staffing.
About RGBSI
RGBSI delivers business solutions that close the gap between strategy and execution for global organizations of all sizes. Its portfolio of solutions spans across the verticals of workforce management, engineering, quality lifecycle management (QLM), and information technology (IT). Through strategic partnerships, RGBSI helps clients enhance performance, adopt innovation, and access global resources. RGBSI enables organizations to meet their corporate objectives by leveraging our robust capabilities.
RGBSI is ISO 9001:2015 and AS9100:2016 Rev D certified, as well as a Minority Business Enterprise.