Did you know that our referral bonus program allows you to refer candidates, project opportunities, and clients for a potential payout incentive of up to $1,500? Also, you don't have to be an RGBSI employee to participate; our referral bonus program is open to anyone and everyone!
Employee Referral
Anyone can refer candidates for our internal or external job openings for a bonus incentive. Submit all candidate referrals to rgbsireqs@rgbsi.com. If your referral is hired and works for 90 days, you can select from two payout options.
Option 1: Potential candidates have many choices in this market. Choose this option to split the payout as an incentive for candidates to work with us. You get $500 and your referral gets $500.
Option 2: Feeling lucky? Choose this option if you want to keep the full payout of $1,000.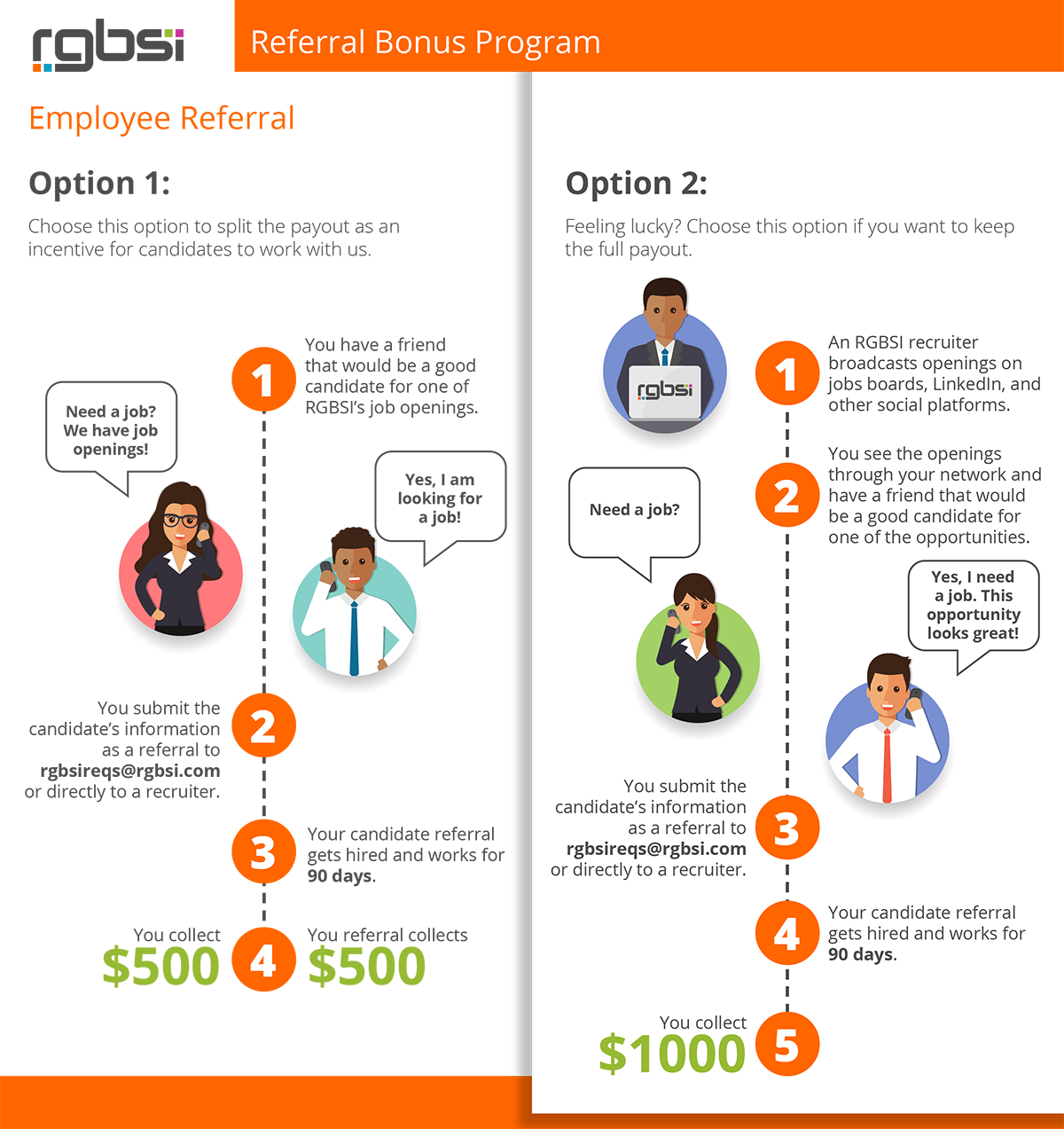 Opportunity Referral
You have the opportunity to refer jobs and projects within your own company or an outside company to us for a bonus incentive. All opportunity referrals can be sent to moreinfo@rgbsi.com. If we staff the referred project and the employee(s) works there for 90 days, you collect $1,500.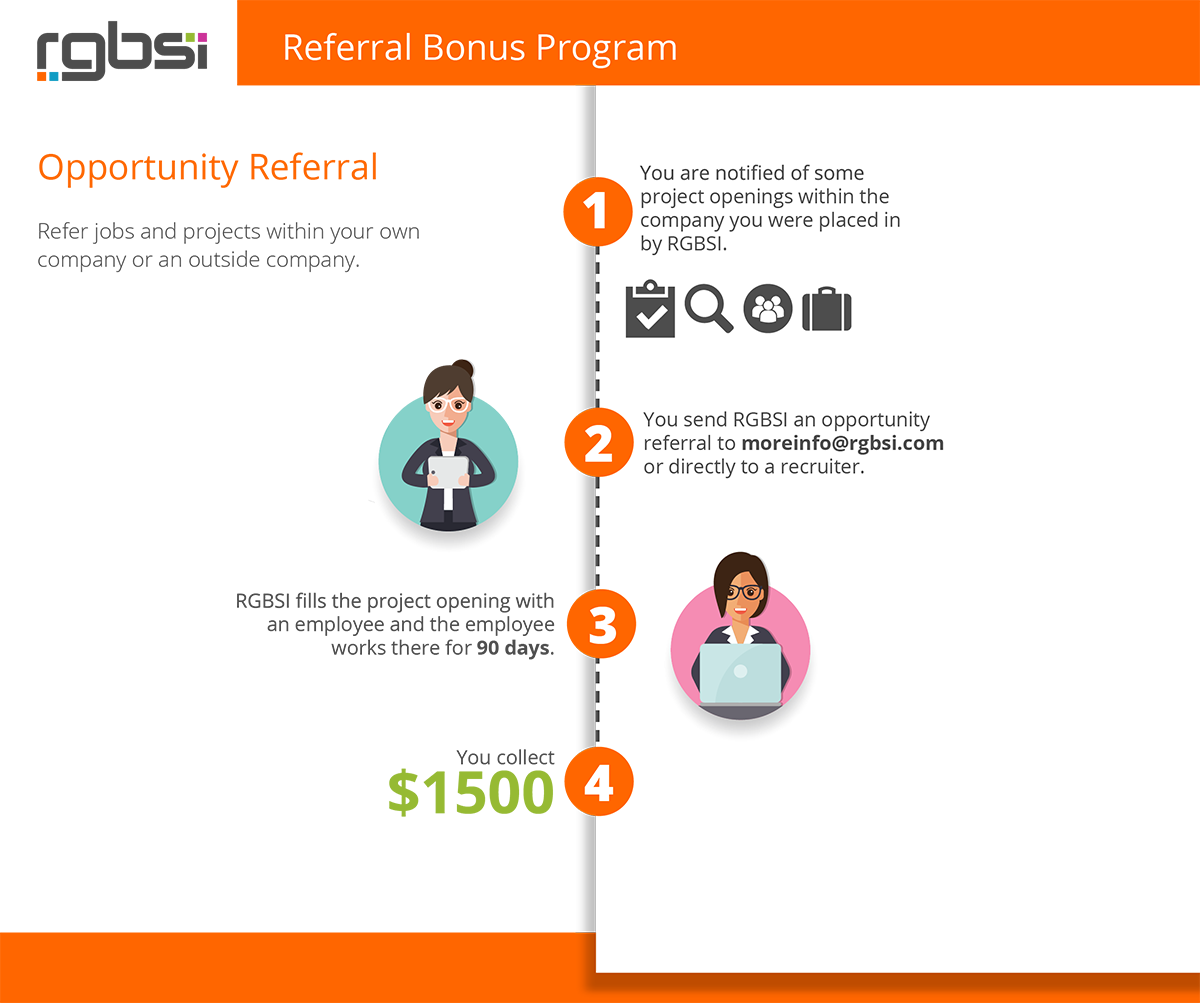 Client Referral
If you know of a company that needs help with workforce management and recruitment, you have the opportunity to refer prospective clients to us for a bonus incentive. All client referrals can be submitted to moreinfo@rgbsi.com. If we place a consultant with the company and the consultant works for 90 days, you collect $1,500.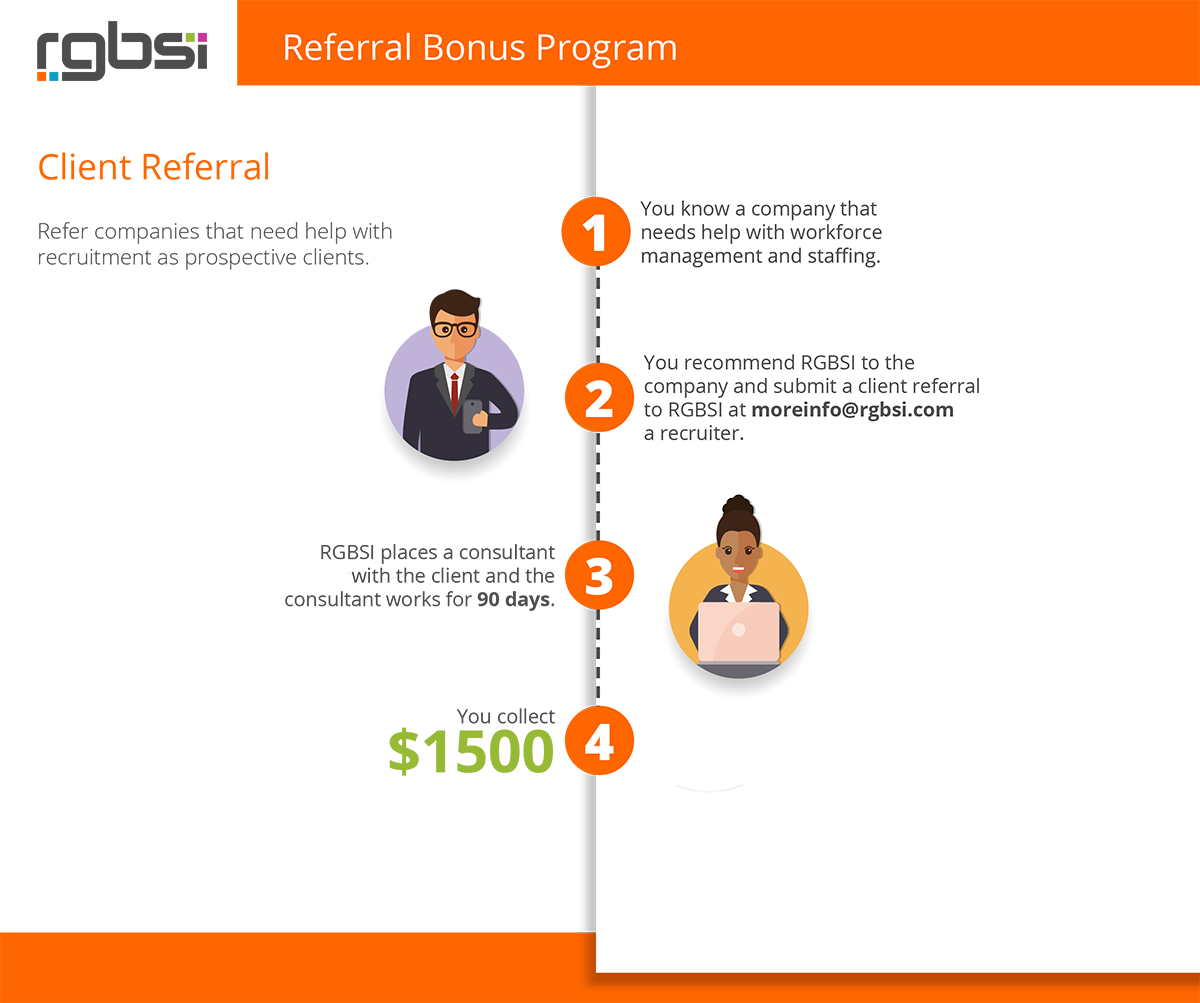 Questions?
If you have any question regarding our referral bonus program, please contact an HR representative or a recruiter.
Click here to download the PDF of our referral bonus program guidelines.
Know somebody? Submit a referral now!
---
About RGBSI
At RGBSI, we deliver total workforce management, engineering, quality lifecycle management, and IT solutions that provide strategic partnership for organizations of all sizes. We leverage our expertise to fill workforce gaps and deliver full range business solutions that optimize client operations worldwide.
WORK WITH RGBSI
At RGBSI, we provide engineering, IT, and administrative job opportunities for contract, contract to hire, project based, and permanent positions. We have established relationships with top companies in engineering and IT industries around the globe. The opportunities are endless for engaging in different career paths.
View our job portal to see all of our current openings.