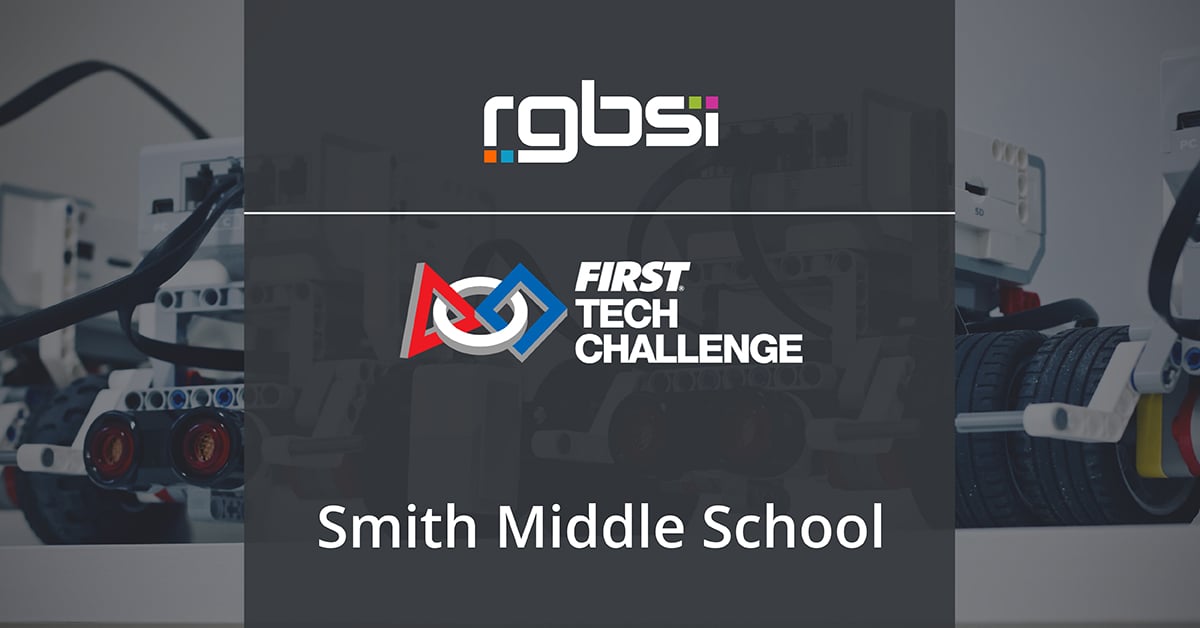 RGBSI is proud to sponsor Smith Middle School's FIRST Tech Challenge (FTC) Robotics program and its educational development of the world's future engineers. RGBSI made contributions to support Smith's Digital Owls team in its participation with the FIRST Tech Challenge robotics competition. The Digital Owls made it to the State Championship in Warren, MI.
View the Digital Owls' results
FIRST Tech Challenge Impact
FIRST Tech Challenge (FTC) is a program for middle school students to gain hands on experience with STEM fields. The FIRST designed game allows students to form teams and compete in an alliance format robotics face off. Each team is responsible for designing, building, and programming their robot and are evaluated on different performance criterion. As a result of the program, the FIRST Tech Challenge has influenced 85% of participants to become a scientist or an engineer and 93% to understand the engineering design process.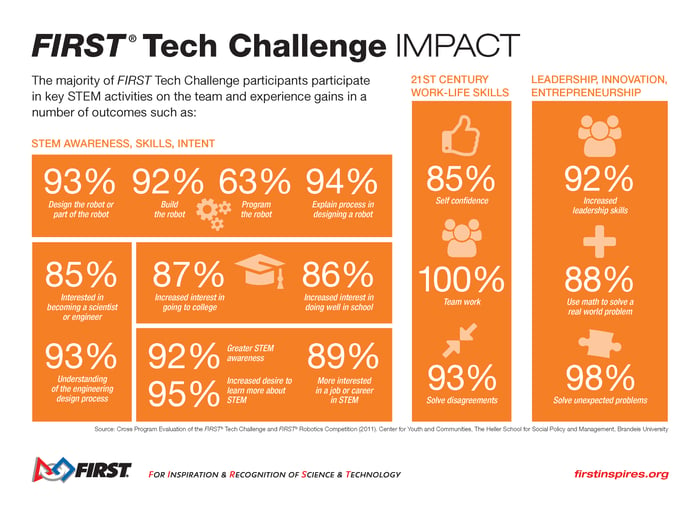 Source: Cross Program Evaluation of the FIRST® Tech Challenge and FIRST® Robotics Competition (2011). Center for Youth and Communities, The Heller School for Social Policy and Management, Brandeis University
RGBSI Supports STEM Educational Programs
As a company, RGBSI strives to continuously support educational programs that bring awareness to STEM-driven career paths. Providing youth with access to technical exploration makes an impact on who becomes the future scientists, engineers, developers, and programmers of our workforce. As engineering and manufacturing continues to become more digitized, children need to be prepared for the future of work. Guiding students through skill paths that are innovative vs. obsolete will set them up for career success relative to the economy.
Most recently, RGBSI introduced "RGBSI Robotics & Automation Center" located at Goodwin College in Hartford, CT in support of shaping college curriculum to the evolving industry demand for digital and technical skill sets. In addition, the company introduced its in-house "RGBSI Innovation Lab" which uses integrated engineering tools to drive client innovation and product lead times.
FIRST STEM programs encourage K-12 students to gain knowledge in the areas of engineering design, robotics, programming, science, and technology in preparation for college. This allows children to have a say in their own future. In support of Smith Robotics program, RGBSI is committed to fueling the future of STEM professionals.
---
About RGBSI
RGBSI delivers total workforce management, engineering, quality lifecycle management, and IT solutions that provide strategic partnership for organizations of all sizes. As an organization of engineering experts, it understands the importance of modernization. RGBSI's engineering solutions provide clients with agility and enhancement through optimizing the value chain to meet industry protocols and full product specifications.