Updated 8/24/2022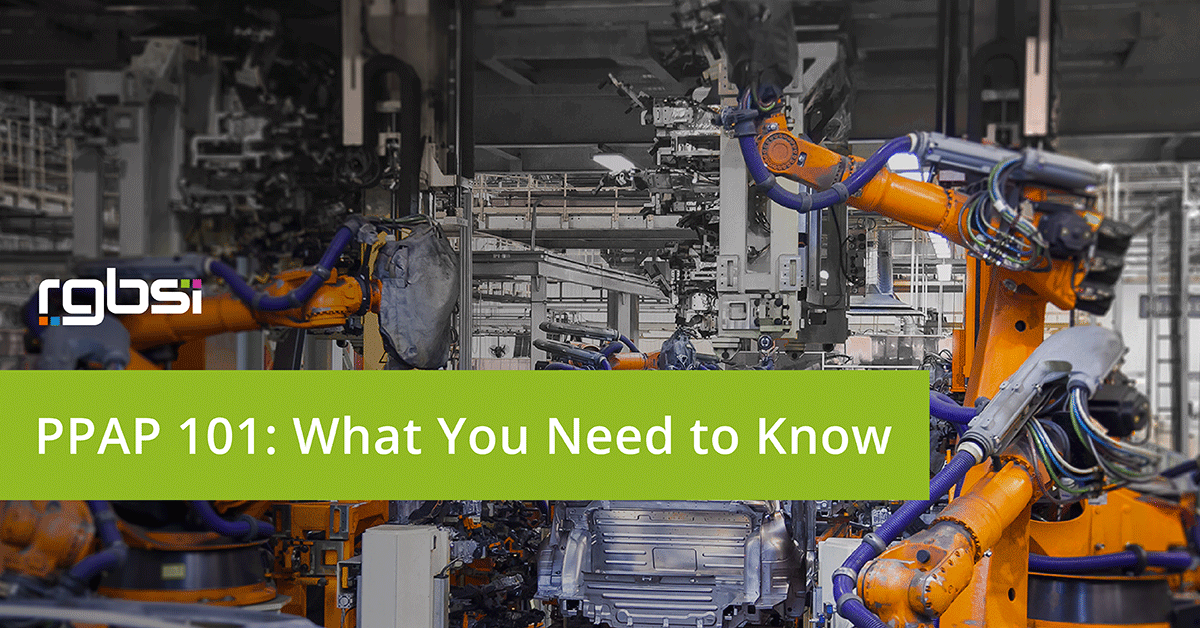 International quality standards for manufacturing continue to increase and many industrial companies are requiring that their suppliers use PPAP, which stands for production part approval process. Created and utilized first by the automotive industry, PPAP is a risk identification and mitigation process used to provide evident to the customer that there is a reliable and repeatable process. PPAP helps to ensure better communication between a customer and supplier in hopes that there will be fewer turnbacks and revisions to the product or process.
If you're not familiar or just want a quick overview, we've synthesized what you need to know into a quick and easy breakdown of what PPAP is and does in the manufacturing industry.
What is PPAP?
The Production Part Approval Process (PPAP) is a standardized process in the automotive and aerospace industries that helps manufacturers and suppliers communicate and approve production designs and processes before, during, and after manufacture. PPAP is an output of APQP. Created in hopes to promote a clearer understanding of the requirements of manufacturers and suppliers, PPAP helps ensure that the processes used to manufacture parts can consistently reproduce the parts at stated production rates during routine production runs.
For those in the automotive industry, the PPAP process is currently governed by the PPAP manual published by the Automotive Industry Action Group (AIAG). PPAP is one if the 5 core tools of quality of the IATF 16949:2016 standard for the automotive sector quality management systems.
Learn more about the 5 core tools of quality
---
---
What's included in a PPAP?
The PPAP manual is the ultimate resource for those in automotive supplier quality management. The manual contains the PPAP checklist which includes all the requirements, called elements, for a complete PPAP package. The checklists identify different PPAP levels (from 1 to 5). For those in the automotive industry, there are 18 possible elements that must be checked off. The aerospace industry has a similar set of elements to be completed during the development, planning, and design of the production process.
Each PPAP level determines the specific requirements for each element and indicates which elements should be submitted to the customer. It is important to note, however, that the supplier, regardless of PPAP level, must complete every applicable element no matter what level the PPAP is.
---
---
What are the required PPAP elements?
Automotive Elements
Design records
Engineering Change Documents
Customer Engineering Approval
Process Flow Diagrams
Control Plan (download our control plan template)
Dimensional Results
Material Performance Test Results
Initial Process Studies - Statistical Process Control (SPC)
Qualified Laboratory Documentation
Appearance Approval Report (AAR)
Sample Product
Master Sample
Checking Aids
Records of Compliance with Customer-Specific Requirements
Part Submission Warrant (PSW)
Aerospace Elements (example, see explanation)
Released Production Drawings or Definition
Supplementary Product Requirement Documents
Production Purchase Order
DFMEA
Process Flow Diagram
PFMEA
Process Control Plan
Process Readiness Study
Initial Process Studies
Measurement System Analysis
Engineering Frozen Planning/Engineering Source Approval
Dimensional Reports
Functional Testing Approval
Special Process Approval & NDT
Material Certification Documentation
Raw Material Approval
Part Marking Approval
Packaging, Preservation and Labeling Approval
Review and Sign-Off
It should be noted that there is no standardized aerospace PPAP like there is in the automotive industry. Other companies are also working on developing their own requirements for PPAP which their customers will need to use. Many of the elements are the same as UTC's, but some are different. When AS9100, the aerospace quality management system, moves from Rev C to Rev D, minimum requirements for aerospace PPAP will be established that manufacturers will need to follow.
Why is PPAP negotiation necessary?
The Production Part Approval Process (PPAP) is similar to a work plan or strategy; it is the direct negotiation between the customer and supplier that confirms how each PPAP element is satisfied. Not every PPAP is the same, therefore negotiation must take place before the requirement is accepted and the process put into motion. This ensures that both parties have the same expectations. In many cases, the supplier will have an established report, like a control plan, FMEA, or MSA that will help guide the customer through the supplier's process. If found acceptable to the customer, many times these documents are duplicated and used by the supplier again.
When is a PPAP required?
A Production Part Approval Process (PPAP) is required anytime a new part of change to an existing part or process is being planned. A customer may request a PPAP at any time during the life of a product. For suppliers, this means maintaining a quality system that develops and documents all of the requirements of a PPAP submission, no matter if you have been asked to deliver one, is a must. Customers are not responsible for creating PPAPs, suppliers are.
RGBSI not only provides PPAP services, but has also developed a PPAP automation software. For more information, request a PPAP consultation through the form below.