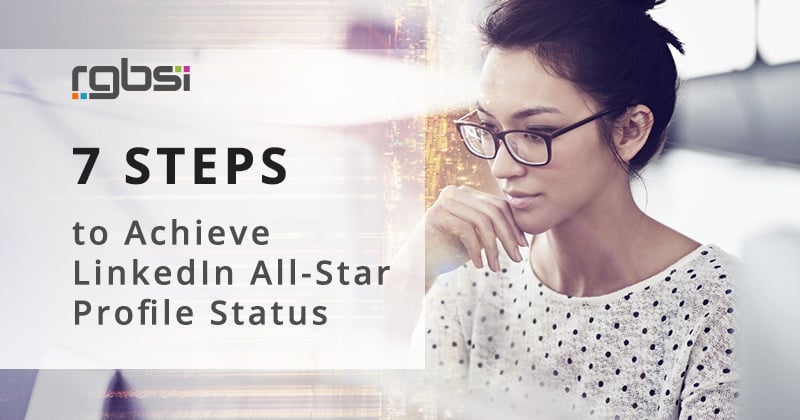 Did you know that LinkedIn users with All-Star profile status are 40 times more likely to get contacted about job opportunities? Completeness is the determinant of LinkedIn profile strength. With over 546 million members worldwide, LinkedIn is the go to destination for professionals to network, build business relationships, find talent, and search for job opportunities.
There are 5 levels of profile strengths:
Beginner
Intermediate
Advanced
Expert
All-Star
So how does one achieve LinkedIn All-Star profile status? The following 7 steps will show you exactly how to boost your LinkedIn profile to All-Star status. These will make a difference in being discoverable for new opportunities.
1. Select the RIGHT profile picture & background image
Selecting the RIGHT profile picture is important. Leave the car selfies and party pictures behind - remember LinkedIn is where the doors to professional opportunity open. Your profile picture should be current and reflective of you as a professional.
General guidelines:
Professional: Have a natural expression and be welcoming. Avoid unnatural filtering or over editing.
Dress code: Dress more formal than the standard dress code followed in your industry.
Solo: It should be only you in the picture. Avoid group pictures.
As a supplement, add a background image to your profile that resonates with your career or passion for a personal branded touch.
LinkedIn members with a profile picture receive up to
21 times
more profile views and 9 times more connection requests.
2. Write a catchy headline
Your title and company name is not the only information you can include here. LinkedIn gives you up to 120 characters for your headline. Try to create something more memorable than the obvious to show individuality. This is your first impression, so make an introduction that is catchy and true to who you are as a professional.
Suggestions:
Include keywords that attribute to the value you bring to the table. I.e. creative delivery, results-driven, thought leader, etc.
Add your specialty in your field i.e. SEO expert, software engineer, freelance writer, etc.
Mention accreditations and academic achievements relevant to your field.
Use commas, periods, or bars "|" to separate each distinction.
3. Make a custom URL
Adding a custom URL to your public profile makes it easier for others to locate your page on LinkedIn. This is a great tool for personal branding to use across documents and the web. Add your custom URL to your:
Email signature
Business card
Resume
Website
4. Strategic experience summaries
The more content you add to your LinkedIn profile the more likely you'll be discovered. Add all relevant job, education, and volunteer experience to your profile. For each job experience, this goes beyond including a job title, dates of employment, and company name. Each job listed must follow with a strategic summary of responsibilities and accomplishments.
Tips:
Use intentional keywords that are trending in your field. Use relevant job descriptions to pull buzz keywords to use.
Create skill & achievement driven summaries to drive the point home on the kind of value you deliver.
Include certifications and degrees attained.
Showcase projects & media – LinkedIn allows you to add links to your experience sections e. link a blog post you wrote for a company, a website you designed, a prototype you built in school, etc.
Adding a current position can lead to
8 times
more profile views. Adding your education will get you
17 times
more messages from recruiters.
5. Focused group selections
Perhaps when you first joined LinkedIn you subscribed to every group that came your way or to none at all. If your current group subscriptions are unfocused, it's time to clean them up. Build a group list that makes an impact in your field which you can relate to and attribute value. Do not sit stale after you join a group. Remember to contribute to conversations and digests of information to strengthen your credibility in a discipline.
6. Refine skills and endorsements
This section of your profile gives you a platform to show off your specializations and gain credibility through endorsements by other LinkedIn members. Contemplating what skills to add? Determining what you want to be known for and what channels you want others to find you through will help you configure the right list.
To achieve All-Star status you must have at least 5 skills listed.
Linked allows you to add up to 50 skills in this section.
The more skills you list the more likely you will show up in LinkedIn searches for particular skills.
Members with
5 skills
are 27x more likely to be discovered in LinkedIn searches.
7. Make connections with relative people
You should connect with people that you can relate to on some level whether it be similar educational background or professional expertise. Connect with people that are affluent in your industry, field, or passion. Connect with peers and colleagues. Not sure where to start when building your professional connections through LinkedIn? Use the search tool to find members to connect with on LinkedIn. Add peers, teachers, and professors from the school(s) you attended. Add former or current employees from past and present employers. Follow influencers that you are passionate about. LinkedIn allows you to sync your contact and email lists to locate members you may know. Remember:
You need at least 50 connection to attain All-Star status
After you get 500 connections, your profile will display 500+. Irrespective of 501 or 50 million connections, it will show 500+ connections.
Conclusion
Take ownership of your LinkedIn profile through personal branding and your professional story. After you put in the work to achieve All-Star LinkedIn profile status, your profile will be working for you in generating new job and business opportunities. Unlock your full potential through using LinkedIn as a catalyst for professional success.
BONUS
View your LinkedIn social selling index to see your rank in comparison to other industry professionals.
About RGBSI
At RGBSI, we deliver total workforce management, engineering, quality lifecycle management, and IT solutions that provide strategic partnership for organizations of all sizes. We leverage our expertise to fill workforce gaps and deliver full range business solutions that optimize client operations worldwide.