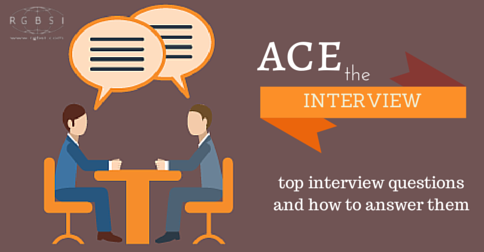 So you've landed the interview, now what? Time to prepare. An interview is a chance for you to show why you're the right person for the job, as well as a time for you to get a feel for what the job environment and expectations are.
No two interviews are alike, no two companies conduct interviews in the same way. However, there are several interview questions that usually come up again and again. Having well-rehearsed, cohesive answers to these questions can help you look polished and ready for the job!
Tell me about yourself.
You walk into the interview room and the first question the interviewer usually goes for: "Tell me about yourself." Though it's tempting to drop your guard, don't. Do not wing it and don't tell them irrelevant aspects of your personal life. Your interviewer isn't looking for personal details here.
Instead of rambling on about personal details that will not help you get the job, give a specific and prepared answer that encompasses your personal brand. Lead with your strongest benefit to the employer. Talent Touche urges interviewees to provide their "unique selling proposition" to the interviewer. Essentially, what is your value proposition, what is your value if we hire you? It doesn't have to be long, but it has to be compelling and true. This will get the interviewer's attention and hopefully you'll be able to drive the conversation from this one simple proposition.
Why do you want this job?
This question comes up in almost every single interview. Many candidates believe they have to tell the interviewer why they've applied for the job, like for the salary, location, benefits, or personal development. Instead of providing these answers, which might be completely true, use this question to explain why you see this job as an opportunity to use your skills and experiences to help the company meet its goals.
There are a number of ways to answer this question, as Undercover Recruiter contends. Describe what you like about the company and how you think you can contribute to that. Or tell the interviewer about why you're passionate about this job, maybe due to previous career experiences. You can also describe the challenges of the role and provide your unique solution to the problems. If you're inexperienced, try to think about why the company might not want to hire you and provide a counter argument.
Where do you see yourself in 5 years?/Describe your career goals.
Interviewers ask this question to see if you're likely to stick around if hired. Filling job openings is expensive and time consuming for companies. Showing that you've got a solid career plan that coincides with the role you're applying for.
When answering this question, be ambitious but realistic. Don't overreach or provide too lofty of goals. Focus on your professional life rather than your personal life. Your interviewer doesn't need to know that you see yourself married with kids. Most importantly, emphasis your value to the company. How can you make a difference here? How can you contribute to this growth and success? The more unique and tailored your answer is, the better. Make sure you take time to research the company, it'll make answering this question all the easier!
What are your weaknesses?
Perhaps the most frustrating interview question of all time, this question always throws candidates for a loop. You don't want to reveal your biggest flaw, but at the same time, you don't want to sound arrogant. Don't get tripped up by this one; think about how you can craft an answer that shows you're prepared and polished.
Avoid trying to make a positive sound like a negative. It usually doesn't work well and you just reveal your negative trait anyways. Don't avoid the question either, your interviewer will notice. No matter what, never reveal a weakness that would hinder your ability to do the job. Pick something else!
Job interviews are tough, so coming prepared is the best way to ease nerves and perform your best. For more information about job interview questions and great answers to them, check out Undercover Recruiter, The Negotiation Experts, and The Muse.
WORK WITH RGBSI
At RGBSI, we provide engineering, IT, and administrative job opportunities for contract, contract to hire, project based, and permanent positions. We have established relationships with top companies in engineering and IT industries around the globe. The opportunities are endless for engaging in different career paths.
View our job portal to see all of our current openings.