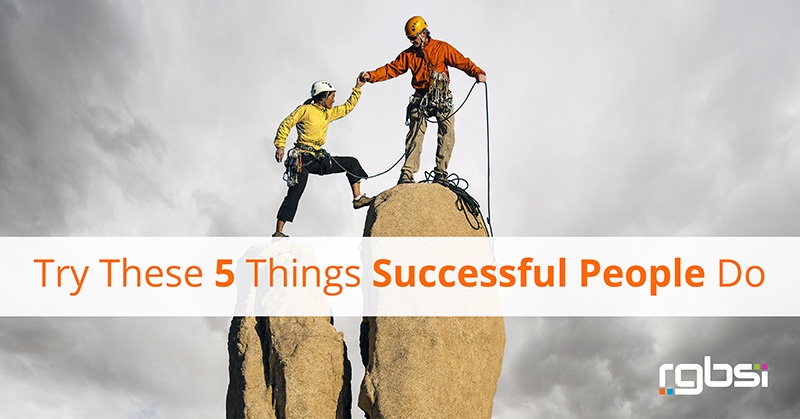 Ever wonder what makes some people so successful? Standalone ambitions can't drive success without action. Success is determined by what we choose to do and the frequency we do it in. Successful people practice similar habits that distinguish them from the ordinary. They take chances and are not afraid of challenges. If you are looking to become more than just average in pursuit of greater outcomes, try these 5 things successful people do.
1. They adopt continuous learning.
You may graduate from college, but you never graduate from learning. Successful people recognize learning as a never-ending part of life. They work vigorously towards expanding their knowledge base. Some methods of continuous learning include reading industry publications, listening to podcasts, attending trade events, and picking up certifications to refine skillsets. If you are trying to own your career, set goals to stay focused on your learning objectives. The more knowledge you carry, the more projected value you'll hold.
Advice
Don't underestimate the power of knowledge. Complacency is not an option.
2. They surround themselves with great people.
Remember that you are a product of your environment. Successful people surround themselves with others that have something they wish to gain. They seek mentors and trusted counsel they can emulate. For example, these qualities could be of professional status, educational credentials, knowledge, social well being, or optimistic virtues. People that are success driven take a "watch and learn" approach to embody desirable qualities into their own lives
In pursuit of greatness, surround yourself with resources of inspiration that provide guidance in strengthening your successes.
Advice
Surround yourself with people you want to become.
3. They do not compare.
Successful people do not compare themselves with others. Instead, they view others that have "more" in some capacity as inspiration to tackle their own goals. Individualism is not comparable. When we fixate on direct comparisons, we limit our potential.
Social acceptableness may influence thoughts of where you should be, but are you really ready? Comparing ourselves creates a sense of urgency to play "catch up." As a result, resentments can develop for people that are "ahead" of us. Instead, successful people turn thoughts of comparison into learning opportunities to influence personal progress.
Advice
Stop comparing yourself to others. You are your own competition.
4. They balance optimism with realism.
Successful people are ambitious while balancing optimism and realism. They are self-confident and recognize the requirement of dedication and persistence for positive results. Anyone can have dreams, but those with a realistic mindset are the ones that turn dreams into reality. Minimizing the effort required to achieve our goals will lead to disappointment. Instead, we need to recognize that if we want something, we must work for it. Believe in the process, put in the work, and you will accomplish your goals.
Advice
Ideas are worth nothing. Execution is worth everything.
5. They take initiative.
If you don't like something, do something about it. Many people do the minimum to get but wonder why they aren't succeeding. Successful people stay engaged and are ready to step up when action is necessary. They take the next step before being told to do so and complete things with accuracy. They go out of their way to be a self-learner, practice something until they perfect it, be the source of value, and influential converser. Successful people have a holistic outlook. They not only take an initiative of their own personal successes but are also committed to those successes of others. Helping others provides us purpose. Being able to give solid advice improves self-confidence and makes us feel valuable.
Advice:
If you don't like something, do something to change it.
Conclusion
Adopting habits that successful people practice will help you experience positive outcomes. You will gain self-awareness, experience personal growth, and feel more valuable. We have the power to determine how successful we want to be through the actions we take. With the right level of willpower and dedication, you can be successful in anything you set your mind to.
About RGBSI
At RGBSI, we deliver total workforce management, engineering, quality lifecycle management, and IT solutions that provide strategic partnership for organizations of all sizes. We leverage our expertise to fill workforce gaps and deliver full range business solutions that optimize client operations worldwide.
WORK WITH RGBSI
At RGBSI, we provide engineering, IT, and administrative job opportunities for contract, contract to hire, project based, and permanent positions. We have established relationships with top companies in engineering and IT industries around the globe. The opportunities are endless for engaging in different career paths.
View our job portal to see all of our current openings.