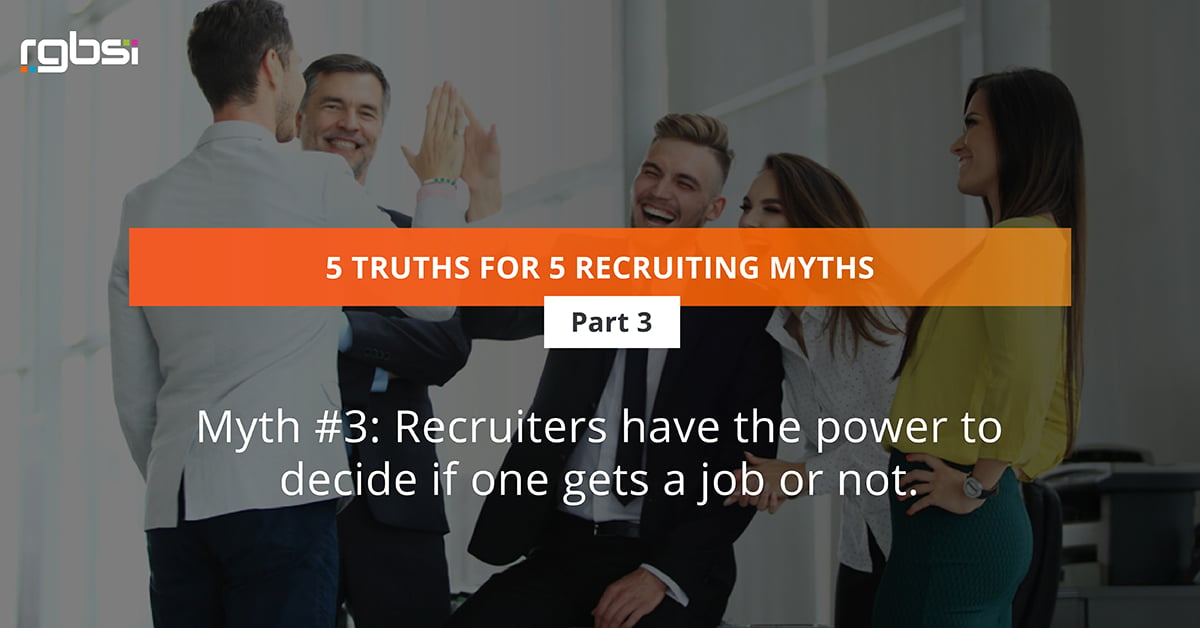 At one point or another most of us have been through the hiring process either as a job seeker, hiring manager, or recruiter. The many myths that exist about recruiting are misleading due to the inadequate information on the actual recruit to hire process. With the help of our recruiting team, we decided to invalidate these with their truths.
This is a five part series where will explore 5 of the most common myths in recruiting. Each week we will demystify a myth with the support of its truth.
Myth #3: Recruiters have the power to decide if one gets a job or not.
40% of the RGBSI recruiting team believes this is a top myth.
The Truth: Companies and hiring managers always make the final decision on job placement.
While recruiters have much involvement with resume screening, interview preparation, and communicating with the company, they do not have the final say in which candidate gets the position. Companies and hiring managers make the final decision on who gets a job within their organization. The candidate's experience, skills, composure, and demeanor is very telling for the company to make its decision.
Recruiters are instrumental to the hiring process. They help intersect candidate strengths with workplace culture. With a clear understanding of a client's company culture, a recruiter takes the time to consider a candidate's work-life preferences. With these criteria, a recruiter can determine all parameters of whether a candidate will be a good match or not. Cultural fit promotes long term company growth, job stability, and candidate retention. Nearly 80% of millennials view cultural fit as a top priority with employers.
Recruiters Role in Job Placement
Recruiters make connections between candidates and companies. In addition to the alignment of the job requirements with candidate skillsets, recruiters take the time to match up both parties based on cultural fit. They can guide candidates to accept an offer or advise hiring managers to make an offer, but never have the final say on who gets a job with the hiring company. Decision making in recruiting with regards to job placement is up to the hiring manger.
Feedback from the RGBSI Recruiting Team:
Recruiters can help candidates apply to jobs and follow up with hiring managers, but it is ultimately up to candidates to showcase their talent.
Candidates Role in Job Placement
Candidate qualifications, preferences, and offer acceptance determine job placement. Candidates can openly apply to any jobs of interest. They have free range to turn down a job offer or negotiate different terms, whether communicating through a recruiter or directly.
Hiring Managers Role in Job Placement
Hiring managers are responsible for shortlisting all applicable candidates from the recruiter's supplied list. If none look promising, they can request more screened candidates. Hiring managers conduct interviews, evaluate the final candidates, and extend an offer.
Recruiters strive to help companies identify their needs in recruiting new talent. When working with clients, recruiters ask hiring managers to describe their ideal candidate and identify their greatest challenge in filling specific positions. A company's most important asset is the strength of its talent, so recruiters act as a source of counsel for hiring managers to make important decisions.
Next week we will explore "Myth #4: Recruiters want to offer low rates to candidates, so they can increase their margins for commission." in 5 Truths for 5 Recruiting Myths Series – Part 4. Stay tuned!
To reference any of the myths we've covered in this series, visit the links below:
| Part of Series | Myth |
| --- | --- |
| | Myth #1: There is no need for recruiters because all jobs are already posted online. |
| | Myth #2: Recruiting agencies are only good at finding low level jobs. |
| | Myth #3: Recruiters have the power to decide if one gets a job or not. |
| | Myth #4: Recruiters want to offer low rates to candidates, so they can increase their margins for commission. |
| | Myth #5: Recruiters recycle the same talent pipeline and are inactive in seeking new candidates. |
---
View all of the top recruiting myths featured in the 5 Truths for 5 Recruiting Myths blog series.
---
About RGBSI
At RGBSI, we deliver total workforce management, engineering, quality lifecycle management, and IT solutions that provide strategic partnership for organizations of all sizes. We leverage our expertise to fill workforce gaps and deliver full range business solutions that optimize client operations worldwide.
WORK WITH RGBSI
At RGBSI, we provide engineering, IT, and administrative job opportunities for contract, contract to hire, project based, and permanent positions. We have established relationships with top companies in engineering and IT industries around the globe. The opportunities are endless for engaging in different career paths.
View our job portal to see all of our current openings.
---