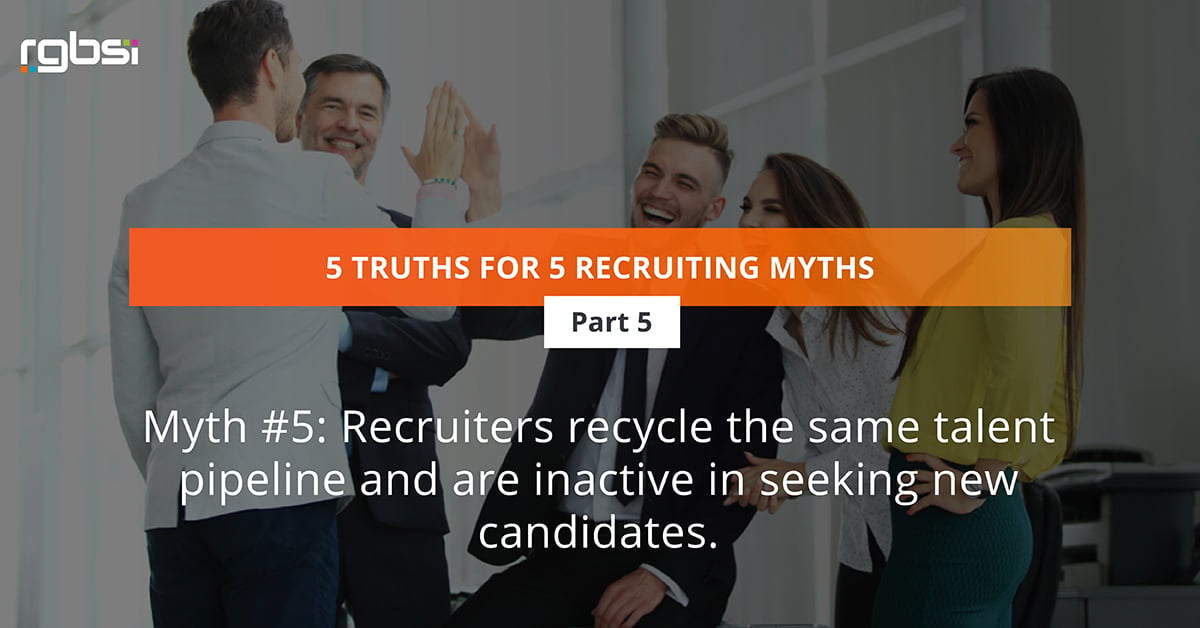 At one point or another most of us have been through the hiring process either as a job seeker, hiring manager, or recruiter. The many myths that exist about recruiting are misleading due to the inadequate information on the actual recruit to hire process. With the help of our recruiting team, we decided to invalidate these with their truths.
This is a five part series where will explore 5 of the most common myths in recruiting. Each week we will demystify a myth with the support of its truth.
Myth #5: Recruiters recycle the same talent pipeline and are inactive in seeking new candidates.
32% of the RGBSI recruiting team believes this is a top myth.
The Truth: Recruiters must continuously recruit new talent to evolve with job requirements.
Recruiting is a continuous process which requires forecasting for future hiring needs. If a recruiter decided to end the talent quest indefinitely after sourcing 10 candidates, it would be difficult to meet the evolving client requirements. Companies expect recruiting agencies to supply them with fresh, diverse talent. It is important to note that the talent pipeline is not a constant but rather a progression. In addition to candidates in the existing pipeline, a good recruiter will always be researching new talent to add to the mix.
Proactive Sourcing
Recruiters proactively source candidates to avoid poorly planned and rushed hiring practices. Pipelined candidates gain exposure to a recruiter's processes and become more trusting of their actions. An effective talent acquisition strategy encompasses engagement with both active and passive talent streams. According to LinkedIn's recruiting statistics, 87% of active and passive candidates are open to new opportunities. Overlooking non-active job seekers can be a missed opportunity for future placements.
Feedback from the RGBSI Recruiting Team:
Certain candidates are submitted to multiple positions because they meet the job requirements. However, recruiters must continuously find new candidates to broaden their network and present clients with diverse options.
Fresh Talent Options
It is not beneficial for recruiters to submit the same candidate for every position as this shows a minimal level of care to clients. Companies want to confirm that they will get better hires than they would recruit on their own. Recruiters help companies eliminate the expenses as a result of poor hiring decisions by finding them fresh talent options. This is achieved by recruiting new talent until the right candidate is found.
Balance of Objective & Subjective Criteria
Rather than categorizing a talent pipeline into new or existing candidates, recruiters are trained to assess candidates on both objective and subjective criteria before submitting them for open positions. A candidate's hard skills are evaluated objectively with a hiring company's technical job requirements. A candidate's well-being, preferences, and expectations are assessed subjectively in consideration of a hiring company's workplace culture. Recruiters help candidates identify companies that are a cultural fit, which eliminates time wasted on testing out different workplaces in the market.
It is important to understand that recruiters have to fulfill jobs for the hiring company as this is their client. However, this does not affect the decision to place candidates in roles that are truly compatible with their needs and wants. Recruiters provide job accessibility to candidates, while find the right talent for companies. As a united front, all stakeholders involved in the employment lifecycle must prioritize the candidate experience.
This concludes the 5 Truth for 5 Recruiting Myths Series. To reference any of the myths we've covered visit the links below:
To reference any of the myths we've covered in this series, visit the links below:
| Part of Series | Myth |
| --- | --- |
| | Myth #1: There is no need for recruiters because all jobs are already posted online. |
| | Myth #2: Recruiting agencies are only good at finding low level jobs. |
| | Myth #3: Recruiters have the power to decide if one gets a job or not. |
| | Myth #4: Recruiters want to offer low rates to candidates, so they can increase their margins for commission. |
| | Myth #5: Recruiters recycle the same talent pipeline and are inactive in seeking new candidates. |
---
View all of the top recruiting myths featured in the 5 Truths for 5 Recruiting Myths blog series.
---
About RGBSI
At RGBSI, we deliver total workforce management, engineering, quality lifecycle management, and IT solutions that provide strategic partnership for organizations of all sizes. We leverage our expertise to fill workforce gaps and deliver full range business solutions that optimize client operations worldwide.
WORK WITH RGBSI
At RGBSI, we provide engineering, IT, and administrative job opportunities for contract, contract to hire, project based, and permanent positions. We have established relationships with top companies in engineering and IT industries around the globe. The opportunities are endless for engaging in different career paths.
View our job portal to see all of our current openings.
---