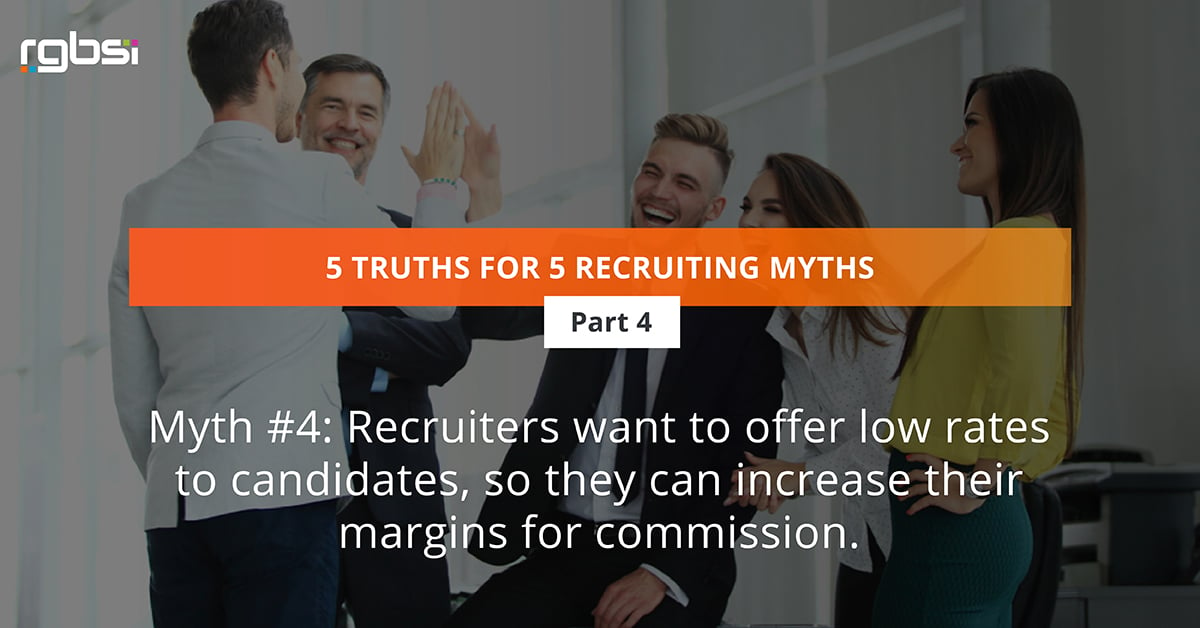 At one point or another most of us have been through the hiring process either as a job seeker, hiring manager, or recruiter. The many myths that exist about recruiting are misleading due to the inadequate information on the actual recruit to hire process. With the help of our recruiting team, we decided to invalidate these with their truths.
This is a five part series where will explore 5 of the most common myths in recruiting. Each week we will demystify a myth with the support of its truth.
Myth #4: Recruiters want to offer low rates to candidates, so they can increase their margins for commission.
36% of the RGBSI recruiting team believes this is a top myth.
The Truth: Offering low rates is the least effective method of increasing margins.
Successful recruiters know the value of placing candidates in the right company, in the right position, with the right salary. Cutting a candidate's pay rate is an ineffective method of increasing margins for commission. This leads to decreased margins because the quality of talent to the client suffers and candidates are undervalued. As a contradiction to recruiting best practices, offering low pay rates harms the recruiter, the hiring company, and the candidate. It is in the best interest of the recruiter to secure candidates with well-matched careers and competitive salaries.
Feedback from the RGBSI Recruiting Team:
Recruiters strive to get candidates the most competitive offer as this is the best way to ensure acceptance. This also demonstrates a recruiter's commitment and loyalty to the candidate.
Do you believe a hiring company would continue to enlist a recruiting agency if all its employees never lasted within a job? Probably not.
Turnover
Analyzing the type of employees that leave and their reasons for doing so helps identify the source of high turnover issues. 33% of RGBSI recruiters said that the quality of hires is a top metric in measuring recruiting success. High turnover can allude to the low quality of hires. Recruiters know that a candidate needs to be a skill-fit and a cultural-fit to be successful in an organization.
According to a Payscale, a top reason for turnover is compensation. 65% of employees said they voluntarily left a company for higher compensation elsewhere. Replacement costs for positions with high turnover can cost a company anywhere between 30% - 150% of the position's annual salary. Today's job market is competitive and provides job seekers with several options. In addition, recruiting new talent has become a highly competitive game among companies. Online data platforms supply candidates with pay transparency to benchmark their market value. Recruiters use localized salary data to ensure candidates receive competitive offers from hiring companies.
Retention
Recruiting is the business of relationship building. Recruiters need to keep candidates and clients happy. Recruiters build loyalty and rapport with hiring companies by supplying qualified candidates to promote their clients' corporate growth strategies. They show candidates trust with the diligence to get them the most competitive offers. From a long-term perspective, enacting employee retention strategies are key to increase margins. Looking at a staffing company's internal employee retention strategies is telling of the value-added benefit they can have on a hiring company.
Next week we will explore "Myth #5: Recruiters recycle the same talent pipeline and are inactive in seeking new candidates." in 5 Truths for 5 Recruiting Myths Series – Part 5. Stay tuned!
To reference any of the myths we've covered in this series, visit the links below:
| Part of Series | Myth |
| --- | --- |
| | Myth #1: There is no need for recruiters because all jobs are already posted online. |
| | Myth #2: Recruiting agencies are only good at finding low level jobs. |
| | Myth #3: Recruiters have the power to decide if one gets a job or not. |
| | Myth #4: Recruiters want to offer low rates to candidates, so they can increase their margins for commission. |
| | Myth #5: Recruiters recycle the same talent pipeline and are inactive in seeking new candidates. |
---
View all of the top recruiting myths featured in the 5 Truths for 5 Recruiting Myths blog series.
---
About RGBSI
At RGBSI, we deliver total workforce management, engineering, quality lifecycle management, and IT solutions that provide strategic partnership for organizations of all sizes. We leverage our expertise to fill workforce gaps and deliver full range business solutions that optimize client operations worldwide.
WORK WITH RGBSI
At RGBSI, we provide engineering, IT, and administrative job opportunities for contract, contract to hire, project based, and permanent positions. We have established relationships with top companies in engineering and IT industries around the globe. The opportunities are endless for engaging in different career paths.
View our job portal to see all of our current openings.
---