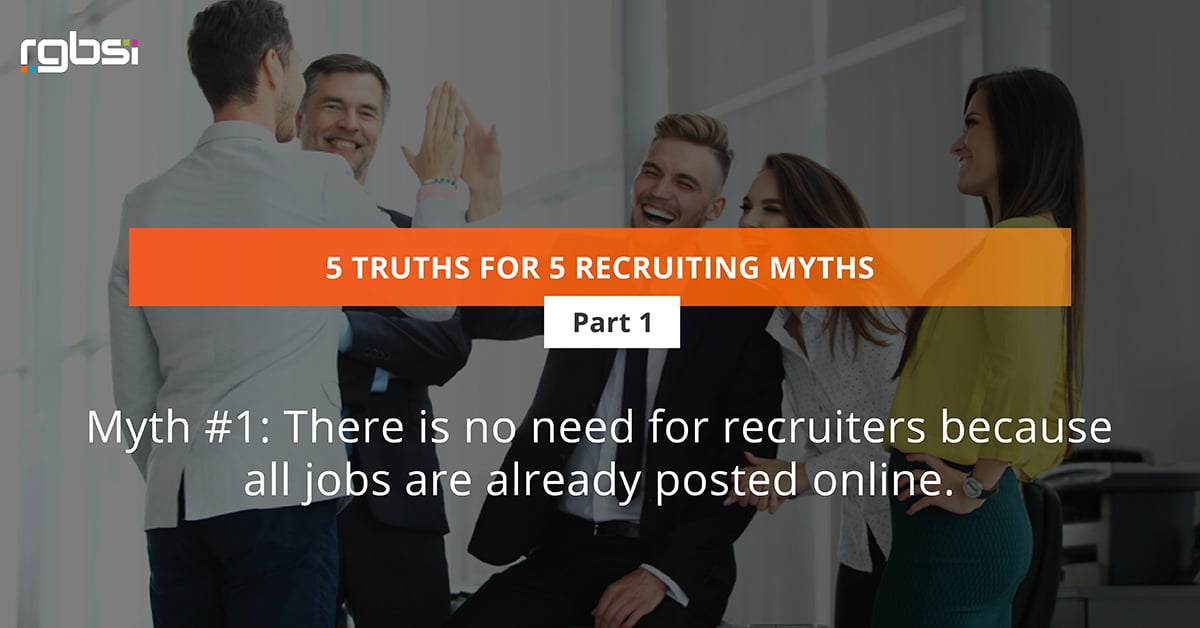 At one point or another most of us have been through the hiring process either as a job seeker, hiring manager, or recruiter. The many myths that exist about recruiting are misleading due to the inadequate information on the actual recruit to hire process. With the help of our recruiting team, we decided to invalidate these with their truths.
This is a five part series where will explore 5 of the most common myths in recruiting. Each week we will demystify a myth with the support of its truth.
Myth #1: There is no need for recruiters because all jobs are already posted online.
44% of the RGBSI recruiting team believes this is a top myth.
The Truth: Recruiters have access to jobs that are not always available online. Finding the right job requires a multidimensional approach to job searching.
Companies opt to work with recruiters in filling job openings because it is the most efficient way for them to identify qualified talent. Recruiters have established business relationships with the companies they work with and provide candidates priority access to specific positions. Therefore, the benefits of using a recruiter is that recruiters provide job accessibility for all parties involved. It is a win-win for companies and candidates to leverage the expertise of recruiters in recruiting new talent.
Benefits for Companies
Recruiters screen candidates and match their skills to the company's requirements. Companies that aren't experts in a specific discipline use qualified recruiters to guide them in identifying the skills and experience needed for any given position. Based on a hiring manager survey by Career Builder, 42% of hiring managers work with staffing companies to shorten the hiring process, followed by the need to access talent with specialized skills (41%).
Feedback from the RGBSI Recruiting Team:
Companies work with recruiters to maximize their time and resources. Recruiters provide companies with high quality talent in the most efficient way possible.
Also, companies work with agencies to discreetly recruit for positions and keep their candidate search strictly confidential. The reasons for keeping positions off the record can relate to a company's need to replace an under performing employee or make significant changes to its organizational hierarchy. Within government, technology, and automotive industries, companies often use the backing of a recruiter to find talent for top secret projects which have not begun, are not publicly known, and require Intel protection from competitive businesses. Some examples of these types of projects are Apple's Project Titan, DARPA's Falcon Project, and Facebook's Libra Project.
Benefits for Candidates
Recruiters identify the right job fit for candidates through understanding their background. They provide candidates with coaching to make the interview process as seamless as possible. As an example, the RGBSI recruiting team provides candidates with mock interviews before the real interview with the client. The mock interviews allow candidates to preempt the type of questions the company will ask and prepare their answers accordingly. Recruiters have established relationships with the company's hiring managers and have a good idea of what type of questions they will ask.
Feedback from the RGBSI Recruiting Team:
Recruiters provide job seekers with interview tips and guidance. This simplifies the candidate to hire process.
When it comes to identifying workplace cultural fit, recruiters take the time to understand what a candidate is looking for in a career and work environment. With this information, recruiters can determine whether or whether not an opportunity will be well-matched with an individual's career interest. For example, if a company has an opportunity that requires an individual to work on Saturdays, recruiters will determine this as not an ideal fit for a candidate that absolutely must have work-free weekends.
In addition to online job boards, job seekers must use a mix of different avenues such as social networks, existing contacts, Alma maters, and recruiters to secure the right position. Recruiters often have access to confidential positions that are not publicly available, not even posted on the company's website. Candidates work with recruiters because it opens the doors to a world of opportunities and helps them find work that best meets their goals, lifestyle, and conditions.
Recruiters provide candidates with the personal touch, reassurance, and validation needed to secure their dream job. Resume submissions through an online job board do not paint the full picture of a candidate's qualifications standalone.
Feedback from the RGBSI Recruiting Team:
An online resume submission can only convey so much. Face to face interaction and verbal communication are critical to the application process.
Recruiters spend an ample amount of time getting to know the client's hiring managers on a personal level. Recruiters' eminence in successful candidate placements makes them well-respected to a hiring manager. Candidates that are backed by a recruiter who attests for their qualifications and cultural fitness is nothing more than a value-added benefit. Candidates that leverage these deep-rooted recruiter-client relationships experience more favorable career outcomes.
Next week we will explore "Myth #2: Recruiting agencies are only good for finding low level jobs." in 5 Truths for 5 Recruiting Myths Series – Part 2. Stay tuned!
To reference any of the myths we've covered in this series, visit the links below:
| Part of Series | Myth |
| --- | --- |
| | Myth #1: There is no need for recruiters because all jobs are already posted online. |
| | Myth #2: Recruiting agencies are only good at finding low level jobs. |
| | Myth #3: Recruiters have the power to decide if one gets a job or not. |
| | Myth #4: Recruiters want to offer low rates to candidates, so they can increase their margins for commission. |
| | Myth #5: Recruiters recycle the same talent pipeline and are inactive in seeking new candidates. |
---
View all of the top recruiting myths featured in the 5 Truths for 5 Recruiting Myths blog series.
---
View all of the top recruiting myths featured in the 5 Truths for 5 Recruiting Myths blog series.
---
About RGBSI
At RGBSI, we deliver total workforce management, engineering, quality lifecycle management, and IT solutions that provide strategic partnership for organizations of all sizes. We leverage our expertise to fill workforce gaps and deliver full range business solutions that optimize client operations worldwide.
WORK WITH RGBSI
At RGBSI, we provide engineering, IT, and administrative job opportunities for contract, contract to hire, project based, and permanent positions. We have established relationships with top companies in engineering and IT industries around the globe. The opportunities are endless for engaging in different career paths.
View our job portal to see all of our current openings.
---