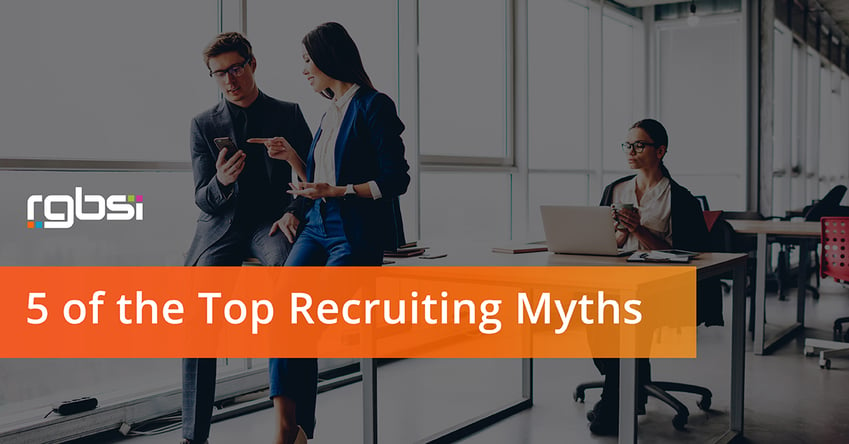 In case you missed it, here are 5 of the top recruiting myths featured in our 5 part blog series "5 Truths for 5 Recruiting Myths" with links to each part.
Myth #1: There is no need for recruiters because all jobs are already posted online.
The Truth: Recruiters have access to jobs that are not always available online. Finding the right job requires a multidimensional approach to job searching.
Companies work with recruiters because it is the most efficient way for them to identify qualified talent. Recruiters have established business relationships and provide candidates with priority access to specific positions. There are many benefits of using a recruiter. For example, recruiters provide job accessibility for all parties. It is a win-win for companies and candidates to leverage the expertise of recruiters.
Myth #2: Recruiting agencies are only good at finding low level jobs.
The Truth: Recruiting agencies cater to all types and levels of employment in any industry.
Companies leverage recruiters from executive search firms or specialized recruitment agencies to find talent for positions that require very intricate and complex skillsets. Examples of this include recruiting for executive searches or for a balance of skills. Managers face challenges when it comes to accessing quality candidates and accessing candidates that have specialized skillsets. Recruiters understand the hard and soft skill requirements for various positions, as well as a company's workplace culture to create perfect employee-company matches.
Myth #3: Recruiters have the power to decide if one gets a job or not.
The Truth: Companies and hiring managers always make the final decision on job placement.
It is true that recruiters are instrumental to the hiring process. They have fully active roles through resume screening, interview preparation, and being the communication liaison between companies and candidates. However, recruiters do not have the final say in who is offered a position. Companies and hiring managers make the final decision on who gets a job within their organization. They evaluate factors such as a candidate's experience, skills, composure, and demeanor to make their selection.
Myth #4: Recruiters want to offer low rates to candidates, so they can increase their margins for commission.
The Truth: Offering low rates is the least effective method of increasing margins.
Offering low rates to candidates leads to high turnover and poor employee retention. This leads to decreased margins because the quality of talent to the client suffers and candidates are undervalued. Successful recruiters know the value of placing candidates in the right company, in the right position, with the right salary. As a contradiction to recruiting best practices, offering low pay rates harms the recruiter, the hiring company, and the candidate. It is in the best interest of the recruiter to secure candidates with well-matched careers and competitive salaries.
Myth #5: Recruiters recycle the same talent pipeline and are inactive in seeking new candidates.
The Truth: Recruiters must continuously recruit new talent to evolve with job requirements.
It is important to understand that recruiters have to fulfill jobs for the hiring company as this is their client. To keep up with a client's evolving requirements, a recruiter must be proactive at sourcing, continuously find fresh talent options, and assess candidates on both objective and subjective criteria.
---
About RGBSI
At RGBSI, we deliver total workforce management, engineering, quality lifecycle management, and IT solutions that provide strategic partnership for organizations of all sizes. We leverage our expertise to fill workforce gaps and deliver full range business solutions that optimize client operations worldwide.
WORK WITH RGBSI
At RGBSI, we provide engineering, IT, and administrative job opportunities for contract, contract to hire, project based, and permanent positions. We have established relationships with top companies in engineering and IT industries around the globe. The opportunities are endless for engaging in different career paths.
View our job portal to see all of our current openings.
---