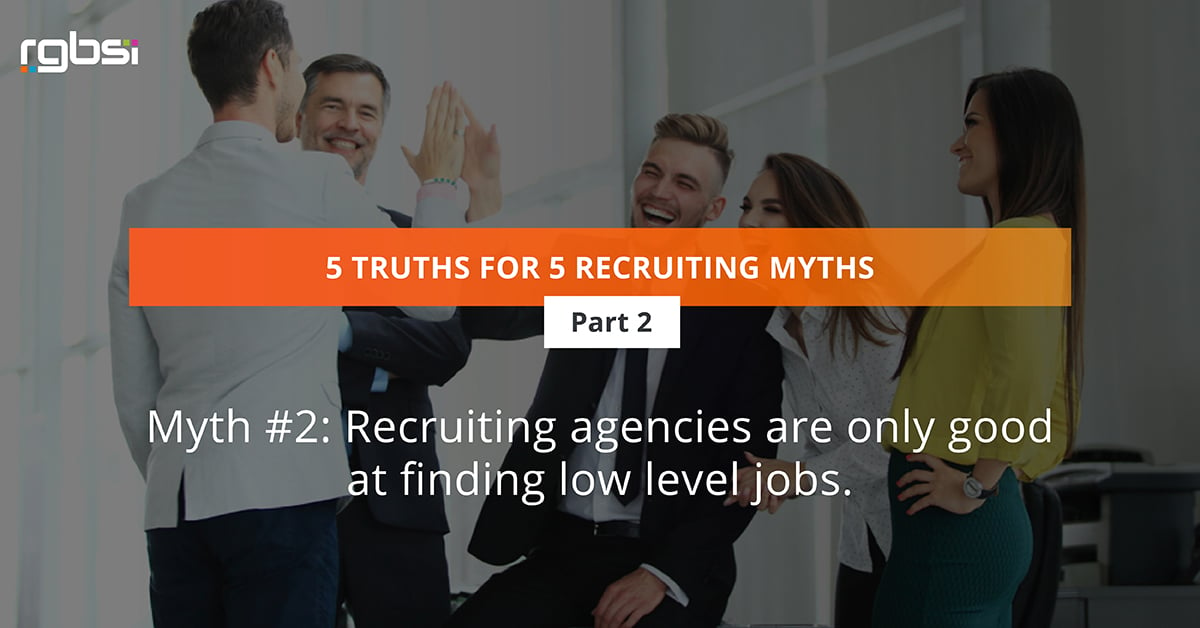 At one point or another most of us have been through the hiring process either as a job seeker, hiring manager, or recruiter. The many myths that exist about recruiting are misleading due to the inadequate information on the actual recruit to hire process. With the help of our recruiting team, we decided to invalidate these with their truths.
This is a five part series where will explore 5 of the most common myths in recruiting. Each week we will demystify a myth with the support of its truth.
Myth #2: Recruiting agencies are only good at finding low level jobs.
40% of the RGBSI recruiting team believes this is a top myth.
The Truth: Recruiting agencies cater to all types and levels of employment in any industry.
The belief that recruiting agencies only source candidates for low level jobs is an outdated one and far from what modern recruiting looks like. The recruiting industry has greatly evolved in the areas of capabilities and technology.
Feedback from the RGBSI Recruiting Team:
Recruiters work with clients and candidates across all employment classifications, in all experience, skill, and salary grades.
More specifically, companies look to knowledgeable recruiters to find talent for positions that require very intricate and complex skillsets. According to Career Builder's study on the challenges of accessing quality candidates, 50% of human resource managers have open positions for which they can't find qualified candidates, and 41% of hiring managers need to access to talent with specialized skills.
Recruiting for Executive Searches
Recruiting for high level positions is called an executive search where recruiters source individuals to fill a company's C-level positions. These type of searches require a high degree of sophistication, industry knowledge, and technique. For example, consider the position of CFO and how vital this role is in handling a company's financial interests. This is a high risk position that companies cannot afford to miss the mark on, so they look into working with a staffing company and make investments in third-party recruiting solutions.
Feedback from the RGBSI Recruiting Team:
Many companies seek out recruiting solutions specifically for filling high level positions. This is because they require the expertise of a recruiter to find top-notch candidates.



Recruiting for a Balance of Skills
As an example, one of the most recruited jobs in the professional services industry is a front-end developer, and in the technology industry, it is an enterprise account executive. Just because a candidate knows how to code does not automatically imply placement in a technology company. If someone is a great conversationalist does not mean they will work in a sales company.
They understand the hard and soft skill requirements of a position as well as a company's workplace culture. This creates a foundation for recruiters to align candidates with organizations perfectly. Modern recruiting is successful recruiting. It focuses on diversity and inclusivity of all job types and classifications. Recruiters use mastered techniques to cater to any type of search on behalf of candidates and clients. Therefore, recruiters provide job accessibility for candidates and qualified talent options for clients.
Next week we will explore "Myth #3: Recruiters have the power to decide if one gets a job or not." in 5 Truths for 5 Recruiting Myths Series – Part 3. Stay tuned!
To reference any of the myths we've covered in this series, visit the links below:
| Part of Series | Myth |
| --- | --- |
| | Myth #1: There is no need for recruiters because all jobs are already posted online. |
| | Myth #2: Recruiting agencies are only good at finding low level jobs. |
| | Myth #3: Recruiters have the power to decide if one gets a job or not. |
| | Myth #4: Recruiters want to offer low rates to candidates, so they can increase their margins for commission. |
| | Myth #5: Recruiters recycle the same talent pipeline and are inactive in seeking new candidates. |
---
View all of the top recruiting myths featured in the 5 Truths for 5 Recruiting Myths blog series.
---
About RGBSI
At RGBSI, we deliver total workforce management, engineering, quality lifecycle management, and IT solutions that provide strategic partnership for organizations of all sizes. We leverage our expertise to fill workforce gaps and deliver full range business solutions that optimize client operations worldwide.
WORK WITH RGBSI
At RGBSI, we provide engineering, IT, and administrative job opportunities for contract, contract to hire, project based, and permanent positions. We have established relationships with top companies in engineering and IT industries around the globe. The opportunities are endless for engaging in different career paths.
View our job portal to see all of our current openings.
---